Sculptures in temples in Kumbakonam: photo 1
Photo 1 of 640 in Gallery: Sculptures in temples in Kumbakonam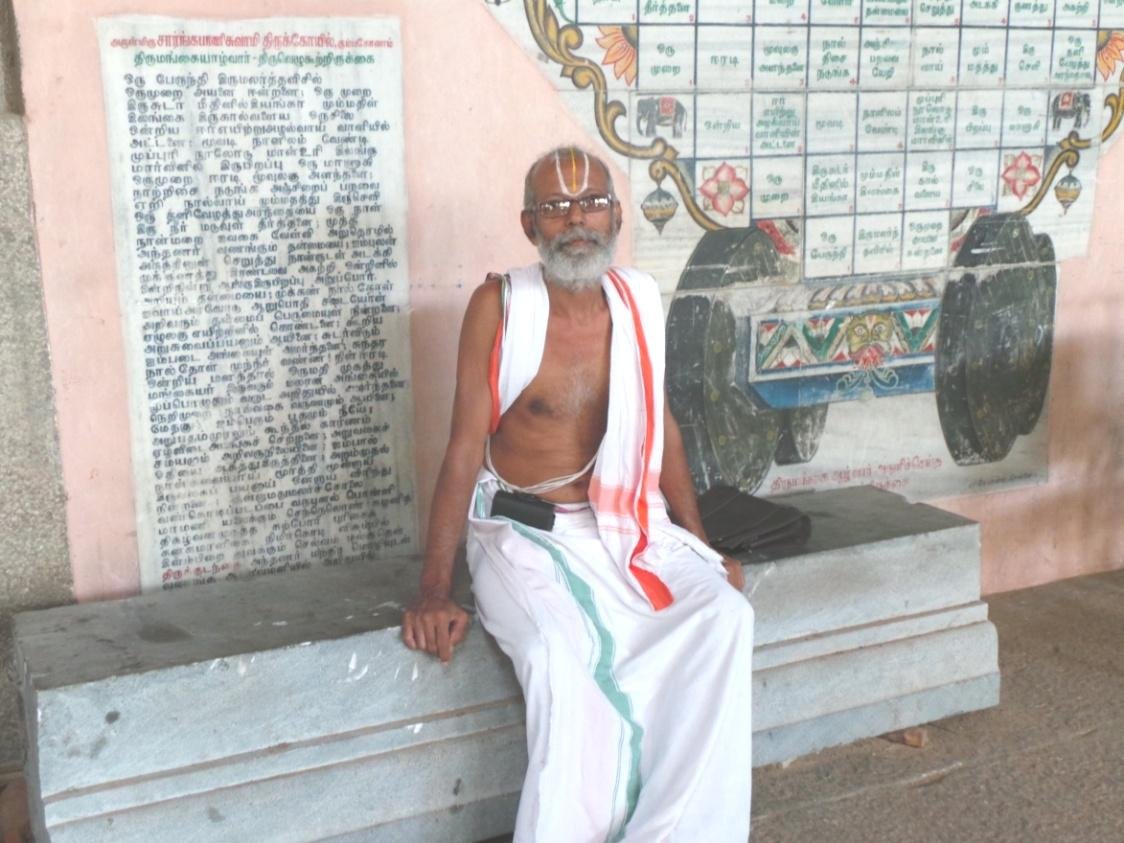 Image title: Figure 1. R. Devarajan
A detailed study of the temple was done with the help of the Arcakars and the administrative staff of the temple. The information they had gave was far more helpful than the information written in the books.They spoke out of the knowledge that was imparted to them as a part of oral tradition.
First person interviewed: R. Devarajan
Designation - Muluturaimaniam or Administration of Internal Department Date of interview–28.10.2013
1. What is your good name?
A. My name is R. Devarajan.
2. What is your designation in the temple?
A. I am the Muluturaimaniam or incharge of administration of temple.
3. Can you tell me something about the history of the temple? Who built it and when was it built?
A. It was built during the early Chola period i.e the sanctum sanctorum. Later developed by the Pallavas and Nayakas. Out of 108 Divya Desams this is the third one. The first one being Srirangam whose glory was sung by 11 Alvars. The second is Tirupati sung by 9 Alvars and the third is Tirukudandai or Kumbakonam sung by 7 Alvars.
4. How many entrances does this temple have?
A. This temple has two entrances–east and west. East is the main entrance and west is the back side.
5. Which direction does the sanctum face?
A. The sanctum sanctorum faces the east.
6. How many hands does the Mulavar have?
A. He has two hands. The right hand is resting under his head and the left hand is resting on his body.
7. Which deity is the Mulavar here?
A. Sri Aravamudan is the Mulavar here. He is in a sleeping posture-
Sayanattirukolam. We can say he is in Uttanasayi Tirukkolam. Saint Tirumalisai Alvar in his Mangalasasanam [Mangalasasana] hymn asked the Lord "Are you resting as your legs pain due to long walk in the mountains and forests or is it the strain in reaching Lanka to destroy Ravana?" Perumal tried to get up to grace the Alvar. The Alvar asked Perumal to give him Darsana in the half-waking up posture. He is not in a complete reclining posture here as such.
8. What is the Sthala Purana associated with this temple?
A. Sage Hemarsi did penance to obtain Laksmi as his daughter. Lord Visnu blessed him. Laksmi took birth in the Potramarai Tirtham [Tirtha] in a thousand petalled lotus and was thus named Komalavalli. In order to marry Tayar, Maha Visnu started from Vaikuntam [Vaikunta] in a chariot. Hence the Garbha Graham [Graha] is itself shaped as a chariot and made of stone.This temple is called as Bhuloka Vaikuntam. Also called as Nitya Vaikuntam.
9. By what name is the consort of the Lord called by?
A. She is called as Tayar.
10. How many hands does Tayar have?
A. She has 4 hands. The main right and left hands are in Abhaya and Varada Hasta respectively. The other two right and left hands hold Tamarai Pu.
11. Does the temple Garbha Graham [Graha] have any special architecture?
A. The Garbha Graham[Graha] is shaped like a chariot. This is the unique feature.
15. When we come for Darsana we first enter Tayar Sannidhi. Why is this so?
A. Since the Lord came to marry Komalavalli Tayar, first we get to see Tayar Sannidhi to seek her blessings.
16. What is the name of the Garbha Graham Vimana?
A. It is called as Vaitika Vimana.
17. What are the other Vimanas?
A. At Tiruvarangam it is called as Pranavakara Vimana. In Kanchi it is called Punyakoti Vimana and here it is Vaitika Vimana.
18. How many Prakarams are there in this temple?
A. This temple has only one Prakaram around the Garbha Graham.
19. How many Mandapams are there in this temple?
A. Ekadasi Mandapam, Unjal Mandapam, Nurkal Mandapam [Mandapa] and Vasanta Mandapam [Mandapa] -there are these four Mandapams [Mandapas] where the Utsavams [Utsavas] take place, Dhvaja Stambha Mandapam [Mandapa] which is on the inner side of the Rajagopuram [Rajagopura] and faces east. Right of Dhvaja Stambha is Nurkal Mandapam which faces the south (there are a hundred pillars in this Mandapam).
20. Is there any Sthala Vrksam in this temple?
A. There is none. But Kurakatti Pu or Vrcci Pu is offered to god during worship.
21. Is there any tank attached to the temple?
A. On the back side is the Potramarai Tirukulam where Tayar appeared. In this Potramarai Tirukulam, Sage Hemarsi did penance and Mahalaksmi took birth as Komalavalli Tayar. To celebrate this in Masimaham, Teppotsavam is celebrated. Teppotsavam is celebrated where by Sridevi and Bhudevi are seated in a small Teppam or boat and taken around being worshipped.
22. What is the greatness of Tayar?
A. Praying to Tayar for success of any work fructifies.
23. Who are the Utsava Murtis in the temple?
A. Sarngapani, Sridevi and Bhumidevi, Komalavalli Tayar and Andal.
24. What all Ayudhams does Sarngapani hold in his hands?
A. He is holding Sankha, Cakra, Gadai, Sarnga and Khadga.Gadai and Sarnga are held with the left hand. One right hand is in Abhaya Hasta. The back left and right hands hold Sankha and Cakra. Khadgam [Khadga] and Banam [Bana] are attached to the waist.
25. How many times a day is Puja done in the temple?
A. We do Arukala Pujai or 6 Pujas in a day.
Visvarupam–7.00–7.30 am–Pal and Palam [Pala] is offered as Naivedyam. Tiruvanandal–8.00–8.30 am–Tayirsadam is offered as Naivedyam. Kalasandhi - 9.30–10.30 am - Venpongal is offered.
Uccikala–12.30–Sudha Anna, Vadai, Murukku and Tengol is offered. Temple is reopened at 4.30 pm
Nityanusantanam–6.00–6.30 pm–Nityaprabandam [Nityaprabanda] is sung. Dosai is offered as Naivedyam.
Irendamkalam–7.30–8.30 pm - Venpongal is offered as Naivedyam. Ardhajamam–9.00–9.30 pm–Sakkaraipongal is offered as Naivedyam.
26. How many Utsavams are held in this temple?
A. All the 12 months festivals are held-
In Cittirai Masam–10 days of Brahmotsavam
In Vaikasi Masam–7 days of Vasantotsavam
Ani Masam–in Swati Naksatram–Garudotsavam [Garudotsava] is celebrated
Adi Masam–in Suklapaksadasami–7 days of Pavitrotsavam. Next two days on Ekadasi and Dwadasi–Tirumanjanam for Perumal.
Avani Masam–Sri Jayanti Utsavam.
Purattaci Masam–Navaratri Utsavam for Tayar and Desikar Utsavam [Utsava] for 10 days during Sravana.
Aipasi Masam - Dipavali Utsavam. Karttikai Masam–Unjal Utsavam.
Margali Masam–Pahalpattotsavam [Pahalpattotsava] and Rapattotsavam. Tai Masam–Tai Ammavasai.
Masi Masam–Teppotsavam.
Panguni Masam–Tayar Tiru Kalyanotsavam–for 10 days.
When these festivals are not being celebrated then every month Ekadasi, Ammavasai and Masapirappu are all celebrated. Hence there is no time allotted for Prarthanai Utsavams.
27. Is this temple under the government?
A. Yes under Hindu Religious Charitable and Endowment Board. Employees are not payed by the government. Only the Executive Officer is paid by the Government. Rest of the people are appointed by the board.
28. How many Sannidhis are there in the temple?
A. Perumal Sannidhi, Tayar Sannidhi, Andal Sannidhi, Alvar Sannidhi, Desikan Sannidhi.
29. Were Devadasis attached to this temple?
A. Yes during olden days they were attached. They danced during Utsavams and offered the Ghata Dipam [Dipa] to the Lord. Here they also made garlands which were offered to the Lord. It is only near Nagesvarar temple that a whole street was dedicated to them- Isai Velala Teruvu. Only the Sivalayas had proper Devadasis who performed Nrtya in the temples.
30. Why is Mulavar Vigraham [Vigraha] always in black stone?
A. Mulavar Vigraham is Sila Vigraham or Marble. On this they apply a Tailam [Taila] made of 18 substances. Hence in the course of time it becomes black. Kadukkai is one of the main substances. Also sandal oil is used. Applying these substances retains the ornamental work on the Vigraham and it becomes long lasting.
31. Can you repeat once again the Mandapams in the temple?
A. After the Rajagopuram [Rajagopura] is the Dhvaja Stambha Mandapam. After this is the Accuta Bhupala Mandapam. To the right of Accuta Bhupala Mandapam [Mandapa] is the Unjal Mandapam. Thereafter is the Prakaram [Prakara] around the Garbha Graha. Then we find the
Dhvaja Stambha for Komalavalli Tayar. In front of the Mulavar is the Tirumamani Mandapam -there are 12 pillars there.
The second interview conducted in the Sarngapani Temple was with Bhattacarya R. Chakravarty who had been employed in the temple for the last 5 years.
Gallery information:
Kumbakonam is considered as one of the holiest places in Tamil Nadu and is known for its temples and Mathas (monasteries which were centres of Brahmanical learning). These photographs depict the connection between the sculptures in the temples and Natya Shastra and related texts dealing with iconography.
High resolution:
Download file
Size: 121.81 KB
Resolution: 1124 x 843
© Copyright: see gallery source
Goto gallery photo:
next