IMM - Flora and Fauna: photo 4
Photo 4 of 49 in Gallery: IMM - Flora and Fauna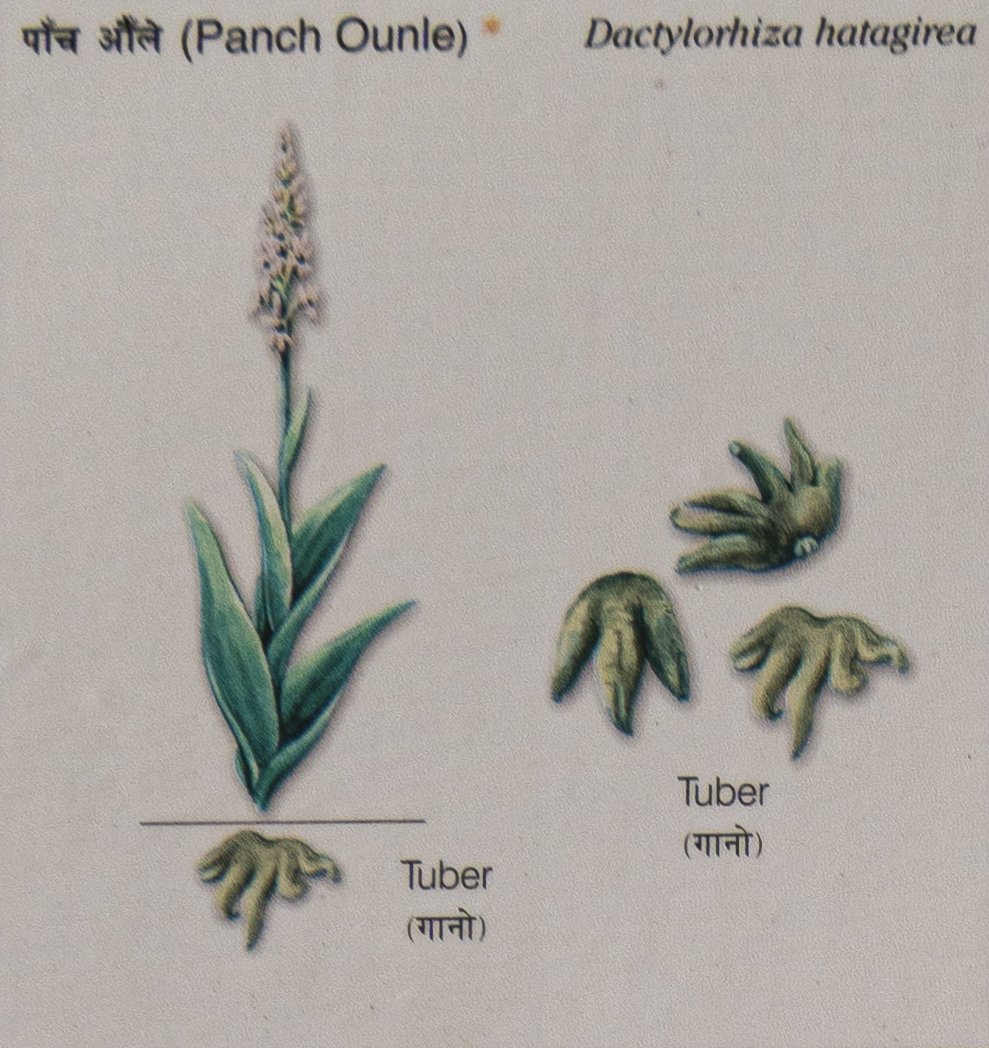 Image title: Panch Ounle (Dactylorhiza hatagirea)
Panch Ounle (पांच औंले) in Nepali refers to the plant Dactylorhiza hatagirea or "Himalayan Marsh Orchid" from the Orchidaceae or "orchid family". It is is mentioned as one of the "Protected plants of Nepal". The photo also depicts the Tuber (गानो, gano/gāno).
The word Panch can also be transliterated as Pāñch, Pāṃch, Pāñcha, Pāṃcha, Pāñc, Pāṃc, Pāñca, Pāṃca, Pāch, Pācha Pāc, Pāca, Panch, Pamch, Pancha, Pamcha, Panc, Pamc, Panca, Pamca, Pach, Pacha Pac or Paca.
The word Ounle can also be transliterated Ouṃle, Auṃle, Oumle, Aumle or Aunle.
Together, the words can be transliterated as: Pāñchoumle, Pāñchounle, Pāñchaumle, Pāñchaunle, Pāṃchouṃle, Pāñchaumle, Pāñchaunle, Pāñcoumle, Pāñcounle, Pāñcaumle, Pāñcaunle, Pāṃcouṃle, Pāṃcauṃle, Pāchoule, Pāchaule, Pācoule, Pācaule, Panchoumle, Panchounle, Panchaumle, Panchaunle, Pamchouṃle, Panchaumle, Panchaunle, Pancoumle, Pancounle, Pancaumle, Pancaunle, Pamcoumle, Pamcounle, Pamcaumle, Pamcaunle, Pachoule, Pachaule, Pacoule or Pacaule.
Gallery information:
The museum exhibitions in this gallery are from the International Mountain Museum in Pokhara. They belong to the category "Flora and Fauna Section" (vanaspati tatha jivjantu shakha).