Hindu Stone Sculptures (NMN): photo 30
Photo 30 of 50 in Gallery: Hindu Stone Sculptures (NMN)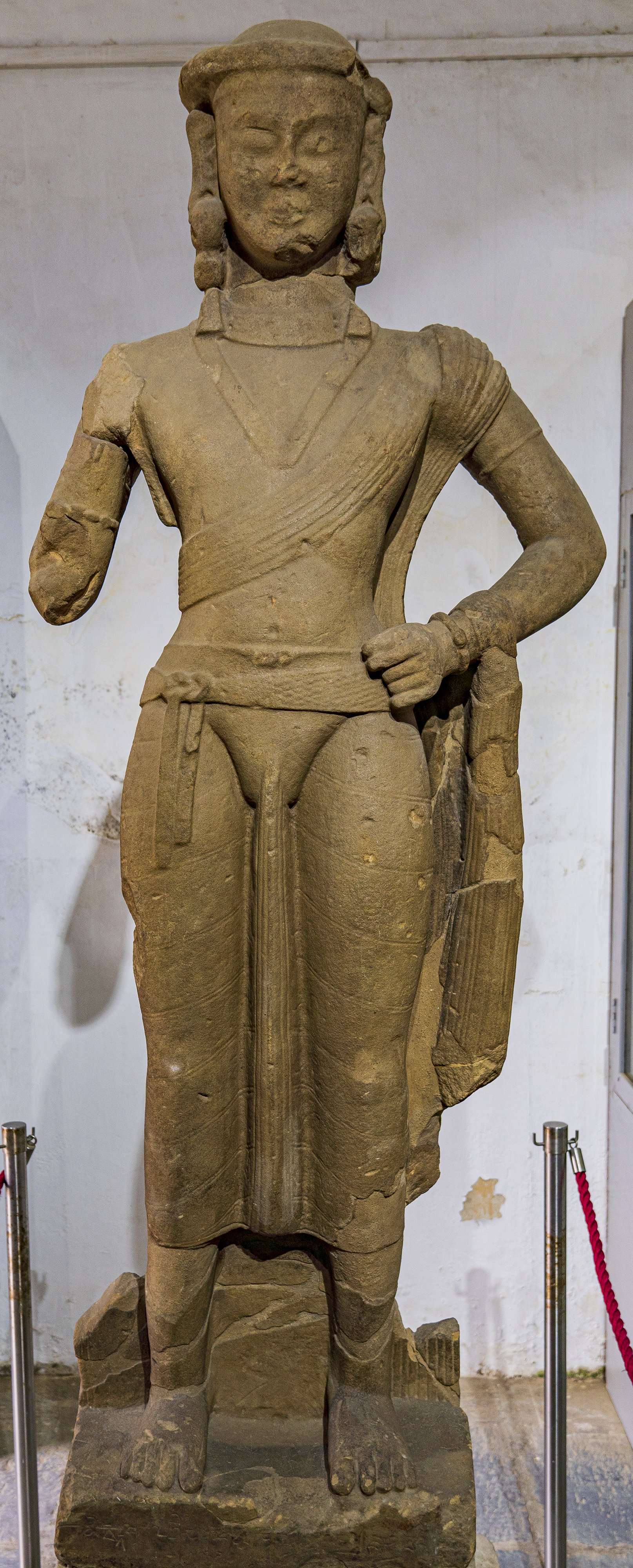 Image title: King Jayavarma (Jayavarman)
This stone sculpture shows an image of King Jayavarma (in samabhanga posture), from 185 A.D.—The life-size statue (murti) of King Jayavarma (Jayavarman) was discovered in May, 1992 while digging the foundation for a house in the Machagala block of Maligaon, Kathmandu. Maligaon is one of the oldest historic sites in the Kathmandu Valley. Carved on a pale sandstone, this sculpture is considered to be one of the oldest dated and inscribed figure so far. This figure dated Saka Samvat 107 (A.D. 185) is regarded to be the earliest pre-Licchavi sculpture having inscription on its pedestal in Brahmi script and in Sanskrit language.
The inscription reads: "shree pancha devapka maharajasya Jayavarmmanah". The dated inscription of Jayavarma definitely proves that before the Licchavis the Varma Kings had rules over the valley and Jaya Varma is believed to be the first king of Varma dynasty during second century A.D.
The figure is carved on a single stone in showing the samabhanga posture over a rectangular stone pedestal. This figure measures 5 feet and 3 and half inches in height, which could have been the average height of the Nepalis in the early period of history.
This figure of Jayavarma (Jayavarman) is wearing a typical round cap, which has a flat band (perhaps silk) tied around the forehead having two ropes with hanging ends on the backside. This type of cap has not seen in other Nepali sculptures. The smiling and charming face, prominent nose, well shaped chin and the thick earrings hanging on the earlobes have collectively given the figure perfect look of a royal personal.
Gallery information:
The National Museum of Nepal (Rashtriya Museum) houses a variety of sculptures, carvings, statues, paintings and other objects grouped according to the major religions such as Hinduism and Buddhism. This photo is from the Hindu stone sculpture (prastara-murti-kala) section.