Hindu Stone Sculptures (NMN): photo 2
Photo 2 of 50 in Gallery: Hindu Stone Sculptures (NMN)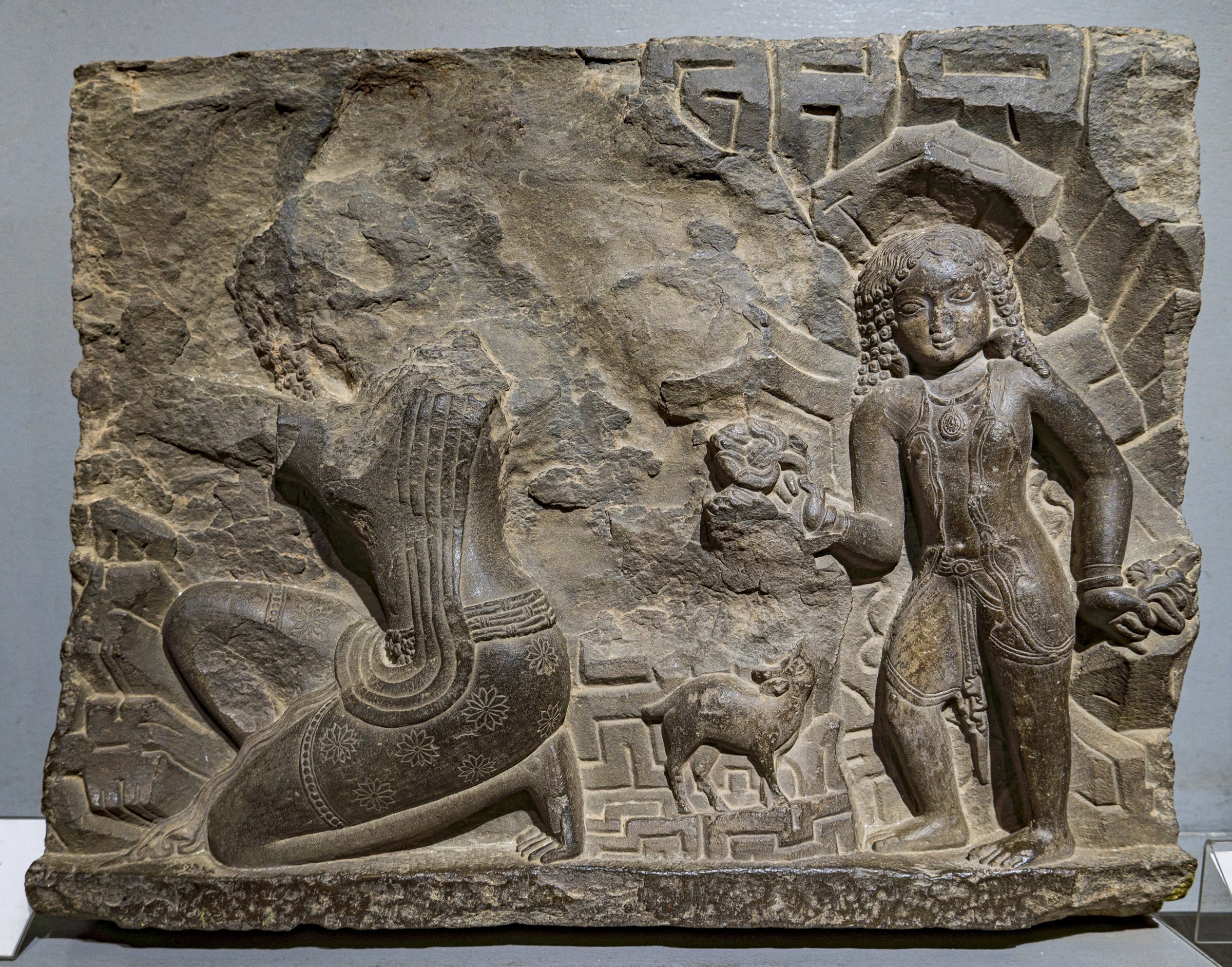 Image title: Shiva as a young Brahmachari
This stone sculpture shows Shiva in the disguised form of a young Brahmachari; from the 6/7th Century A.D.; found in Naghal Tole, Kathmandu.
This sculpture is part of the Narrative Panel of Kumarasambhava:—
"The narrative panels displayed here [viz., "Shiva as a young Brahmachari"] are based on the versions of the story by Kalidasa, a master of Sanskrit literature, in his famed poetry Kumarasambhava. The Nepali artists perfectly caught the theme as narrated by the renowned poet Kalidasa and beautifully depicted their imagination in these panels. These panels from the 6th-7th century A.D. were recovered from the Kathesimbhu and Naghal Tol, Kathmandu.

"The sculptures placed in succession here represent, (viz., Shiva in the disguise of a young celibate monk, [...]). The facial composition of these sculptures display some Mongolian features and possess charming expression. With the execution of unique hair style, the harmonious balance of body proportion, beautiful garments and ornaments, these panels are considered to be the exotic creation of Nepali artists."
In Nepali: "brahmacārīkā rūpamā śiva" (ब्रह्मचारीका रूपमा शिव).
Gallery information:
The National Museum of Nepal (Rashtriya Museum) houses a variety of sculptures, carvings, statues, paintings and other objects grouped according to the major religions such as Hinduism and Buddhism. This photo is from the Hindu stone sculpture (prastara-murti-kala) section.