Hindu Sculptures (EIA): photo 6
Photo 6 of 7 in Gallery: Hindu Sculptures (EIA)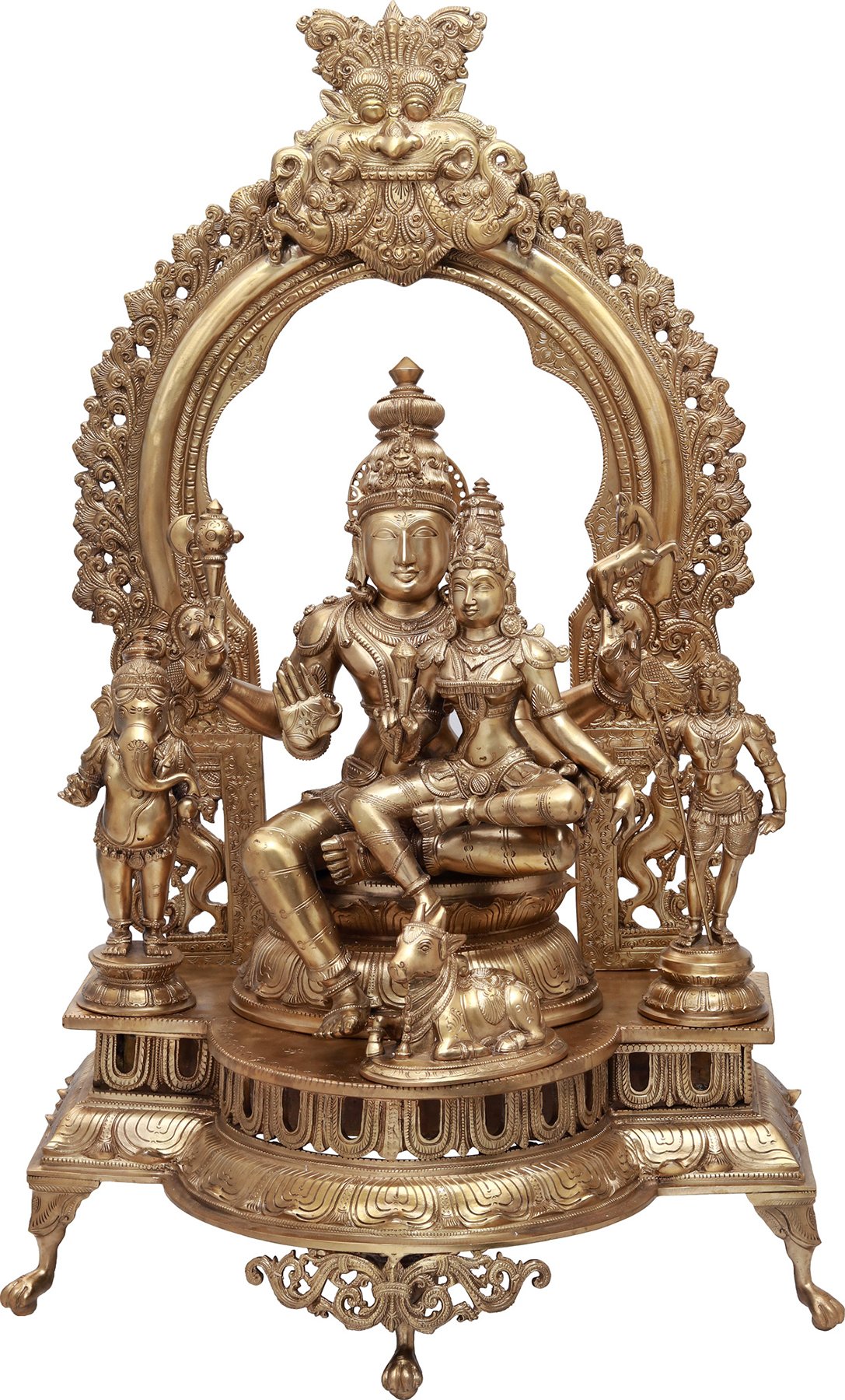 Image title: Shiva-parivar statue
The Ethereal Majesty Of Shiva-parivar [parivara]
Bangalore bronzes are unparalleled in terms of finished beauty. No wonder the artistic appeal of bronze as a medium, as opposed to brass, is greater. It has a whiff of the superlative and the elite about it. Bronze metal-sculpting is an ancient skill that developed in the Southern tip of the subcontinent under the patronage of the Chola monarchs, and as such is superior to brass-working or even wax modelling. In other words it is the perfect mixed media to cast the divine concept of Shiva-parivar [parivara] in.
The much-revered Shiva parivar comprises of His wife, Parvati, and Their 2 sons, Ganesha and Kartika. Shiva Himself takes centre-stage. His two posterior arms are holding divine weapons to battle adharma; He raises one anterior hand in blessing, while with the other He secures the lovely Parvati on His lap. She is also seated in lalitasana, and holds in Her hand a weapon. The harmonious, self-sufficient unit of life that They form together is superbly expressed in the way Their respective silhouettes have been made to align with each other by the artisans. Their intricately crafted, perfectly symmetrical crowns tower above Their heads, Their silk dhoties [dhotis] and ample shringar fit for the celestial realm They belong to. Seated in union on a layered lotus pedestal, with the graceful much-devoted Nandi sitting at the base, They form a complete picture of blissful togetherness.
They are flanked by Ganesha and Kartika, each of Whom has been sculpted with Their iconographies intact. From Ganesha's adorable elephant head, the baby fat on His form, and the humungous laddoo in His hand; to Kartika's radiant handsomeness and the sublime proportions of His form. Like Their parents, Their shringar [shringara] is flawless and Their stance that of great benevolence and blessing. They are each on a much smaller layered lotus pedestal, which together with Shiva-Parvati's seat are placed on an elaborate stand decorated with petal engravings. The aureole equals it in maginificence. The sheer detailing on each layer - the outermost wave-like curves, followed by the twisted lotus petals, the smooth rim as if of a halo, more twisted petals, and two rings engraved with rangoli-esque motifs - sets this ensemble apart from run-of-the-mill enshrined Shiva-parivar statues.
Specifications:
Bronze Statue from Bangalore
35.7 inch Height x 23 inch Width x 14 inch Depth
68.8 kg
Gallery information:
Hindu sculptures as found on Exotic India. There are over 7500 sculptures found on the main site.