Hindu Sculptures (EIA): photo 4
Photo 4 of 7 in Gallery: Hindu Sculptures (EIA)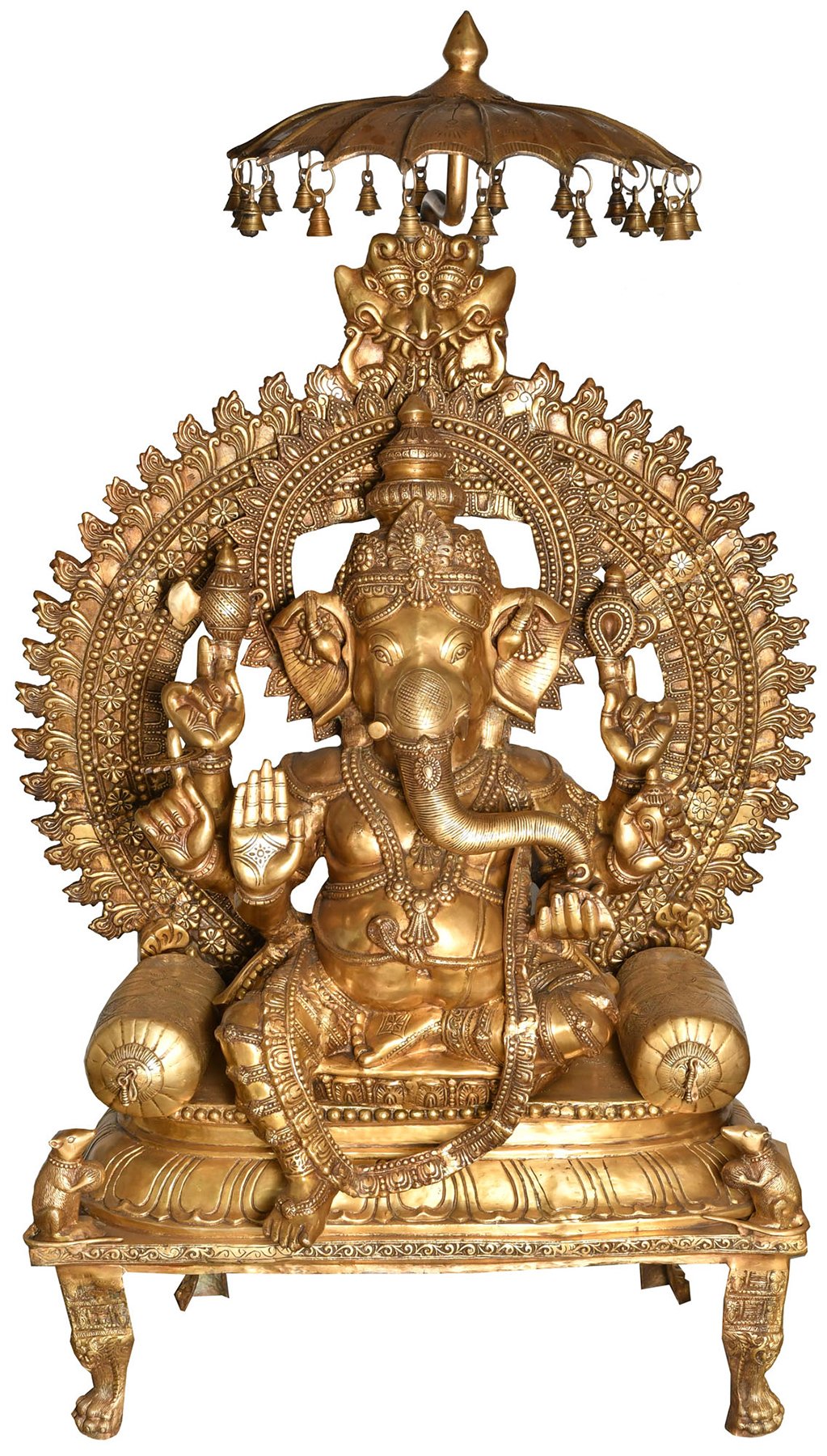 Image title: Ganesha (sitting on throne)
Lord Ganesha, The Jewel Of Shiva-Parvati
A kingly Lord Ganesha sits on the throne. From the lalitasana of His limbs to the ample regalia of His person, He looks every bit the ruler of paraloka and ihaloka alike, over the hearts of numerous devotees who consider Him the jewel of Shiva-Parvati. He is shashtabhujadhari: conchs and the sudarshan chakra and the gesture of blessing in His hands, and of course a freshly made laddoo in the anterior left one.
An outline of an imposing halo graces the back of Lord Ganesha's elephant-head. On His brow sits an ornately carved crown that practically towers above the figure. The gaze of His gentle eyes - omniscient, omnivolent - pierces through the heart of the truly devoted, and overwhelms them. Zoom in on each aspect of His roopa (form) in order to appreciate the glamour of His adornments, indicative of the divinity and cosmic significance of the son of Lord Shiva.
Note the elaborate throne of the Lord. The same is laid over with cushions and inverted lotus petal engravings. Not one but two mice, each holding up a laddoo to their Lord, flank the surface of the pedestal. The beauty of this murti lies in the artisan's attention to detail across the whole composition - the fine serrations down the length of His trunk, the tattoos on the palms and soles wherever exposed, and the perfect symmetry of the Kirtimukha aureole behind Him.
Specifications:
Brass Statue
63 inch Height x 39 inch Width x 20 inch Depth
145 kg.
Gallery information:
Hindu sculptures as found on Exotic India. There are over 7500 sculptures found on the main site.