Early Indian narrative art of Bharhut: photo 77
Photo 77 of 140 in Gallery: Early Indian narrative art of Bharhut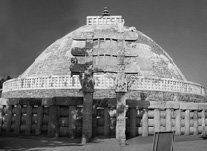 Image title: Figure 77. The Great Stupa at Sanci
Figure 77:—General view of the Great Stupa, Sanci, Raisen, Madhya Pradesh, c. 1st century BCE. (Photograph by the author).
Gallery information:
The art of Bharhut, dominated by sculptural reliefs narrating a popular facet of Buddhism in the form of the immense Jataka literature, represent the emergence of visual narrative art in India.—Bharhut represents the earliest evidence of narrative art which display many story telling techniques.