Early Indian narrative art of Bharhut: photo 35
Photo 35 of 140 in Gallery: Early Indian narrative art of Bharhut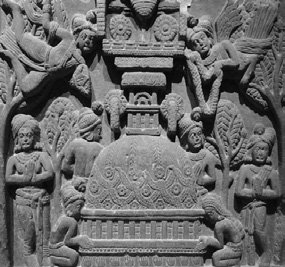 Image title: Figure 35. Worship of the Stupa
Figure 35:—Railing relief depicting male and female devotees and winged celestial beings worshipping a stupa flanked by a pair of shala trees, Bharhut, Freer Gallery of Art, Washington, DC, United States. (Courtesy: Ratan Parimoo, Life of Buddha in Indian Sculptures, Plate 8).
Gallery information:
The art of Bharhut, dominated by sculptural reliefs narrating a popular facet of Buddhism in the form of the immense Jataka literature, represent the emergence of visual narrative art in India.—Bharhut represents the earliest evidence of narrative art which display many story telling techniques.