Children's Illustrated Ramayana: photo 59
Photo 59 of 59 in Gallery: Children's Illustrated Ramayana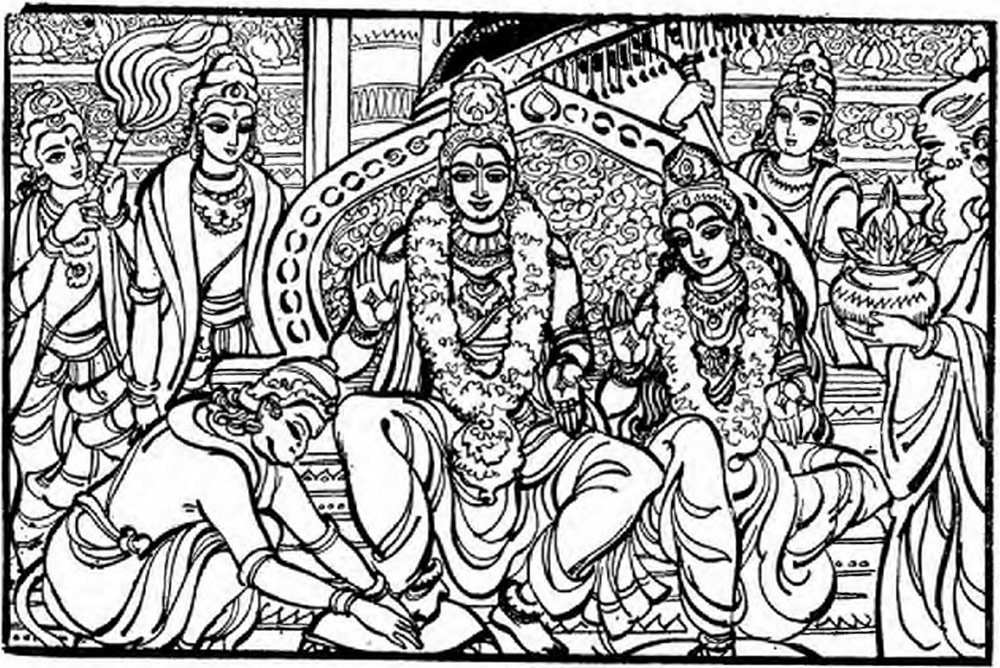 Image title: Children's Illustrated Ramayana: Figure 59
Sri Rama, after finishing His ablutions, decked Himself with jewels; the beauty of His person put to shame hundreds of Cupids. The mothers-in-law immediately bathed Sita with tenderness and carefully attired her in heavenly robes with rich jewels. Thereafter Sri Rama and Janaki were seated in a heavenly throne, which was effulgent like the sun, and the Abhisheka (sacred crowning ceremony) was conducted while Brahmans recited Vedic hymns. The sages and devas in the heavens shouted "Victory! Victory!" and a large number of kettle-drums sounded and Gandharvas and Kinnaras sang and heavenly nymphs danced.
The Lord performed myriads of horse-sacrifices and bestowed innumerable gifts on the Brahmanas. The Defender of the Vedic usage and the champion of righteousness, He was another Indra. A mine of beauty, virtuous and meek, Sita was ever devoted to Her lord. She knew the greatness of the Allmerciful Lord and adored His lotus-feet with a devoted heart. She did all household work with Her own hands and invariably did what would afford delight to Sri Ramacandra. Devoid of pride and conceit, She waited upon Kauslya and all the other mothers-in-law in the palace.
Gallery information:
These illustrations are from the book called "Children's Illustrated Ramayana" which is an abridged retelling of the Ramayana authored by Vishnu B while the illustrations are by Vipin K. Das.
Note: You can read the full English translation of the Ramayana on this site.
Source: archive.org (external link; opens in new tab).
High resolution:
Download file
Size: 229.89 KB
Resolution: 1000 x 668
© Copyright: see gallery source
Goto gallery photo:
previous