Children's Illustrated Ramayana: photo 57
Photo 57 of 59 in Gallery: Children's Illustrated Ramayana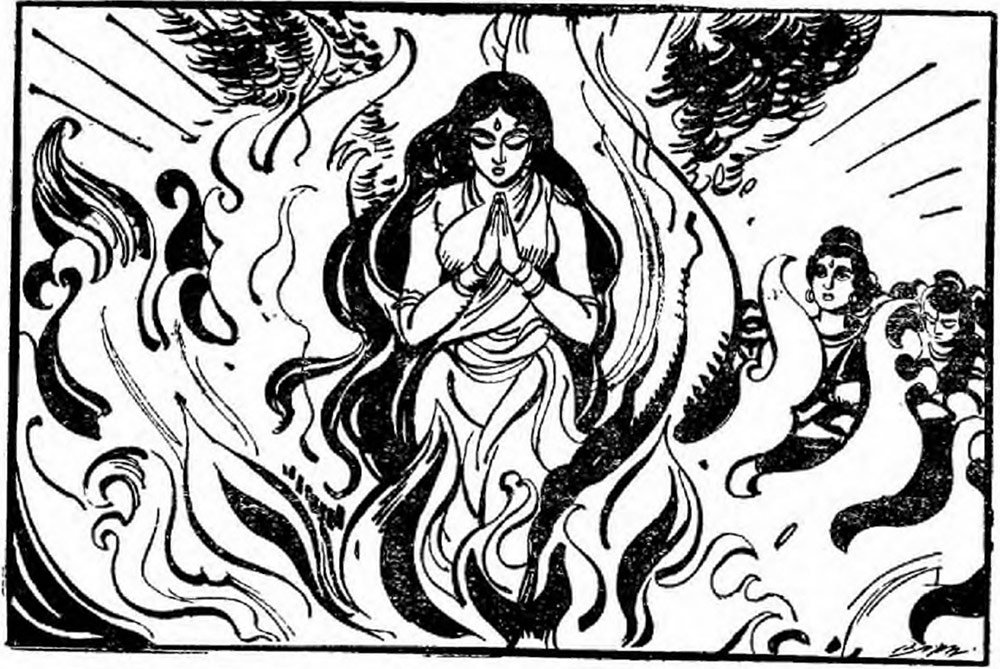 Image title: Children's Illustrated Ramayana: Figure 57
Sita wanted to prove to the entire world her blameless virtue. Sita asked Lakshmana to kindle a fire for her. Reading Rama's tacit approval in His looks, Lakshmana kindled a fire. Videha's Daughter rejoiced at heart to perceive the blazing fire and prayed to Agni thus: "If in thought, word and deed I have never set my heart on anyone other than Sri Rama, may Agni, which knows the working of all minds, become cool like sandal-paste to me."
When Mithili (Sita) entered the flames, they were cool like sandal-paste. Then fire-god Agni appeared bearing the radiant form of Sita pure in body and soul and presented to Sri Rama. The devas in their delight rained down flowers and kettle-drums sounded in the air.
Gallery information:
These illustrations are from the book called "Children's Illustrated Ramayana" which is an abridged retelling of the Ramayana authored by Vishnu B while the illustrations are by Vipin K. Das.
Note: You can read the full English translation of the Ramayana on this site.
Source: archive.org (external link; opens in new tab).