Children's Illustrated Ramayana: photo 55
Photo 55 of 59 in Gallery: Children's Illustrated Ramayana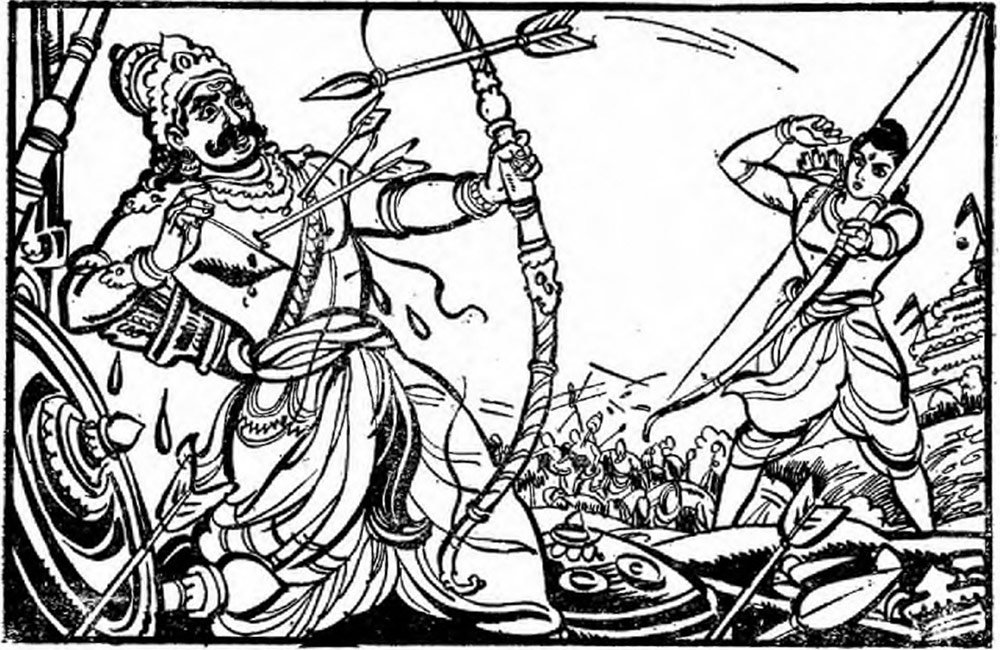 Image title: Children's Illustrated Ramayana: Figure 55
On the side of Rama were not only strength and power but also truth and justice. On Ravana's side was the might of the rakshasas drunk with power, cruel at heart and out to do harm. Good was ranged against evil.
Rama took up the Brahmastra and invoking on it the appropriate mantra sent it against Ravana. The astra did its work unerringly and returned to Rama's hands. His heart blown by the shattering force of the astra, Ravana fell on the ground lifeless.
The fall of Ravana demoralised the rakshasa remnants and they dispersed in confusion. The war was at an end. The gods showered flowers on Rama.
The vanara leaders acclaimed Rama's superhuman deed of valour and fell to worshipping him.
Gallery information:
These illustrations are from the book called "Children's Illustrated Ramayana" which is an abridged retelling of the Ramayana authored by Vishnu B while the illustrations are by Vipin K. Das.
Note: You can read the full English translation of the Ramayana on this site.
Source: archive.org (external link; opens in new tab).