Children's Illustrated Ramayana: photo 41
Photo 41 of 59 in Gallery: Children's Illustrated Ramayana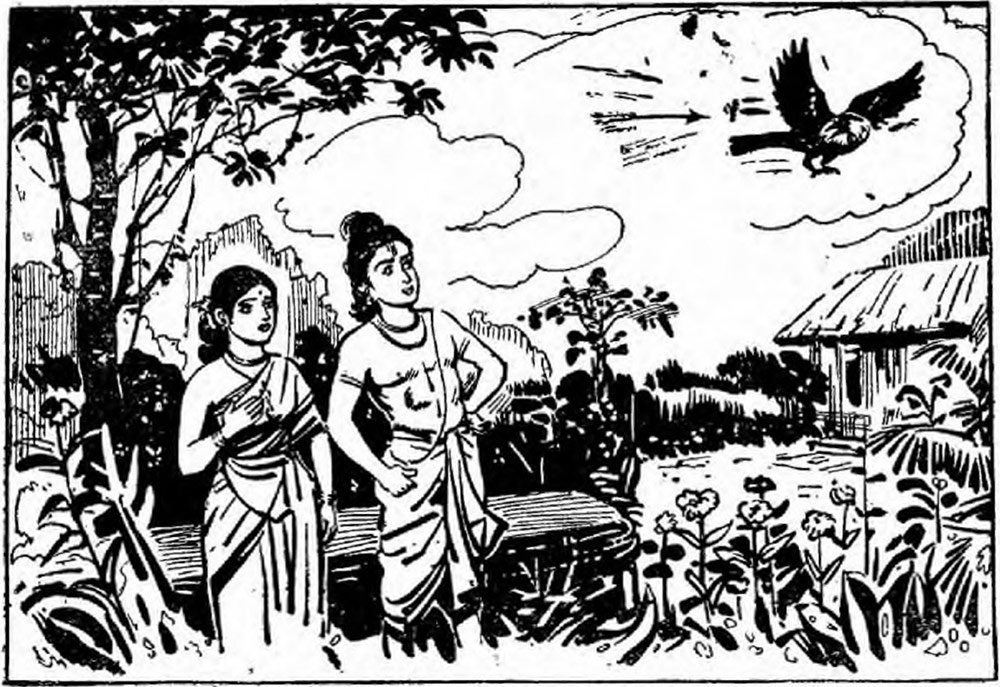 Image title: Children's Illustrated Ramayana: Figure 41
Hanuman informed her how Lord Rama was grief stricken at her separation. He also assured her that now that he knew her whereabouts, the moment Lord Rama heard the news he would hasten to Lanka and kill Ravana.
Sita then made many enquiries about Rama's welfare and related two incidents known so far only to Rama and her.
One was about a crow, which caused injury to her as Rama lay asleep with his head on her lap. When a drop of blood fell on Rama's face, Rama woke up. On learning about the audacious behaviour of the crow, Rama, got enraged, invoked the Brahmastra mantra on a blade of grass and sent it whirling through the air. The blade chased the crow wherever it went.
The crow after approaching many and finding that none could help him, finally surrendered to Rama and he, in his infinite mercy, was pleased to forgive it, only taking its left eye as the target of the Brahmastra.
The other was when they were on the top of a hill. The tilaka on Sita's face got effaced and immediately Rama made a tilaka, with the red-coloured manassila.
Gallery information:
These illustrations are from the book called "Children's Illustrated Ramayana" which is an abridged retelling of the Ramayana authored by Vishnu B while the illustrations are by Vipin K. Das.
Note: You can read the full English translation of the Ramayana on this site.
Source: archive.org (external link; opens in new tab).