Children's Illustrated Ramayana: photo 39
Photo 39 of 59 in Gallery: Children's Illustrated Ramayana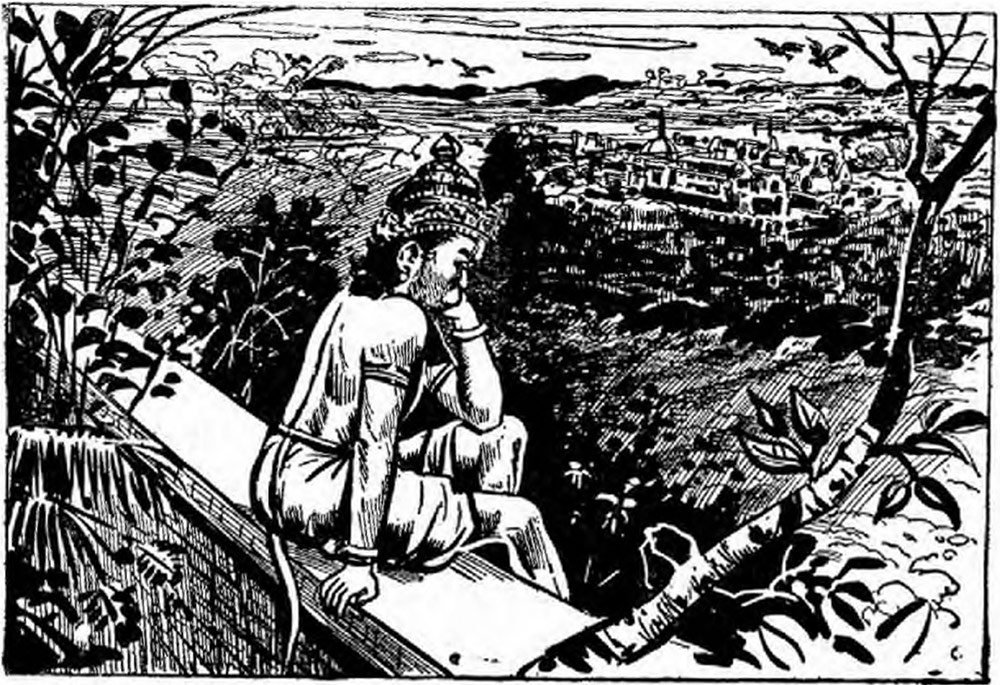 Image title: Children's Illustrated Ramayana: Figure 39
Though Maruthi scanned the entire city inch by inch he could not find Sita.
The thought of failure depressed him. " Nought is there for me but to give up my life," he thought. He now remembered what Sampathi had said. Was he wrong or had the rakshasas eaten up Sita, he wondered. In anxiety and despair He sat there for some time not knowing what to do.
At that moment he espied at a distance the lovely park, Asokavana, enclosed by high walls. He chanted Rama's name and felt he would find Sita in the garden. He reached the high walls of the garden quickly and began to survey it.
Hanuman decided to leave no spot in the Asokavana unexplored. As he jumped from tree to tree the flowers fell in a shower on him. The birds and other creatures there took him to be the god of spring himself. The Asokavana as a whole presented an enchanting appearance. When Maruthi reached a particularly beautiful spot there, he thought that Sita, wan and dispirited from her long separation from Rama, would be surely coming to this spot to seek respite.
Gallery information:
These illustrations are from the book called "Children's Illustrated Ramayana" which is an abridged retelling of the Ramayana authored by Vishnu B while the illustrations are by Vipin K. Das.
Note: You can read the full English translation of the Ramayana on this site.
Source: archive.org (external link; opens in new tab).