Children's Illustrated Ramayana: photo 35
Photo 35 of 59 in Gallery: Children's Illustrated Ramayana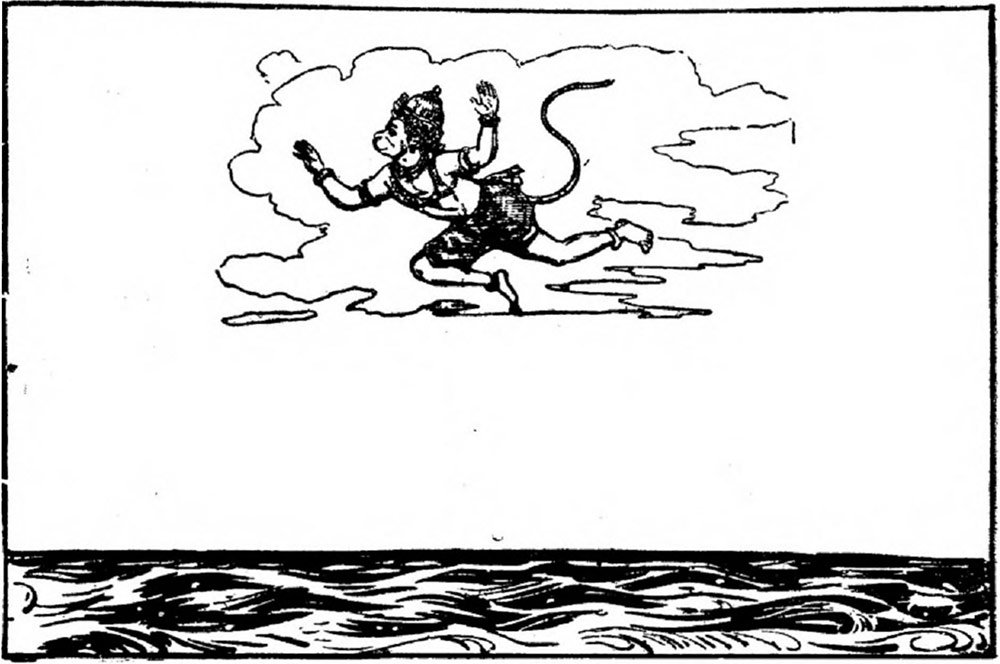 Image title: Children's Illustrated Ramayana: Figure 35
Hanuman rose aloft gaily from the mountain and with prayers to Sri Rama regarded himself al equal to Garuda the monarch of the feathered beings.
Then, with supreme confidence he leapt forward flashing like a comet across the sea. With his hands outstretched he appeared like a five-headed cobra blazing a trail across the waters. The sea in front of him rapidly diminished in length through his amazing speed of flight. It seemed as if he drank it up and would next swallow the sky itself. As the monkey hero proceeded on his airy route, his tawny eyes blazed like lightning or like huge fires on mountaintops or like the sun and the moon rising together on the horizon.
His phenomenal flight over the trackless waste of waters compelled the admiration and homage of the gods, the asuras, and the gandharvas who showered on him flowers of celestial fragrance.
Gallery information:
These illustrations are from the book called "Children's Illustrated Ramayana" which is an abridged retelling of the Ramayana authored by Vishnu B while the illustrations are by Vipin K. Das.
Note: You can read the full English translation of the Ramayana on this site.
Source: archive.org (external link; opens in new tab).