Children's Illustrated Ramayana: photo 31
Photo 31 of 59 in Gallery: Children's Illustrated Ramayana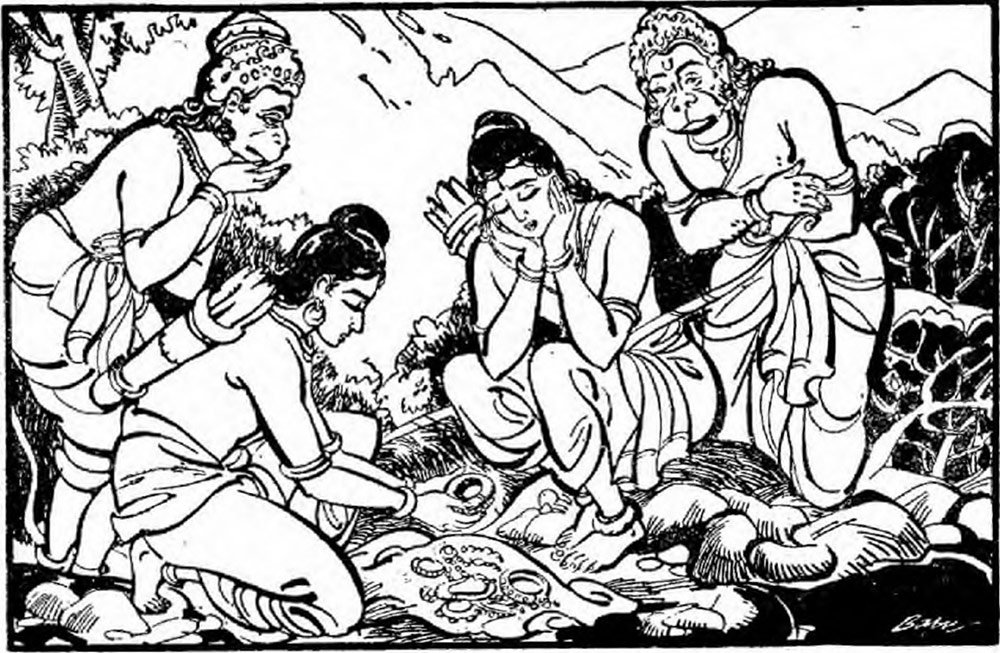 Image title: Children's Illustrated Ramayana: Figure 31
Rama and Sugriva wanted each other's help. Sugriva promised Rama that he and his vanara following would assist in the search for Sita. Rama said he would help Sugriva defeat his powerful brother who was tormenting him.
Then Sugriva told the princes how one of his vanara groups had come by some ornaments bundled in a rag. A woman in distress had dropped the bundle while she was being carried aloft by a rakshasa.
At the sight of the ornaments, which were Sita's, Rama was over- whelmed with grief. His sorrow knew no bounds.
Gallery information:
These illustrations are from the book called "Children's Illustrated Ramayana" which is an abridged retelling of the Ramayana authored by Vishnu B while the illustrations are by Vipin K. Das.
Note: You can read the full English translation of the Ramayana on this site.
Source: archive.org (external link; opens in new tab).