Children's Illustrated Ramayana: photo 29
Photo 29 of 59 in Gallery: Children's Illustrated Ramayana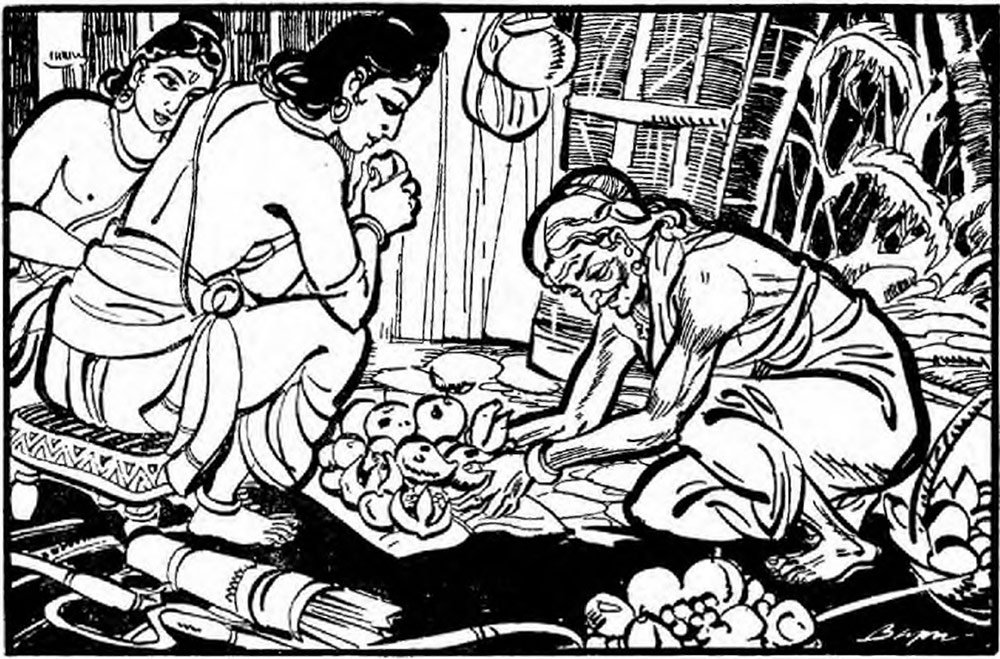 Image title: Children's Illustrated Ramayana: Figure 29
Wandering in search of Sita, the princes came across a headless and legless monster named Kabandha. The monster challenged the princes to a fight. Kabandha was defeated and the princes cut off his arms. But that was what Kabandha wanted, because he was under a curse. He would regain his handsome form only when Rama and Lakshmana maimed him completely and set fire to his body.
When this was done, a lovely person arose from the fire and advised the princes to go to the river Pampa and befriend Sugriva, the brother of Vali, the monkey-ruler.
On the way to Pampa, Rama and Lakshmana called at a lowly cottage where lived an old lady by name Sabari. She had been waiting for years for Rama to come by. Sabari offered tasty fruits and wild roots to the two princes and they ate them heartily to her great delight.
Gallery information:
These illustrations are from the book called "Children's Illustrated Ramayana" which is an abridged retelling of the Ramayana authored by Vishnu B while the illustrations are by Vipin K. Das.
Note: You can read the full English translation of the Ramayana on this site.
Source: archive.org (external link; opens in new tab).