Children's Illustrated Ramayana: photo 27
Photo 27 of 59 in Gallery: Children's Illustrated Ramayana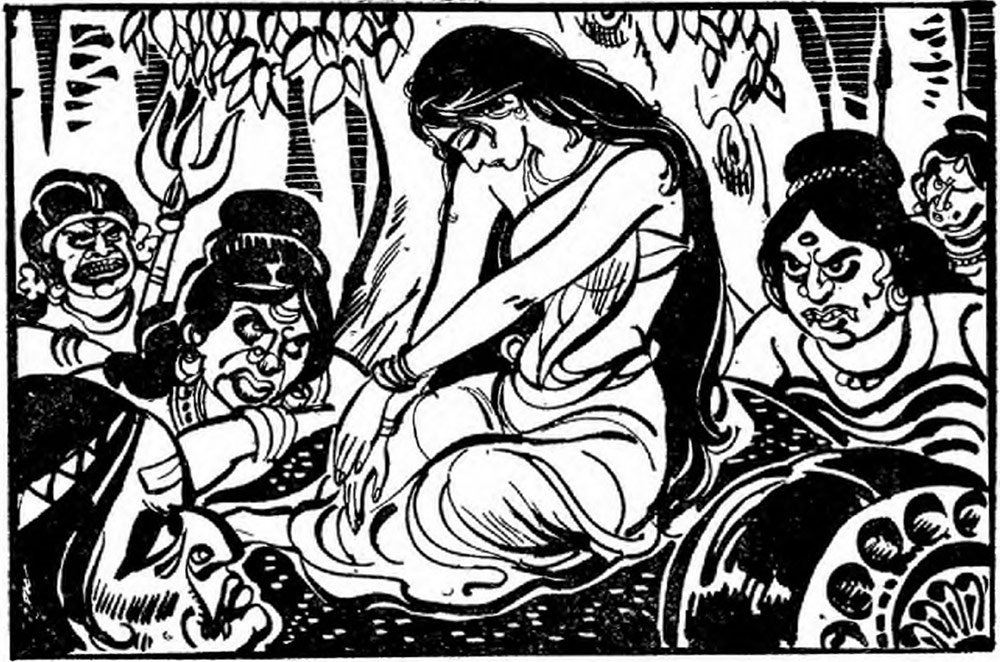 Image title: Children's Illustrated Ramayana: Figure 27
In Lanka, Ravana made further advances to Sita but Sita would not deign to look at him or hear his words.
Enraged at Sita's indifference, Ravana threatened to kill her. He said he would give her two months to make up her mind. If she did not yield by then, he would eat her up.
To frighten her into obedience, Ravana put her in a green park, known as Asokavana, with a gang of the most hideous-looking rakshasis to guard her.
Sita, desolate and woe be gone, pined away. She refused to touch food or drink. The raksihasis tormented her in many ways and tried to make her yield to Ravana.
Gallery information:
These illustrations are from the book called "Children's Illustrated Ramayana" which is an abridged retelling of the Ramayana authored by Vishnu B while the illustrations are by Vipin K. Das.
Note: You can read the full English translation of the Ramayana on this site.
Source: archive.org (external link; opens in new tab).