Children's Illustrated Ramayana: photo 25
Photo 25 of 59 in Gallery: Children's Illustrated Ramayana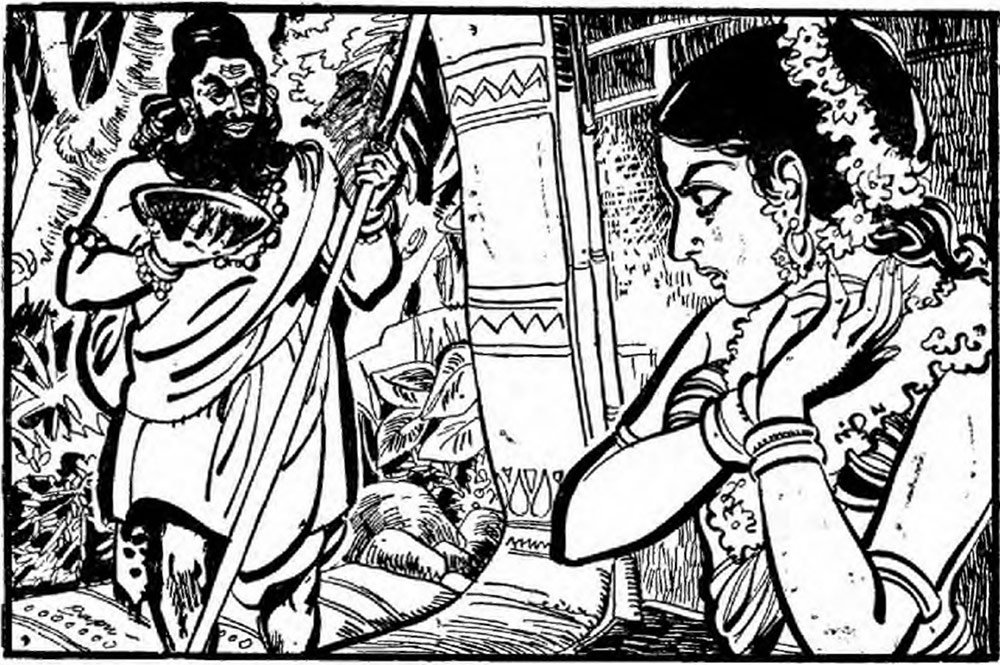 Image title: Children's Illustrated Ramayana: Figure 25
Rama gave a long chase but the deer eluded him. Annoyed and angry, Rama shot an arrow from his bow and mortally wounded the deer. As Maricha sank to the earth he cried in Rama's voice, "Ha! Sita. Ha! Lakshmana."
Sita heard the cry. She feared that Rama might have come to some harm. She forced Lakshmana to go out into the forest after Rama.
Now was the moment for Ravana. He appeared at the cottage, disguised as a sanyasi (holy man) and asked for alms. Sita looked at him and knew that she was in great danger.
Gallery information:
These illustrations are from the book called "Children's Illustrated Ramayana" which is an abridged retelling of the Ramayana authored by Vishnu B while the illustrations are by Vipin K. Das.
Note: You can read the full English translation of the Ramayana on this site.
Source: archive.org (external link; opens in new tab).