Children's Illustrated Ramayana: photo 23
Photo 23 of 59 in Gallery: Children's Illustrated Ramayana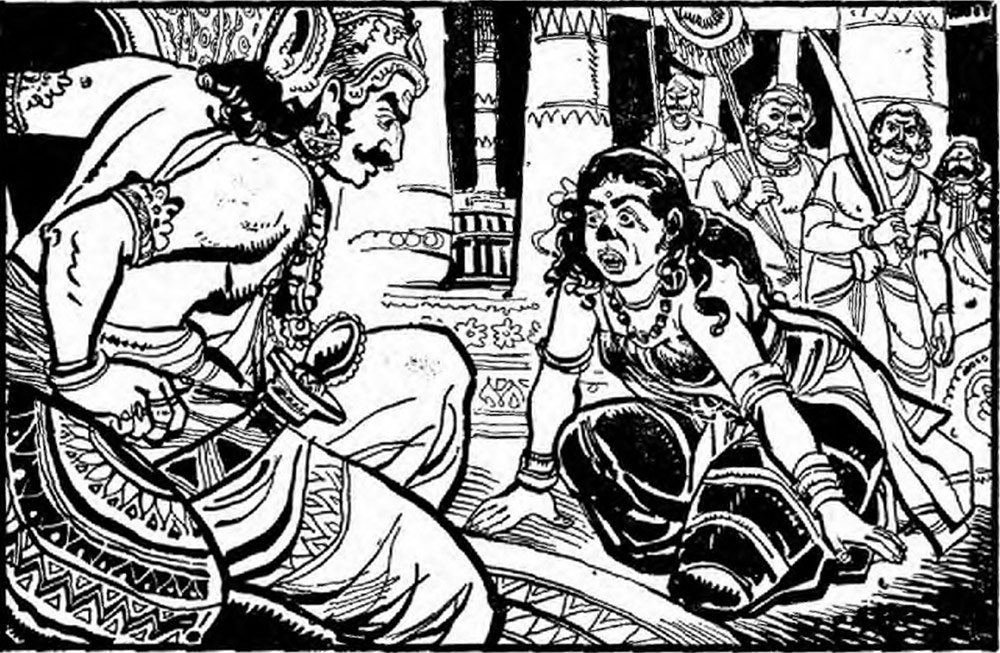 Image title: Children's Illustrated Ramayana: Figure 23
News of the rakshasa rout at Panchavati reached Lanka. Full of wrath, Ravana swore that he would go immediately to Dandakaranya to avenge the defeat. But his counsellors pacified him saying that Rama could not be killed in battle by anyone. The only way to bring about Rama's end was by stealing his wife Sita. Rama was certain to die of grief at the separation.
Others advised Ravana to be careful as Rama appeared to possess the power and might of a God.
While Ravana was still hesitating; Surpanakha came with her tale of disgrace and suffering. She spoke of Sita's great beauty and urged Ravana to abduct her to avenge the wrong done to his sister.
Ravana's mind was made up. He must secure Sita at all cost. After consulting his advisers he decided on a clever ruse to steal Sita from Rama.
Gallery information:
These illustrations are from the book called "Children's Illustrated Ramayana" which is an abridged retelling of the Ramayana authored by Vishnu B while the illustrations are by Vipin K. Das.
Note: You can read the full English translation of the Ramayana on this site.
Source: archive.org (external link; opens in new tab).