Children's Illustrated Ramayana: photo 17
Photo 17 of 59 in Gallery: Children's Illustrated Ramayana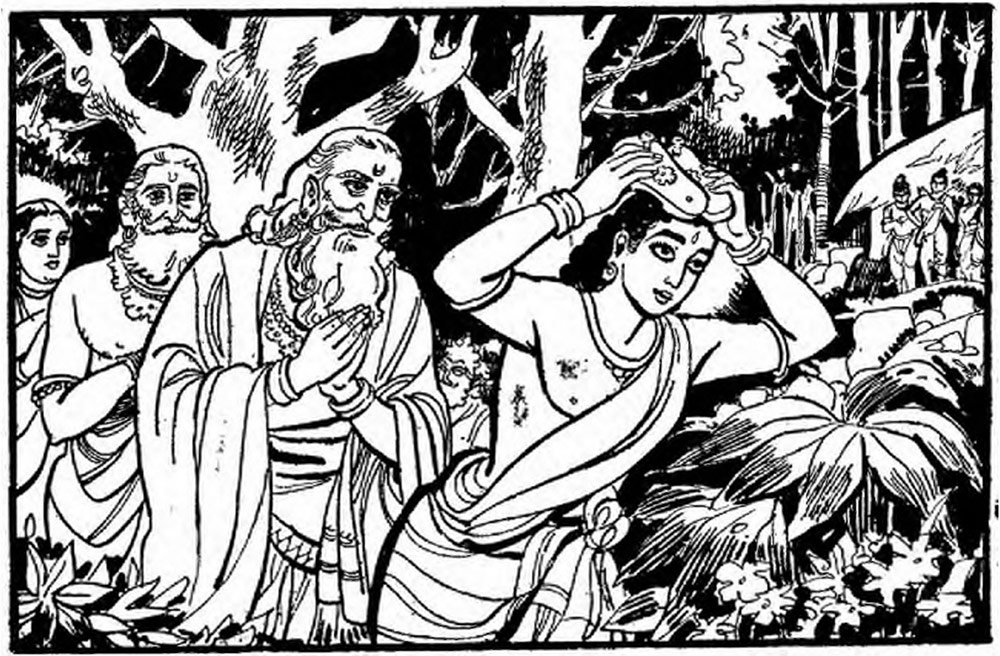 Image title: Children's Illustrated Ramayana: Figure 17
The sage Vasishta, who was present, advised Bharata to follow Ramas advice. Bharata was still not willing to go back home without Rama. He again begged Rama to reconsider his decision.
Rama was firm in his resolve to carry out the sentence of exile. Bharata said he would not be able to govern Ayodhya without help. If Rama would not return, he must at least condescend to part with some symbol of his authority. Bharata produced a pair of sandals and asked Rama to step on them. He would take the sandals with him and regard them as agents of Rama. From these sandals he would, derive his authority to rule over Ayodhya.
To Bharata the sandals became sacred objects. He carried them on his head all the way back home and installed them on the throne at a place called Nandigrama near Ayodhya.
Gallery information:
These illustrations are from the book called "Children's Illustrated Ramayana" which is an abridged retelling of the Ramayana authored by Vishnu B while the illustrations are by Vipin K. Das.
Note: You can read the full English translation of the Ramayana on this site.
Source: archive.org (external link; opens in new tab).