Children's Illustrated Ramayana: photo 13
Photo 13 of 59 in Gallery: Children's Illustrated Ramayana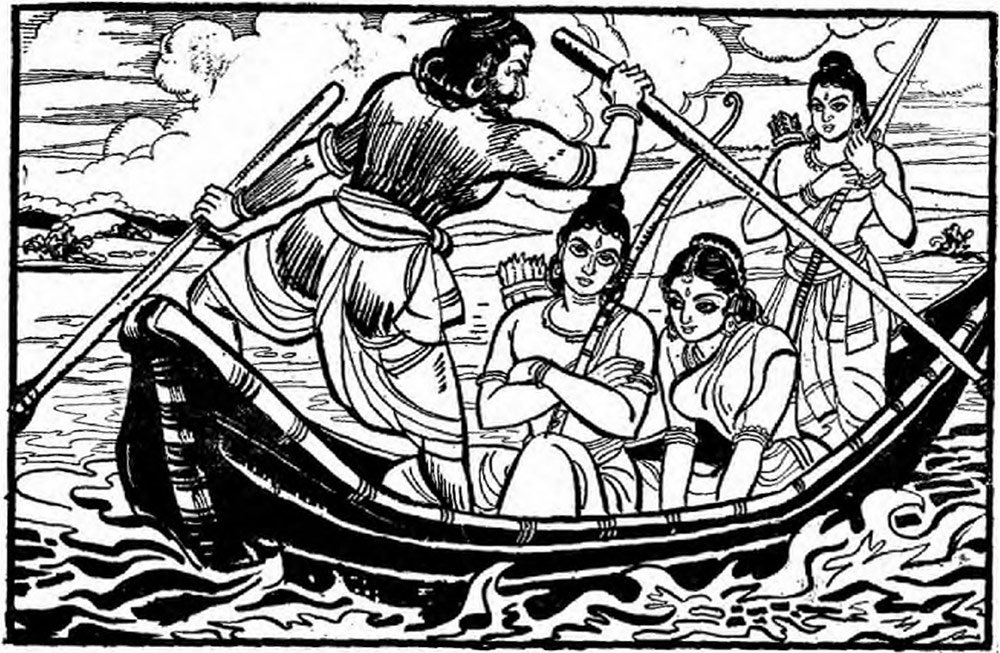 Image title: Children's Illustrated Ramayana: Figure 13
The people of Ayodhya, however, would not let their beloved prince go away so easily. They followed him day and night into the forest. Rama appealed to them to return to the city, but in vain.
At night, Rama decided to evade his people and become lost to them so that they would return peacefully to their homes. He went deeper into the forest after crossing the boundaries of the kingdom.
Soon, Rama, Lakshmana and Sit a came to Sringiberapura on the banks of the Ganga. They met the hunter-chief, Guha, who offered his own kingdom for Rama to rule. Rama declined the offer and said he must lead a hermit's life in order to carry out his father's wishes.
Guha was an expert boatman. At Rama's request he got a boat ready and ferried the two princes and Sita across the river.
Gallery information:
These illustrations are from the book called "Children's Illustrated Ramayana" which is an abridged retelling of the Ramayana authored by Vishnu B while the illustrations are by Vipin K. Das.
Note: You can read the full English translation of the Ramayana on this site.
Source: archive.org (external link; opens in new tab).