Children's Illustrated Ramayana: photo 12
Photo 12 of 59 in Gallery: Children's Illustrated Ramayana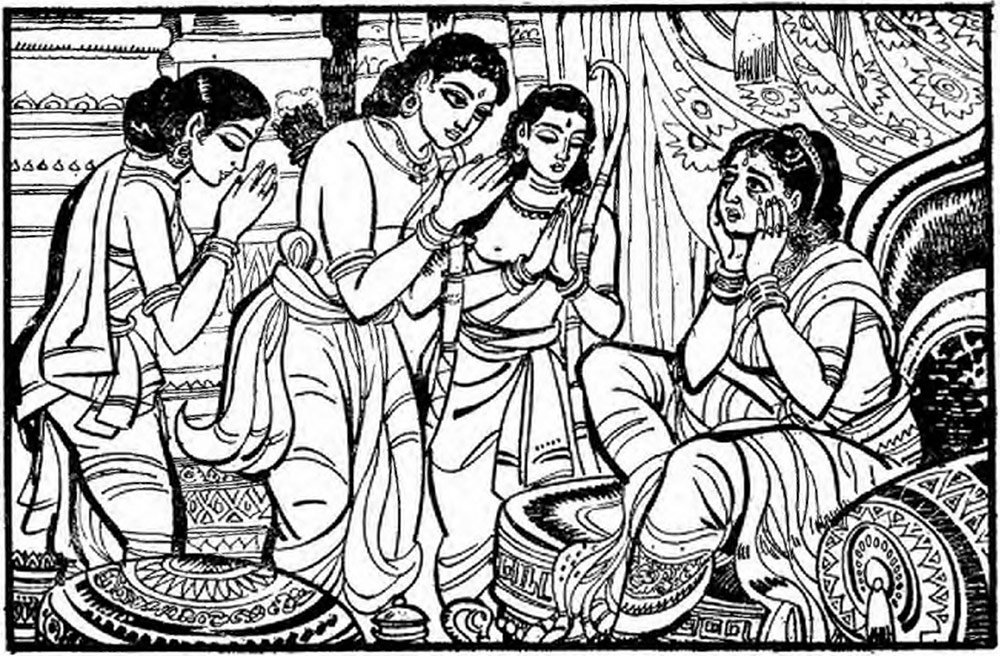 Image title: Children's Illustrated Ramayana: Figure 12
Rama took leave of Kaikeyi and went to his mother's apartments.
Kausalya was shocked to hear that her son must part from her for full fourteen years. Rama comforted her in noble words and at last she agreed that the Emperor's commands must be carried out.
Lakshmana was angry at the injustice done to Rama, but Rama pacified him. Sita received the news like a true Kshatriya wife. She insisted that she would go with Rama wherever he went, even to the darkest forest full of dangers. Lakshmana too pleaded that he be allowed to accompany Rama in his exile.
All three then took leave of their elders. Sumitra asked her son, Lakshmana, to do his best to serve Rama and Sita because they were to him like father and mother.
Gallery information:
These illustrations are from the book called "Children's Illustrated Ramayana" which is an abridged retelling of the Ramayana authored by Vishnu B while the illustrations are by Vipin K. Das.
Note: You can read the full English translation of the Ramayana on this site.
Source: archive.org (external link; opens in new tab).