Children's Illustrated Ramayana: photo 9
Photo 9 of 59 in Gallery: Children's Illustrated Ramayana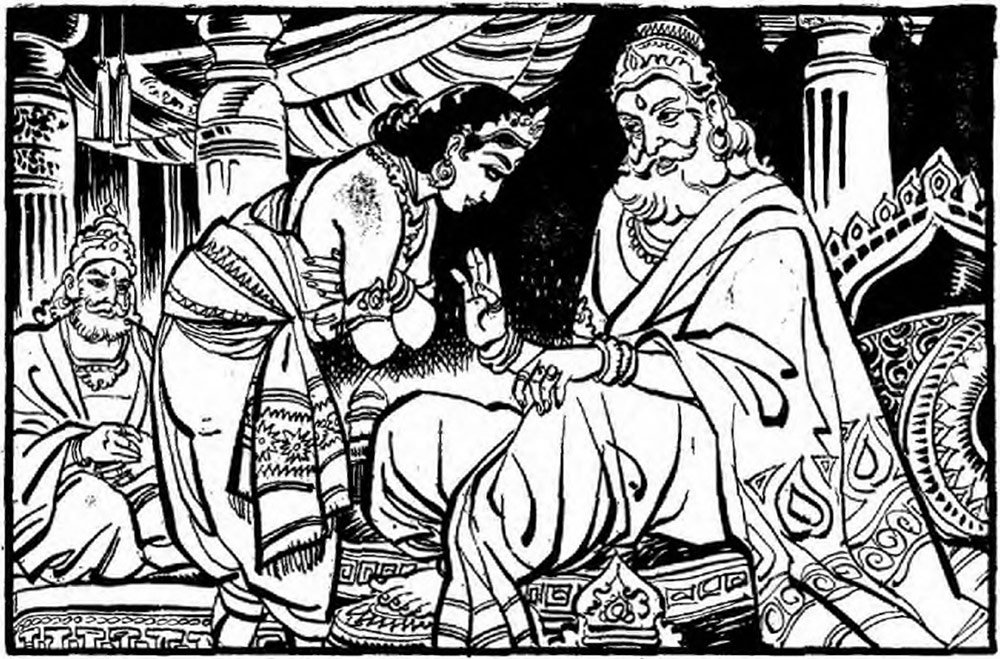 Image title: Children's Illustrated Ramayana: Figure 9
Dasaratha had reigned over Ayodhya for a very long time. He now felt it was time to retire and hand over the rule of the kingdom to his eldest son, Rama, as was the custom among the Kshatriyas (ruling class). Sri Rama had already earned the love and esteem of the people.
One day, Emperor Dasaratha called Rama to his presence and said he would like the young prince to be crowned king. Rama received the news with humility, which sat on him like an ornament.
Thereupon, Dasaratha sent for the wise men and rishis and took counsel with them. He ordered that brisk preparations be made for the coronation.
Gallery information:
These illustrations are from the book called "Children's Illustrated Ramayana" which is an abridged retelling of the Ramayana authored by Vishnu B while the illustrations are by Vipin K. Das.
Note: You can read the full English translation of the Ramayana on this site.
Source: archive.org (external link; opens in new tab).