Children's Illustrated Ramayana: photo 7
Photo 7 of 59 in Gallery: Children's Illustrated Ramayana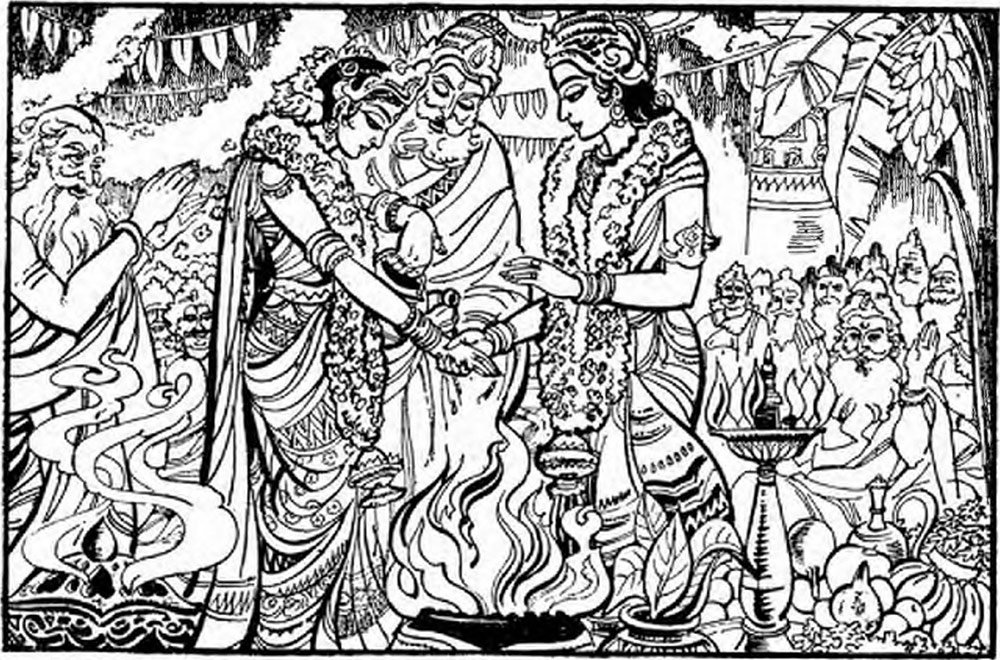 Image title: Children's Illustrated Ramayana: Figure 7
Emperor Dasaratha reached Mithila with a large retinue of nobles, sages and counsellors. An auspicious moment was chosen for the wedding. It was also decided to perform the marriages of the other three princes of Ayodhya on the same occasion.
Sage Vasishta, learned in the Vedas and the Sastras (religious precepts), conducted the sacred ceremony.
The weddings were performed in great pomp and splendour. The Devas and the beings of the heavens appeared in large numbers in the skies and showered their blessings on the princely couples.
Gallery information:
These illustrations are from the book called "Children's Illustrated Ramayana" which is an abridged retelling of the Ramayana authored by Vishnu B while the illustrations are by Vipin K. Das.
Note: You can read the full English translation of the Ramayana on this site.
Source: archive.org (external link; opens in new tab).