Children's Illustrated Ramayana: photo 6
Photo 6 of 59 in Gallery: Children's Illustrated Ramayana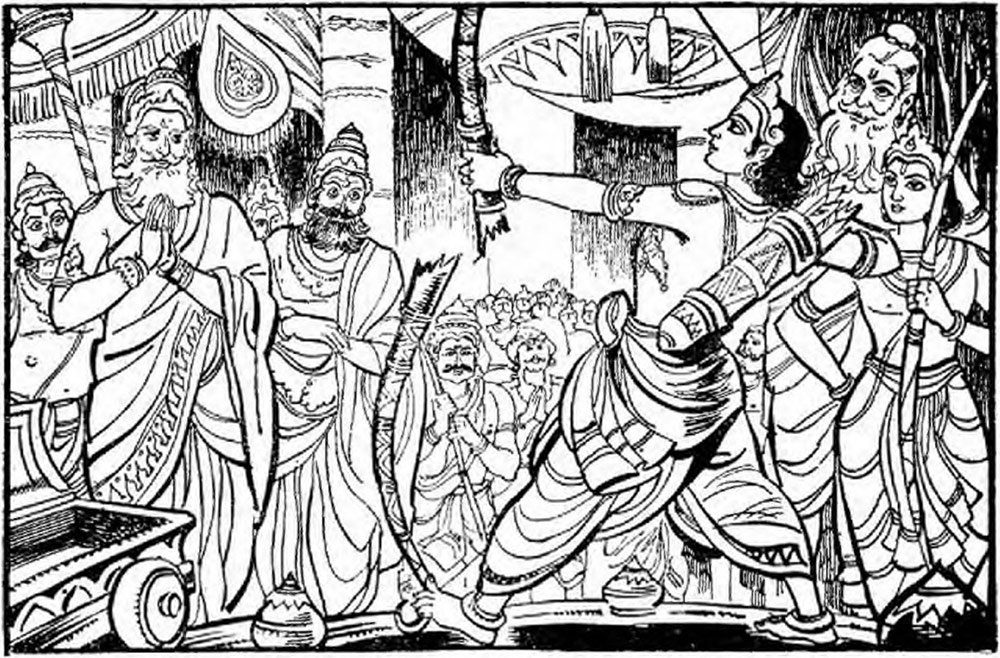 Image title: Children's Illustrated Ramayana: Figure 6
At Mithila, King Janaka showed the princes the mighty bow of Shiva, the Destroyer. So far no one had been able to lift the bow or bend it even slightly. Janaka had declared that he who bent or wielded the bow would win the hand of his daughter, Janaki, or Sita as she was better known, in marriage.
At Viswamitra's bidding, Rama lifted the bow and pulled the string, when Io! the famous bow snapped in two in his hands. The crowds of people who were watching could scarcely believe their eyes.
Dasaratha was sent for and preparations were made on a grand scale for the wedding of Rama and Sita.
Gallery information:
These illustrations are from the book called "Children's Illustrated Ramayana" which is an abridged retelling of the Ramayana authored by Vishnu B while the illustrations are by Vipin K. Das.
Note: You can read the full English translation of the Ramayana on this site.
Source: archive.org (external link; opens in new tab).