Children's Illustrated Ramayana: photo 5
Photo 5 of 59 in Gallery: Children's Illustrated Ramayana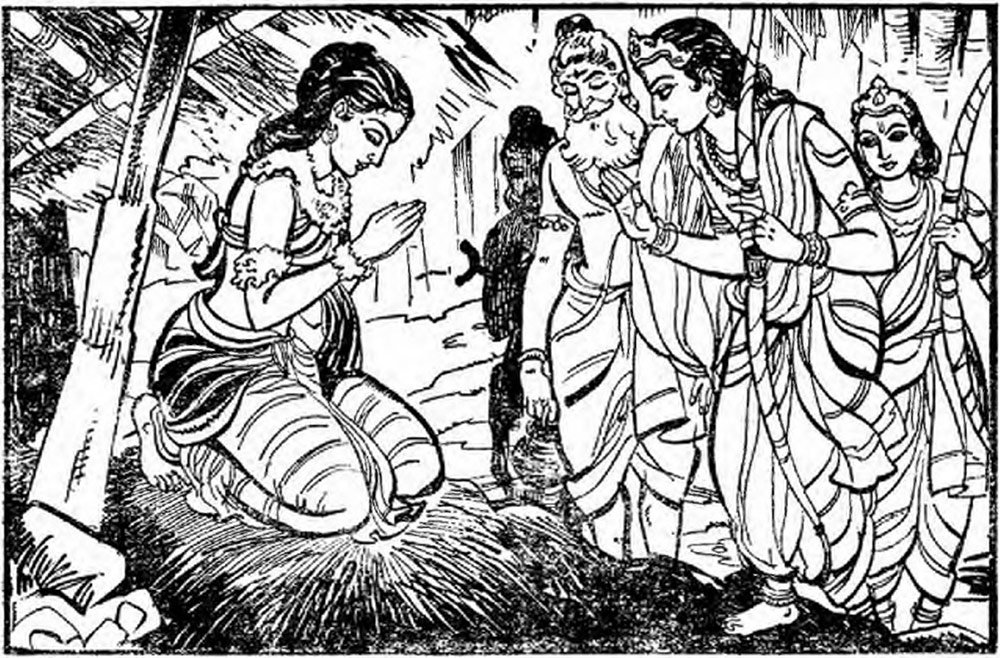 Image title: Children's Illustrated Ramayana: Figure 5
The sacrifice over, Viswamitra took the princes along with him to Mithila where the pious king Janaka was reigning.
At a lovely spot on the way there was a lonely untenanted hermitage. The sage told the princes that the lonely hut was once the abode of the greatsoul Gautama. One day, unwittingly, his wife Ahalya committed a great offence. Gautama cursed her to spend her days lying in ashes until such time as Sri Rama came there. He added that she should worship Him in order to rid herself of the curse.
Sage Viswamitra led the princes to the Asrama where the youths hastened to touch her feet in all reverence.
Ahalya, in her wondrous lovely form offered unto them the highest hospitality, and her curse fell off. Gautama also appeared on the scene and the hermit-couple paid homage to Sri Rama.
Gallery information:
These illustrations are from the book called "Children's Illustrated Ramayana" which is an abridged retelling of the Ramayana authored by Vishnu B while the illustrations are by Vipin K. Das.
Note: You can read the full English translation of the Ramayana on this site.
Source: archive.org (external link; opens in new tab).