Utsada, Utsāda: 6 definitions
Introduction
Introduction:
Utsada means something in Buddhism, Pali, Hinduism, Sanskrit. If you want to know the exact meaning, history, etymology or English translation of this term then check out the descriptions on this page. Add your comment or reference to a book if you want to contribute to this summary article.
In Buddhism
Mahayana (major branch of Buddhism)
Source
: Wisdom Library: Maha Prajnaparamita Sastra
Utsada (उत्सद) refers to "secondary hells".—According to the Sarvāstivādin-Vaibhāṣika school, there are eight great hells. Each of these eight great hells opens into sixteen secondary hells, called utsada (thus there are 8 x 16 = 128 utsadas).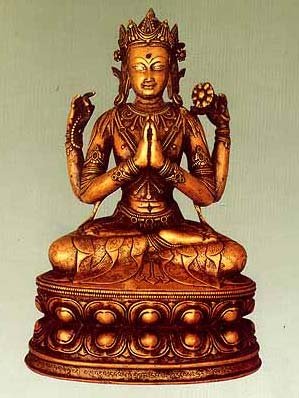 Mahayana (महायान, mahāyāna) is a major branch of Buddhism focusing on the path of a Bodhisattva (spiritual aspirants/ enlightened beings). Extant literature is vast and primarely composed in the Sanskrit language. There are many sūtras of which some of the earliest are the various Prajñāpāramitā sūtras.
Languages of India and abroad
Sanskrit dictionary
Source
:
DDSA: The practical Sanskrit-English dictionary
Utsāda (उत्साद).—
1) Destruction, decay, ruin, loss; सकलरिपुकुलोत्साददीर्घा प्रतिज्ञा (sakalaripukulotsādadīrghā pratijñā) Mu.3.27. गीतमुत्सादकारि मृगाणाम् (gītamutsādakāri mṛgāṇām) K.32.
2) A particular part of the sacrificial animal (Ved.). Vāj.
Derivable forms: utsādaḥ (उत्सादः).
Source
:
Cologne Digital Sanskrit Dictionaries: Edgerton Buddhist Hybrid Sanskrit Dictionary
Utsada (उत्सद).—m., and adj. (see also ucchada, °daka; = Pali ussada, used in all mgs. here recorded), (1) elevation, prominence, protuberance, swelling, especially one of 7 such on the hands, feet, shoulders, and back of the neck of a mahāpuruṣa, constituting the 16th of the 32 lakṣaṇa, q.v. (and compare Pali sattussada): Bodhisattvabhūmi 375.20 saptotsadakāyaḥ ([bahuvrīhi]), saptāsyotsadāḥ kāye jātāḥ, dvau hastayor dvau pādayoḥ dvāv aṃsayor eko grīvāyām; compare the list Gaṇḍavyūha 400.9—11,…two aṃsakūṭayoḥ, one pṛṣṭhato grīvāyām; Mahāvastu i.226.19 utsadāḥ, subst.; in [bahuvrīhi] [compound] saptotsadaḥ Gaṇḍavyūha 400.8; Mahāvyutpatti 250; Lalitavistara 105.18; 430.18; °daṃ; acc., Gaṇḍavyūha 128.1; saptotsadāṅga Rāṣṭrapālaparipṛcchā 47.9; and in other lists of lakṣaṇa, q.v.; (2) addition, supplement, in connection or composition with naraka, hell, one of the 16 supplementary hells which belong to each major hell (mahānaraka; = Pali ussada-niraya, not well defined [Pali Text Society's Pali-English Dictionary]): Mahāvastu i.5.1 aṣṭasu mahānarakeṣu pratyeka-ṣoḍaśotsadeṣu; 1.7.3 kuṇa- pāto muktā (n. pl.) narakotsadā (abl. sg.); i.8.12 aṣṭasu mahānarakeṣu ṣoḍaśotsadeṣu, and i.244.19 same; i.9.11 pratyekaṣoḍaśotsadā; iii.454.10 (aṣṭa mahānarakā…) pratyekaṃ ṣoḍaśotsadā; (3) adj., abundant, and n. abun- dance (distinction between the two often not clear; gener- ally used in prior or posterior part of cpds. where either could be assumed); certainly adj. in Bodhisattvabhūmi 379.19 prabhūte- notsadena viśadenānnapānena (3 synonymous adj., see viśada); Divyāvadāna 646.16 utsadānnapāno bhavati, has abundant food and drink; Mūla-Sarvāstivāda-Vinaya i.36.18 nāty-utsadamāṃsā tanugātrī, of not excessive flesh, slender-bodied; Kāśyapa Parivarta 111.2 (prose) utsada-pātracīvaradhāraṇatayā (an [ākāśa-] -paligodha, q.v., for an ascetic); 111.5 (verse) tatotsadaṃ cīvarapātra- dhāraṇaṃ (Tibetan lhag par, surpassing, modifying dhāraṇaṃ); Śikṣāsamuccaya 56.6 yadi…lābha utsado bhavet, if the profit should be abundant (but Bendall and Rouse, should amount to a surplus); doubtless subst. in Gaṇḍavyūha 495.16 (bodhicittaṃ…) utsadabhūtam akṣayajñānatayā, it is an abundant store…; but 2d ed. utsa-bhūtam, spring, source; in most of the rest adj. seems simpler, but subst. possible: Mahāvastu ii.319.21 (verse) utsada-prāptaṃ (here perhaps better subst., attained to abundance, sc. of creatures, viz. of the followers of Māra, as following mārāṇa koṭī…shows; not reduction of utsadakuśalaprāptaṃ with Senart i.372 note); utsada- kuśala-saṃcayo Mahāvastu i.249.18; 251.12; ii.177.14; abstract in -tva, Śikṣāsamuccaya 248.5 (yasya, sc. tejodhātoḥ) cotsadatvāj jvarito jvarita iti saṃkhyāṃ gacchati, and thru the abun- dance of which a feverish man comes to be called feverish; Śikṣāsamuccaya 107.1 (verse) pradoṣa vardhenti vitarka utsadā (adj. with vitarka, or subst. in composition with it? Bendall and Rouse the latter, but text prints as two words!); Bodhisattvabhūmi 252.16 kaṣāyotsada-kāla-tāṃ, condition of time abundant in kaṣāya; 16—17 niṣkaṣāyānutsadakaṣāya-kāla-tām (… free from, or not abundant in, kaṣāya); Mahāvastu i.61.3—4 (sattvā…) utsadalolā (so Senart em., mss. all corrupt; but read °lobhā, proved by Vism.) utsadadoṣā utsadamohā, compare Pali Vism. i.103.19 (sattā…) lobhussadā dosussadā mohussadā, having abundant (Pali, abundant in, or having abundance of) lobha, doṣa, moha; Saddharmapuṇḍarīka 170.1 (verse) apāya- bhūmīs (so all Nepalese mss.) tada utsadāsi, the stages of misfortune were then superabundant; Lalitavistara 276.21 utsada- maṇimuktivaiḍūryaśaṅkhaśilāpravāḍarajatajātarūpyaṃ (? v.l. °rūpaṃ; sc. lokadhātuṃ); Rāṣṭrapālaparipṛcchā 35.11 (verse) asaṃyatā uddhata unnatāś ca, agauravā mānina lābha-utsadā [Pagĕ7-a+ 71] ([compound])…sudūra te tādṛśa agrabodhaye (either abounding in profit or having abundance of profit). Peculiar is saptot- sada in Divyāvadāna 620.13 (Utkaṭaṃ nāma droṇamukhaṃ pari- bhuṅkte sma) saptotsadaṃ satṛṇakāṣṭhodakaṃ dhānya- sahagataṃ…brahmadeyaṃ, and 620.28—621.1, similarly, with sa-saptotsadam; a close parallel in Pali, Dīghanikāya (Pali) i.87.(6—)7 Ukkaṭṭhaṃ ajjhāvasati sattussadaṃ (commentary i.245.20 sattehi ussadaṃ, ussannaṃ bahujanaṃ ākiṇṇamanussaṃ… anekasattasamākiṇṇaṃ ca) satiṇakaṭṭhodakaṃ sadhañ- ñaṃ…brahmadeyyaṃ; compare also Pv commentary 221.11 sattus- sadan ti pāpakārīhi sattehi ussannaṃ (this, in line 16, = uparūpari nicitaṃ). It seems clear that this sattussada in Pali = Sanskrit *sattvotsada, abounding in living creatures. It seems to have been falsely Sktized in Divyāvadāna (which, or its source, obviously followed closely a MIndic original very close to the Pali of Dīghanikāya (Pali)) to saptotsada, because the adapter knew familiarly this [compound] as one of the 32 lakṣaṇa (above, 1). Presumably he thought it meant here containing seven elevations of some sort, but I see no use in speculating further as to his intentions.
Source
:
Cologne Digital Sanskrit Dictionaries: Monier-Williams Sanskrit-English Dictionary
1) Utsada (उत्सद):—[=ut-sada] [from ut-sad] mfn. excellent, [Divyāvadāna]
2) [v.s. ...] m. excellence, ibidem
3) Utsāda (उत्साद):—[=ut-sāda] [from ut-sad] m. ceasing, vanishing
4) [v.s. ...] ruin, [Mahābhārata i, 4364]
5) [v.s. ...] one who disturbs or destroys, [Vājasaneyi-saṃhitā xxx, 20]
6) [v.s. ...] a particular part of a sacrificial animal, [Vājasaneyi-saṃhitā]
[Sanskrit to German]
Sanskrit, also spelled संस्कृतम् (saṃskṛtam), is an ancient language of India commonly seen as the grandmother of the Indo-European language family (even English!). Closely allied with Prakrit and Pali, Sanskrit is more exhaustive in both grammar and terms and has the most extensive collection of literature in the world, greatly surpassing its sister-languages Greek and Latin.
See also (Relevant definitions)
Starts with: Utsadaka, Utsadana, Utsadaniya, Utsadayitavya.
Ends with: Abhyutsada, Anutsada, Balotsada.
Full-text (+7): Utseda, Jatarupya, Kunapa, Abhyutsada, Shabala, Shyama, Ucchadaka, Kukula, Ucchada, Ayahshalmalivana, Mahapadma, Adiptavana, Huhuva, Kharodakanadi, Kharodaka, Vaitarani, Kshuradharamarga, Kshuramarga, Atata, Hahava.
Relevant text
Search found 4 books and stories containing Utsada, Utsāda, Ut-sada, Ut-sāda; (plurals include: Utsadas, Utsādas, sadas, sādas). You can also click to the full overview containing English textual excerpts. Below are direct links for the most relevant articles: