Shva, Śvā, Sva: 9 definitions
Introduction
Shva means something in Hinduism, Sanskrit, Marathi. If you want to know the exact meaning, history, etymology or English translation of this term then check out the descriptions on this page. Add your comment or reference to a book if you want to contribute to this summary article.
The Sanskrit term Śvā can be transliterated into English as Sva or Shva, using the IAST transliteration scheme (?).
In Hinduism
Purana and Itihasa (epic history)
Source
:
Cologne Digital Sanskrit Dictionaries: The Purana Index
1) Śvā (श्वा).—Unfit to be seen during a śrāddha; touching it is a sin.*
* Brahmāṇḍa-purāṇa III. 14. 48; 78, 88; 27. 15; Viṣṇu-purāṇa III. 16. 12.
2) Sva (स्व).—The third loka; Sva was uttered and divaloka came of; where Gandharvas, Apsaras, Yakṣas, Guhyakas, and Nāgas live; intervening between Sūrya and Dhruva.*
* Brahmāṇḍa-purāṇa II. 19. 155; 21. 21; IV. 2. 26-7; Vāyu-purāṇa 101. 17-41.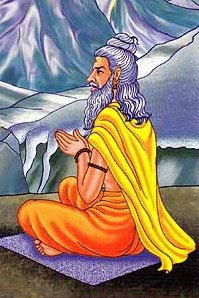 The Purana (पुराण, purāṇas) refers to Sanskrit literature preserving ancient India's vast cultural history, including historical legends, religious ceremonies, various arts and sciences. The eighteen mahapuranas total over 400,000 shlokas (metrical couplets) and date to at least several centuries BCE.
Vyakarana (Sanskrit grammar)
Source
:
Wikisource: A dictionary of Sanskrit grammar
1) Sva (स्व).—Personal-ending of the second person sing. Atmanepada in the imperative mood; cf थासः से । सवाभ्यां वामौ । (thāsaḥ se | savābhyāṃ vāmau |) P.III.4.80, 91 ;
2) Sva.—A term used in the sense of स्ववर्गीय (svavargīya) (belonging to the same class or category) in the Pratisakhya works; cf स्पर्र्शः स्वे (sparrśaḥ sve) R.T.25; cf. also कान्त् स्वे (kānt sve) R. T. 1. 55;cf.also R, Pr.IV.1 ; and VI.1 ;
3) Sva.—Cognate, the same as सवर्ण (savarṇa) defined by Panini in तुल्यास्यप्रयत्नं सवर्णम् (tulyāsyaprayatnaṃ savarṇam) P. P.I.1.9; the term is found used in the Jain grammar works of Jainendra, Sakatayana and Hemacanda cf Jain. I.1.2 Sik-I. 1.2; Hema. I.1.17.
Vyakarana (व्याकरण, vyākaraṇa) refers to Sanskrit grammar and represents one of the six additional sciences (vedanga) to be studied along with the Vedas. Vyakarana concerns itself with the rules of Sanskrit grammar and linguistic analysis in order to establish the correct context of words and sentences.
Languages of India and abroad
Marathi-English dictionary
Source
:
DDSA: The Molesworth Marathi and English Dictionary
sva (स्व).—pron (S) Own, proper, peculiar. 2 Used as s n m Self, own soul or individuality. 3 n Property, wealth, one's own. 4 In algebra. Affirmative quantity, plus. sva occurs in comp. with numberless words, sometimes answering to Self-, but more frequently to Own. The established compounds and such as demand explanation occur in order; for such as svahasta, svagṛha, svakula, svasthala, svakuṭumba, svaśarīra, svagrāma, svanagara, svadhana, svadēha, svabhūmi, svamata, svapakṣa, svastuti, svanindā, svādhikāra &c., the student must accept this notice.
Source
:
DDSA: The Aryabhusan school dictionary, Marathi-English
sva (स्व).—pro Own, proper. m n Self. n Proper- ty, wealth, one's own.
Marathi is an Indo-European language having over 70 million native speakers people in (predominantly) Maharashtra India. Marathi, like many other Indo-Aryan languages, evolved from early forms of Prakrit, which itself is a subset of Sanskrit, one of the most ancient languages of the world.
Sanskrit-English dictionary
Source
:
DDSA: The practical Sanskrit-English dictionary
Sva (स्व).—pron. a.
1) One's own, belonging to oneself, often serving as a reflexive pronoun; स्वनियोगमशून्यं कुरु (svaniyogamaśūnyaṃ kuru) Ś.2; प्रजाः प्रजाः स्वा इव तन्त्रयित्वा (prajāḥ prajāḥ svā iva tantrayitvā) 5.5; oft. in comp. in this sense; स्वपुत्र, स्वकलत्र, स्वद्रव्य (svaputra, svakalatra, svadravya).
2) Innate, natural, inherent, peculiar, inborn; सूर्यापाये न खलु कमलं पुष्यति स्वामभिख्याम् (sūryāpāye na khalu kamalaṃ puṣyati svāmabhikhyām) Me.82; Ś.1.19; स तस्य स्वो भावः प्रकृतिनियतत्वादकृतकः (sa tasya svo bhāvaḥ prakṛtiniyatatvādakṛtakaḥ) U. 6.14.
3) Belonging to one's own caste or tribe; शूद्रैव भार्या शूद्रस्य सा च स्वा च विशः स्मृते (śūdraiva bhāryā śūdrasya sā ca svā ca viśaḥ smṛte) Ms.3.13;5.14.
-svaḥ 1 One's own self.
2) A relative, kinsman; एनं स्वा अभि- संविशन्ति भर्ता स्वानां श्रेष्ठः पुर एता भवति (enaṃ svā abhi- saṃviśanti bhartā svānāṃ śreṣṭhaḥ pura etā bhavati) Bṛ. Up.1.3.18; (daurgatyaṃ) येन स्वैरपि मन्यन्ते जीवन्तोऽपि मृता इव (yena svairapi manyante jīvanto'pi mṛtā iva) Pt.2.1; Ms. 2.19.
3) The soul.
4) Name of Viṣṇu.
-svā A woman of one's own caste.
-svaḥ, -svam 1 Wealth, property; as in निःस्व (niḥsva) q. v.
2) (In alg.) The plus or affirmative quantity; cf. धनः (dhanaḥ); स्वशब्दोऽयमात्मीयधनज्ञातीनां प्रत्येकं वाचको न समुदायस्य (svaśabdo'yamātmīyadhanajñātīnāṃ pratyekaṃ vācako na samudāyasya) ŚB. on MS.6.7.2. The Ego.
4) Nature (svabhāvaḥ); वृत्तिर्भूतानि भूतानां चराणामचराणि च । कृता स्वेन नृणां तत्र कामाच्चोदनयापि वा (vṛttirbhūtāni bhūtānāṃ carāṇāmacarāṇi ca | kṛtā svena nṛṇāṃ tatra kāmāccodanayāpi vā) || Bhāg.12.7.13.
Source
:
Cologne Digital Sanskrit Dictionaries: Edgerton Buddhist Hybrid Sanskrit Dictionary
Sva (स्व).—(?) , inserted by Senart's em. in Mv iii.384.3 (verse), where mss. kiṃ (kim) adhipatī rājā, metr. deficient, Senart kiṃ sva, with next line kathaṃ sva; note says sva = svid or su; read both times svid or su (q.v.)? But compare khu-ssa. Pali Dhp. comm. iii.231.21, same verse, kiṃ su…, 22 kathaṃ su…
Source
:
Cologne Digital Sanskrit Dictionaries: Shabda-Sagara Sanskrit-English Dictionary
Sva (स्व).—Pron. mfn.
(-svaḥ-svā-svaṃ) Own. Subst. m.
(-svaḥ) 1. A kinsman. 2. The soul. 3. Wealth. 4. Self-identity, individuality. mn.
(-svaḥ-svaṃ) 1. Wealth, property. 2. (In algebra,) Plus, or affirmative quantity. f.
(-svā) Pron. Adj. 1. Belonging to oneself. 2. Of one's own tribe or family. 3. Natural, original. E. svan to sound, aff. ḍa; or vū to send or order, va aff.
Source
:
Cologne Digital Sanskrit Dictionaries: Cappeller Sanskrit-English Dictionary
Śvā (श्वा).—śvayati [participle] śūna (q.v.) swell. [Passive] śūyate the same.
--- OR ---
Sva (स्व).—(poss. refl.) one's own (often °—). [masculine] [neuter] one's self (in the obl. cases also used as a pronoun, cf. ātman); [masculine] & [feminine] ā a kinsman or relation, a man or woman of one's own caste; [neuter] property, wealth, riches.
Sanskrit, also spelled संस्कृतम् (saṃskṛtam), is an ancient language of India commonly seen as the grandmother of the Indo-European language family. Closely allied with Prakrit and Pali, Sanskrit is more exhaustive in both grammar and terms and has the most extensive collection of literature in the world, greatly surpassing its sister-languages Greek and Latin.
See also (Relevant definitions)
Starts with (+136): Shvabharavati, Shvabhastri, Shvabhiru, Shvabhojana, Shvabhr, Shvabhra, Shvabhrapada, Shvabhrita, Shvac, Shvach, Shvachakra, Shvachi, Shvaci, Shvada, Shvadamshtra, Shvadamshtraka, Shvadanta, Shvadayita, Shvadhurta, Shvadhurtta.
Ends with (+143): Aghashva, Ajakashva, Ajashva, Akrishashva, Akritashva, Akshayashva, Amitashva, Anashva, Anuparshva, Anuvishva, Arunashva, Aryashva, Ashva, Atishva, Badhryashva, Badhyashva, Bahulashva, Balakashva, Barhanashva, Bhadrashva.
Full-text (+378): Shvapuccha, Paradrishvan, Papadrishvan, Parahshvas, Nihsva, Svakulakshaya, Svanurupa, Svakarya, Svakrita, Ashva, Shvasa, Shvavritti, Svanubhava, Naihsvabhavya, Shvasana, Svabhu, Svajana, Svadhyaya, Svavasini, Sapateya.
Relevant text
Search found 45 books and stories containing Shva, Śvā, Sva, Śva, Svā; (plurals include: Shvas, Śvās, Svas, Śvas, Svās). You can also click to the full overview containing English textual excerpts. Below are direct links for the most relevant articles: