Samdhya, Saṃdhyā, Saṃdhya, Sāṃdhya: 8 definitions
Introduction
Samdhya means something in Hinduism, Sanskrit. If you want to know the exact meaning, history, etymology or English translation of this term then check out the descriptions on this page. Add your comment or reference to a book if you want to contribute to this summary article.
In Hinduism
Purana and Itihasa (epic history)
Source
:
Cologne Digital Sanskrit Dictionaries: The Purana Index
1a) Saṃdhyā (संध्या).—Unfit for the procreative act. At this time Śiva is said to move with his gaṇas to different places; personified as woman; approached by Asuras lavishing praises on her;1 The time between Uṣā and Vyuṣṭi; the time for worship by means of Gāyatrī to relieve the sun from being attacked by Mandeha Rākṣasas,2 worship of, twice by householders.3
1) Bhāgavata-purāṇa III. 14. 23-24; 20. 29-37.
2) Brahmāṇḍa-purāṇa II. 21. 108-13; 22. 11; Vāyu-purāṇa 30. 15; 50. 162; 51. 11.
3) Viṣṇu-purāṇa III. 12. 1.
1b) A R. of the Krauñcadvīpa.*
* Brahmāṇḍa-purāṇa II. 19. 75; Matsya-purāṇa 122. 88; Vāyu-purāṇa 49. 69; Viṣṇu-purāṇa II. 4. 55.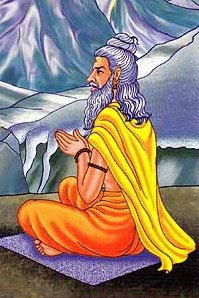 The Purana (पुराण, purāṇas) refers to Sanskrit literature preserving ancient India's vast cultural history, including historical legends, religious ceremonies, various arts and sciences. The eighteen mahapuranas total over 400,000 shlokas (metrical couplets) and date to at least several centuries BCE.
Vyakarana (Sanskrit grammar)
Source
:
Wikisource: A dictionary of Sanskrit grammar
Saṃdhya (संध्य).—A diphthong: see below the word संधिः (saṃdhiḥ) cf अत्थनामनी संध्यम् (atthanāmanī saṃdhyam).
Vyakarana (व्याकरण, vyākaraṇa) refers to Sanskrit grammar and represents one of the six additional sciences (vedanga) to be studied along with the Vedas. Vyakarana concerns itself with the rules of Sanskrit grammar and linguistic analysis in order to establish the correct context of words and sentences.
Languages of India and abroad
Sanskrit-English dictionary
Source
:
DDSA: The practical Sanskrit-English dictionary
Saṃdhya (संध्य).—a.
1) Being on the point of junction; संध्यं तृतीयं स्वप्नस्थानं तस्मिन् संध्ये स्थाने तिष्ठन् (saṃdhyaṃ tṛtīyaṃ svapnasthānaṃ tasmin saṃdhye sthāne tiṣṭhan) Bṛ. Up.4.3.9.
2) Based on संधि (saṃdhi), euphonic combination.
--- OR ---
Saṃdhyā (संध्या).—1 Union.
2) Joint, division.
3) Morning or evening twilight; अनुरागवती संध्या दिवसस्तत्पुरस्सरः । अहो दैवगतिश्चित्रा पथापि न समागमः (anurāgavatī saṃdhyā divasastatpurassaraḥ | aho daivagatiścitrā pathāpi na samāgamaḥ) || K. P.7.
4) Early morning.
5) Evening, dusk; संध्यामङ्गलदीपिका विभजते शुद्धान्तवृद्धाजनः (saṃdhyāmaṅgaladīpikā vibhajate śuddhāntavṛddhājanaḥ) V.3.2; संध्याभ्ररेखेव मुहूर्तरागाः (saṃdhyābhrarekheva muhūrtarāgāḥ) Pt.1.194.
6) The period which precedes a Yuga, the time intervening between the expiration of one Yuga and the commencement of another; चत्वार्याहुः सहस्राणि वर्षाणां तत्कृतं युगम् । तस्य तावच्छती संध्या संध्यांशश्च तथाविधः (catvāryāhuḥ sahasrāṇi varṣāṇāṃ tatkṛtaṃ yugam | tasya tāvacchatī saṃdhyā saṃdhyāṃśaśca tathāvidhaḥ) || Ms.1.69; अथासौ युगसंध्यायां दस्युप्रायेषु राजसु (athāsau yugasaṃdhyāyāṃ dasyuprāyeṣu rājasu) Bhāg.1.3.25.
7) The morning, noon, and evening prayers of a Brāhmaṇa; उत्थायावश्यकं कृत्वा कृतशौचः समाहितः । पूर्वं संध्यां जपंस्तिष्ठेत् स्वकाले चापरां चिरम् (utthāyāvaśyakaṃ kṛtvā kṛtaśaucaḥ samāhitaḥ | pūrvaṃ saṃdhyāṃ japaṃstiṣṭhet svakāle cāparāṃ ciram) || Ms.4.93;2.69.
8) A promise, an agreement.
9) A boundary, limit.
1) Thinking, meditation.
11) A kind of flower.
12) Name of a river.
13) Name of the wife of Brahman.
14) Any one of the divisions of the day (pūrvāhṇa, madhyāhna, aparāhṇa).
--- OR ---
Sāṃdhya (सांध्य).—a. (-dhyī f.)
1) Relating to the twilight or evening; साध्यं तेजः प्रतिनवजपापुष्परक्तं दधानः (sādhyaṃ tejaḥ pratinavajapāpuṣparaktaṃ dadhānaḥ) Me.38; Ki. 5.8; R.11.6; Śi.9.15.
2) Relating to the morning twilight or dawn.
Source
:
Cologne Digital Sanskrit Dictionaries: Edgerton Buddhist Hybrid Sanskrit Dictionary
Saṃdhya (संध्य).—(substantivized) adj. nt. (from Sanskrit saṃ-dhyā; probably semi-MIndic for Sanskrit sāṃdhya, adj., which is recorded only in meaning of the evening twilight, based on a commoner meaning of Sanskrit saṃdhyā), (rite) pertaining to the [Page558-b+ 71] three 'joints' of the day (so saṃdhyā in Sanskrit), morning, noon, and evening: prathamaṃ saṃdhyam ucyate Mmk 94.17 (morning), madhyaṃ…18—19 (noon), tṛtīyaṃ… 19 (evening); prathamaṃ °yam 99.5; tri-saṃdhyaṃ (the 3 such rites)…juhuyāt divasāny ekaviṃśati 106.24; tri- saṃdhyaṃ (adv. ?) ṣaḍ lakṣāṇi japet 107.10; as adj., vaśyārthaṃ sarvabhūtānāṃ tri-saṃdhyaṃ japam iṣyate 144.13 (verse).
Sanskrit, also spelled संस्कृतम् (saṃskṛtam), is an ancient language of India commonly seen as the grandmother of the Indo-European language family. Closely allied with Prakrit and Pali, Sanskrit is more exhaustive in both grammar and terms and has the most extensive collection of literature in the world, greatly surpassing its sister-languages Greek and Latin.
See also (Relevant definitions)
Starts with (+29): Samdhyabala, Samdhyabali, Samdhyabhasha, Samdhyabhashya, Samdhyabhra, Samdhyacala, Samdhyacalatarpanavidhi, Samdhyadibrahmakarman, Samdhyai, Samdhyakala, Samdhyakalpa, Samdhyakarya, Samdhyakramapaddhati, Samdhyakshara, Samdhyamahatmya, Samdhyamangala, Samdhyamantravyakhya brahmaprakashika, Samdhyamantravyakhyana, Samdhyamegha, Samdhyameghaugha.
Ends with: Aupasamdhya, Balasamdhya, Dvaisamdhya, Nilasamdhya, Pashchimasamdhya, Pashcimasamdhya, Praksamdhya, Pratahsamdhya, Sasamdhya, Sayamsamdhya, Trisamdhya, Upasamdhya, Yajuhsamdhya.
Full-text (+46): Samdhyamangala, Samdhyamsha, Samdhyarama, Samdhyapayoda, Samdhyavidhimantrasamuhatika, Samdhyavandanavivarana, Samdhyabhashya, Samdhyashankhadhvani, Samdhyakramapaddhati, Trisamdhya, Samdhyabala, Samdhyapushpi, Samdhyabhra, Samdhyakala, Samdhyabali, Sasamdhya, Upasamdhyam, Samdhyapaddhati, Dirghasamdhyatva, Samdhyanirnaya.
Relevant text
Search found 4 books and stories containing Samdhya, Saṃdhyā, Saṃdhya, Sāṃdhya, Sam-dhya, Saṃ-dhya, Saṃ-dhyā; (plurals include: Samdhyas, Saṃdhyās, Saṃdhyas, Sāṃdhyas, dhyas, dhyās). You can also click to the full overview containing English textual excerpts. Below are direct links for the most relevant articles: