Ratana, Raṭana, Ratanā: 9 definitions
Introduction
Ratana means something in Hinduism, Sanskrit, Buddhism, Pali, Marathi. If you want to know the exact meaning, history, etymology or English translation of this term then check out the descriptions on this page. Add your comment or reference to a book if you want to contribute to this summary article.
Languages of India and abroad
Pali-English dictionary
Source
:
BuddhaSasana: Concise Pali-English Dictionary
ratana : (nt.) 1. a gem; precious thing; 2. a cubit.
Source
:
Sutta: The Pali Text Society's Pali-English Dictionary
1) Ratana, 2 (most likely=Sk. aratni: see ratani) a linear measure (which Abhp p. 23 gives as equal to 12 aṅgula, or 7 ratanas=1 yaṭṭhi: see Kirfel, Kosmographie, p. 335. The same is given by Bdhgh. at VbhA. 343: dve vidatthiyo ratanaṃ; satta r. yaṭṭhi) J. V, 36 (vīsaṃr-sataṃ); VI, 401 (°mattaṃ); VvA. 321 (so given by Hardy in Index as "measure of length, " but to be taken as ratana1, as indicated clearly by context & C.); Miln. 282 (satta-patiṭṭhito aṭṭha-ratan'ubbedho nava-ratan'āyāma-pariṇāho pāsādiko dassanīyo Uposatho nāgarājā: alluding to ratana1 2!). (Page 563)
2) Ratana, 1 (nt.) (cp. Vedic ratna, gift; the BSk. form is ratna (Divy 26) as well as ratana (AvŚ II. 199)) 1. (lit.) a gem, jewel VvA. 321 (not=ratana2, as Hardy in Index); PvA. 53 (nānāvidhāni).—The 7 ratanas are enumerated under veḷuriya (Miln. 267). They are (the precious minerals) suvaṇṇa, rajata, muttā, maṇi, veḷuriya, vajira, pavāḷa. (So at Abhp 490.) These 7 are said to be used in the outfit of a ship to give it more splendour: J. II, 112. The 7 (unspecified) are mentioned at Th. 2, 487 (satta ratanāni vasseyya vuṭṭhimā "all seven kinds of gems"); and at DhA. I, 274, where it is said of a ratana-maṇḍapa that in it there were raised flags "sattaratana-mayā. " On ratana in similes see J. P. T. S. 1909, 127.—2. (fig.) treasure, gem of (-°) Sn. 836 (etādisaṃ r. =dibb'itthi-ratana SnA 544); Miln. 262 (dussa° a very fine garment).—Usually as a set of 7 valuables, belonging to the throne (the empire) of a (world-) king. Thus at D. II, 16 sq.; of Mahā-Sudassana D. II, 172 sq. They are enumerated singly as follows: the wheel (cakka) D. II, 172 sq. , the elephant (hatthi, called Uposatha) D. II, 174, 187, 197; the horse (assa, Valāhaka) ibid.; the gem (maṇi) D. II, 175, 187; the woman (itthi) ibid.; the treasurer (gahapati) D. II, 176, 188; the adviser (pariṇāyaka) ibid. The same 7 are enumerated at D. I, 89; Sn. p. 106; DA. I, 250; also at J. IV, 232, where their origins (homes) are given as: cakka° out of Cakkadaha; hatthi from the Uposatha-race; assa° from the clan of Valāhassarāja, maṇi° from Vepulla, and the last 3 without specification. See also remarks on gahapati. Kern, Toev. s. v. ratana suspects the latter to be originally "major domus" (cp. his attributes as "wealthy" at MVastu I. 108). As to the exact meaning of pariṇāyaka he is doubtful, which mythical tradition has obscured.—The 7 (moral) ratanas at S. II, 217 & III, 83 are probably the same as are given in detail at Miln. 336, viz. the 5: sīla°, samādhi°, paññā°, vimutti°, vimutti-ñāṇadassana (also given under the collective name sīla-kkhandha or dhamma-kkhandha), to which are added the 2: paṭisambhidā° & bojjhaṅga°. These 7 are probably meant at PvA. 66, where it is said that Sakka "endowed their house with the 7 jewels" (sattar. -bharitaṃ katvā).—Very frequent is a Triad of Gems (ratana-ttaya), consisting of Dhamma, Saṅgha, Buddha, or the Doctrine, the Church and the Buddha (cp. BSk. ratna-traya Divy 481), e.g. Mhvs 5, 81; VbhA. 284; VvA. 123; PvA. 1, 49, 141.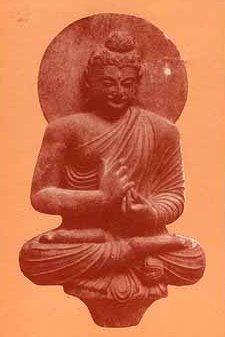 Pali is the language of the Tipiṭaka, which is the sacred canon of Theravāda Buddhism and contains much of the Buddha's speech. Closeley related to Sanskrit, both languages are used interchangeably between religions.
Marathi-English dictionary
Source
:
DDSA: The Molesworth Marathi and English Dictionary
ratana (रतन).—n (Corr. from ratna S) A gem or jewel.
Source
:
DDSA: The Aryabhusan school dictionary, Marathi-English
ratana (रतन).—(Corr. from ratna) A gem or jewel.
Marathi is an Indo-European language having over 70 million native speakers people in (predominantly) Maharashtra India. Marathi, like many other Indo-Aryan languages, evolved from early forms of Prakrit, which itself is a subset of Sanskrit, one of the most ancient languages of the world.
Sanskrit-English dictionary
Source
:
DDSA: The practical Sanskrit-English dictionary
Raṭana (रटन).—[raṭ-lyuṭ]
1) The act of crying, screaming or shouting.
2) A shout of applause, approbation.
Derivable forms: raṭanam (रटनम्).
Source
:
Cologne Digital Sanskrit Dictionaries: Edgerton Buddhist Hybrid Sanskrit Dictionary
Ratana (रतन).—MIndic (in most texts usually m.c.) for ratna, jewel, see § 3.99 for examples; also in many cpds., see cpds. with ratna-.
Source
:
Cologne Digital Sanskrit Dictionaries: Shabda-Sagara Sanskrit-English Dictionary
Raṭana (रटन).—n.
(-naṃ) Speaking, shouting. E. raṭ, and lyuṭ aff.
Source
:
Cologne Digital Sanskrit Dictionaries: Cappeller Sanskrit-English Dictionary
Raṭana (रटन).—[neuter] cry, applause.
Source
:
Cologne Digital Sanskrit Dictionaries: Monier-Williams Sanskrit-English Dictionary
Raṭana (रटन):—[from raṭ] n. shouting, shout, applause, [Rājataraṅgiṇī]
Sanskrit, also spelled संस्कृतम् (saṃskṛtam), is an ancient language of India commonly seen as the grandmother of the Indo-European language family. Closely allied with Prakrit and Pali, Sanskrit is more exhaustive in both grammar and terms and has the most extensive collection of literature in the world, greatly surpassing its sister-languages Greek and Latin.
See also (Relevant definitions)
Starts with (+32): Ratana Paritta, Ratana Sutta, Ratana Vagga, Ratana Vihara, Ratanabava, Ratanacankamana Khanda, Ratanachuda, Ratanacuda, Ratanadanashiri, Ratanadanashri, Ratanadatha, Ratanadhvajagramati, Ratanadoni, Ratanagama, Ratanagatrashiri, Ratanagatrashri, Ratanagghi, Ratanaghara Cetiya, Ratanagni, Ratanagunja.
Ends with (+18): Bakaratana, Cakkaratana, Chitratana, Citratana, Dhuratana, Dussaratana, Gahapatiratana, Gharatana, Ghuratana, Kambalaratana, Khacaratana, Koratana, Latapratana, Maniratana, Mitratana, Mratana, Nibharatana, Oratana, Pannaratana, Paratana.
Full-text (+51): Three Gems, Ratanika, Ratana Paritta, Ratana Sutta, Unnavalli, Taya, Maniratana, Ratanacuda, Gahapatiratana, Ratnatraya, Ratnacuda, Ratnasammata, Pannaratana, Gangarohana Vatthu, Ratanashringa, Ratnashringa, Ratanakuta, Ratanapalivethana, Dussaratana, Pahutadhana.
Relevant text
Search found 16 books and stories containing Ratana, Raṭana, Ratanā; (plurals include: Ratanas, Raṭanas, Ratanās). You can also click to the full overview containing English textual excerpts. Below are direct links for the most relevant articles: