Pashyanti, Paśyantī, Pashyamti: 9 definitions
Introduction:
Pashyanti means something in Hinduism, Sanskrit, Marathi. If you want to know the exact meaning, history, etymology or English translation of this term then check out the descriptions on this page. Add your comment or reference to a book if you want to contribute to this summary article.
The Sanskrit term Paśyantī can be transliterated into English as Pasyanti or Pashyanti, using the IAST transliteration scheme (?).
In Hinduism
Vyakarana (Sanskrit grammar)
Source
:
Wikisource: A dictionary of Sanskrit grammar
Paśyantī (पश्यन्ती).—Name of the second out of the four successive stages in the origination or utterance of a word from the mouth. According to the ancient writers on Phonetics, sound or word (वाक् (vāk)) which is constituted of air (वायु (vāyu)) originates at the Mulaadhaaracakra where it is called परा (parā). It then springs up and it is called पश्यन्ती (paśyantī) in the second stage. Thence it comes up and is called मध्यमा (madhyamā) in the third stage; rising up from the third stage when the air strikes against the vocal chords in the glottis and comes in contact with the different parts of the mouth, it becomes articulate and is heard in the form of different sounds. when it is called वैखरी (vaikharī); cf. वैखर्या मध्यमायाश्च पश्यन्त्याश्चैतदद्भुतम् । अनेकतीर्थ-भेदायास्त्रय्या वाचः परं पदम् (vaikharyā madhyamāyāśca paśyantyāścaitadadbhutam | anekatīrtha-bhedāyāstrayyā vācaḥ paraṃ padam) Vaakyapadiya I. 144, and also cf. पश्यन्ती तु सा चलाचलप्रतिबद्धसमाधाना संनिविष्टज्ञेयाकारा प्रतिलीनाकारा निराकारा च परिच्छिन्नार्थप्रत्ययव-भासा संसृष्टार्थप्रत्यवभासा च प्रशान्तसर्वार्थ-प्रत्यवभासा चेत्यपरिमितभेदा । पश्यन्त्या रूप-मनपभ्रंशामसंकीर्ण लोकव्यवह्यरातीतम् । (paśyantī tu sā calācalapratibaddhasamādhānā saṃniviṣṭajñeyākārā pratilīnākārā nirākārā ca paricchinnārthapratyayava-bhāsā saṃsṛṣṭārthapratyavabhāsā ca praśāntasarvārtha-pratyavabhāsā cetyaparimitabhedā | paśyantyā rūpa-manapabhraṃśāmasaṃkīrṇa lokavyavahyarātītam |) com. on Vaakyapadiya I. 144. cf. also तत्र श्रोत्रविषया वैखरी । मध्यमा हृदयदशेस्था पदप्रत्यक्षानुपपत्त्या व्यवहारकारणम् । पश्यन्ती तु लोकव्यवहारातीता। योगिनां तु तत्रापि प्रकृतिप्रत्ययविभागावगतिरस्ति (tatra śrotraviṣayā vaikharī | madhyamā hṛdayadaśesthā padapratyakṣānupapattyā vyavahārakāraṇam | paśyantī tu lokavyavahārātītā| yogināṃ tu tatrāpi prakṛtipratyayavibhāgāvagatirasti) | परायां तु न इति त्रय्या इत्युक्तम् । (parāyāṃ tu na iti trayyā ityuktam |) Uddyota on चत्वारि वाक्परिमिता पदानि । (catvāri vākparimitā padāni |) M. Bh. Ahnika 1.
Vyakarana (व्याकरण, vyākaraṇa) refers to Sanskrit grammar and represents one of the six additional sciences (vedanga) to be studied along with the Vedas. Vyakarana concerns itself with the rules of Sanskrit grammar and linguistic analysis in order to establish the correct context of words and sentences.
Pancaratra (worship of Nārāyaṇa)
Source
:
archive.org: Isvara Samhita Vol 5
Paśyantī (पश्यन्ती).—Parā, Paśyantī, Madhyamā and Vaikharī are the four stages through which sounds pass through before they become audible. At first, it is in the form of air. Then it teaches the stage of Paśyantī. The next stage is called Madhyamā (Kal P. 182) and the last one is Vaikharī where it is uttered, tridhā: into three.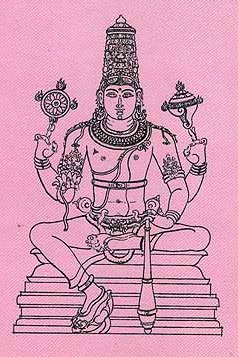 Pancaratra (पाञ्चरात्र, pāñcarātra) represents a tradition of Hinduism where Narayana is revered and worshipped. Closeley related to Vaishnavism, the Pancaratra literature includes various Agamas and tantras incorporating many Vaishnava philosophies.
Purana and Itihasa (epic history)
Source
:
archive.org: Shiva Purana - English Translation
Paśyantī (पश्यन्ती) refers to "casting wistful glances (at men)", according to the Śivapurāṇa 2.3.38 ("Description of the dais or maṇḍapa").—Accordingly, as Himavat prepared the wedding of Menā and Śiva: "[...] The watery places presented there excelled the solid grounds. Even experts could not distinguish what was water and what was solid ground. There were artificial lions. There were rows of storks. There were artificial peacocks, but very beautiful in appearance. Artificial women were represented as dancing with artificial men casting wistful glances (paśyantī—paśyantyaḥ) at them and enchanting them. [...]".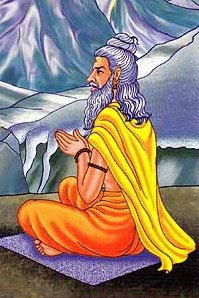 The Purana (पुराण, purāṇas) refers to Sanskrit literature preserving ancient India's vast cultural history, including historical legends, religious ceremonies, various arts and sciences. The eighteen mahapuranas total over 400,000 shlokas (metrical couplets) and date to at least several centuries BCE.
Languages of India and abroad
Marathi-English dictionary
Source
:
DDSA: The Molesworth Marathi and English Dictionary
paśyantī (पश्यंती).—f S Speech in the second of its four stages from the first stirring of the air or breath to articulate utterance; the faint whispering at the breast. See parā, madhyamā, vaikharī.
Marathi is an Indo-European language having over 70 million native speakers people in (predominantly) Maharashtra India. Marathi, like many other Indo-Aryan languages, evolved from early forms of Prakrit, which itself is a subset of Sanskrit, one of the most ancient languages of the world.
Sanskrit dictionary
Source
:
DDSA: The practical Sanskrit-English dictionary
Paśyantī (पश्यन्ती).—
1) A harlot, courtezan.
2) A particular sound; cf. वैखरी शब्दनिष्पत्तिर्मध्यमा श्रुतिगोचरा । द्योतितार्था च पश्यन्ती सूक्ष्मा वागनपायिनी (vaikharī śabdaniṣpattirmadhyamā śrutigocarā | dyotitārthā ca paśyantī sūkṣmā vāganapāyinī) || Malli. on Kumārasambhava 2.17; अविभागा तु पश्यन्ती सर्वतः संहृतक्रमा (avibhāgā tu paśyantī sarvataḥ saṃhṛtakramā) Mañjūṣā.
Source
:
Cologne Digital Sanskrit Dictionaries: Monier-Williams Sanskrit-English Dictionary
1) Paśyantī (पश्यन्ती):—[from paśyat > paś] f. a harlot, [cf. Lexicographers, esp. such as amarasiṃha, halāyudha, hemacandra, etc.]
2) [v.s. ...] Name of a [particular] sound, [cf. Lexicographers, esp. such as amarasiṃha, halāyudha, hemacandra, etc.]
[Sanskrit to German]
Sanskrit, also spelled संस्कृतम् (saṃskṛtam), is an ancient language of India commonly seen as the grandmother of the Indo-European language family (even English!). Closely allied with Prakrit and Pali, Sanskrit is more exhaustive in both grammar and terms and has the most extensive collection of literature in the world, greatly surpassing its sister-languages Greek and Latin.
Kannada-English dictionary
Source
:
Alar: Kannada-English corpus
Paśyaṃti (ಪಶ್ಯಂತಿ):—[noun] the second of the four stages in which the sound is produced in humans.
Kannada is a Dravidian language (as opposed to the Indo-European language family) mainly spoken in the southwestern region of India.
See also (Relevant definitions)
Full-text (+35): Vaikhari, Madhyama, Para, Vakcatushtya, Vakacatushtaya, Carekshana, Caracakshus, Caravani, Apashyana, Gopajihva, Uccakshus, Vedacakshus, Cak, Santarbahi, Adyakalaka, Vak, Nishkrita, Pranidhyeti, Viguna, Anyadrish.
Relevant text
Search found 62 books and stories containing Pashyanti, Pashyamti, Paśyaṃti, Pasyamti, Paśyantī, Pasyanti, Paśyanti; (plurals include: Pashyantis, Pashyamtis, Paśyaṃtis, Pasyamtis, Paśyantīs, Pasyantis, Paśyantis). You can also click to the full overview containing English textual excerpts. Below are direct links for the most relevant articles:
Related products