Karya, Kārya: 11 definitions
Introduction
Karya means something in Hinduism, Sanskrit, the history of ancient India, Marathi. If you want to know the exact meaning, history, etymology or English translation of this term then check out the descriptions on this page. Add your comment or reference to a book if you want to contribute to this summary article.
In Hinduism
Natyashastra (theatrics and dramaturgy)
Source
: Wisdom Library: Nāṭya-śāstra
Kārya (कार्य, "action") refers to one of the "five elements of the plot" (arthaprakṛti), according to the Nāṭyaśāstra chapter 21. These five elements represents the five means of attaining objects of the Plot (itivṛtta or vastu).
The associated 'stage of action' (avasthā) of kārya is the prārambha (beginning). These stages represent a Hero's striving towards the object in a dramatic playwright (nāṭaka).
Source
:
archive.org: Natya Shastra
Kārya (कार्य).—One of the five elements of the plot (arthaprakṛti);—The efforts made for the purpose of the Principal Plot (ādhikārika) introduced in a play by the experts, is called the Action (kārya).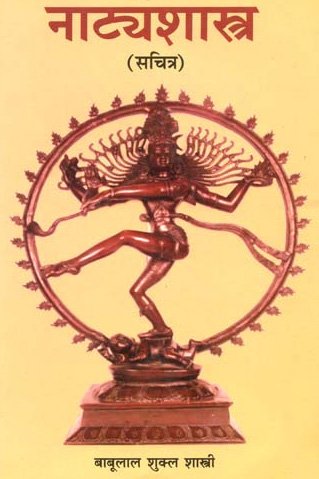 Natyashastra (नाट्यशास्त्र, nāṭyaśāstra) refers to both the ancient Indian tradition (śāstra) of performing arts, (nāṭya, e.g., theatrics, drama, dance, music), as well as the name of a Sanskrit work dealing with these subjects. It also teaches the rules for composing dramatic plays (nataka) and poetic works (kavya).
Vyakarana (Sanskrit grammar)
Source
:
Wikisource: A dictionary of Sanskrit grammar
Kārya (कार्य).—(l) brought.into existence by activity (क्रियया निर्वृत्तं कार्यम् (kriyayā nirvṛttaṃ kāryam)) as opposed to नित्य (nitya) eternal; cf. एके वर्णाञ् शाश्वतिकान् न कार्यान् (eke varṇāñ śāśvatikān na kāryān) R.Pr. XIII.4 cf. also ननु च यस्यापि कार्याः (nanu ca yasyāpi kāryāḥ) (शब्दाः (śabdāḥ)) तस्यापि पूजार्थम् (tasyāpi pūjārtham) M. Bh. on I.1.44 Vārt. 17;(2) which should be done, used in connection with a grammatical operation: cf. कार्य एत्वे सयमीकारमाहुः । (kārya etve sayamīkāramāhuḥ |) | अभैष्म इत्येतस्य स्थाने अभयीष्मेति । (abhaiṣma ityetasya sthāne abhayīṣmeti |) R.Pr. XIV.16; cf. also विप्रतिषेधे परं कार्यम् (vipratiṣedhe paraṃ kāryam) P. I.4.2; (3) a grammatical operation as for instance in the phrases द्विकार्ययोगे, त्रिकार्ययोगे (dvikāryayoge, trikāryayoge) etc.; cf. also गौणमुख्ययोर्मुख्ये कार्यसंप्रत्ययः (gauṇamukhyayormukhye kāryasaṃpratyayaḥ) Par. Śek. Pari. 15;(4) object of a transitive verb: cf. शेषः कार्ये (śeṣaḥ kārye) Śāk.
Vyakarana (व्याकरण, vyākaraṇa) refers to Sanskrit grammar and represents one of the six additional sciences (vedanga) to be studied along with the Vedas. Vyakarana concerns itself with the rules of Sanskrit grammar and linguistic analysis in order to establish the correct context of words and sentences.
India history and geogprahy
Source
:
Cologne Digital Sanskrit Dictionaries: Indian Epigraphical Glossary
Kārya.—cf. Tamil kāriyavārāycci (EI 24), name of a tax. Cf. Vāśal-kāriyam (SITI), the officer in charge of the palace gate; also known as Vāśal-mudali or Vāśal-nirvāham. Note: kārya is defined in the "Indian epigraphical glossary" as it can be found on ancient inscriptions commonly written in Sanskrit, Prakrit or Dravidian languages.
The history of India traces the identification of countries, villages, towns and other regions of India, as well as royal dynasties, rulers, tribes, local festivities and traditions and regional languages. Ancient India enjoyed religious freedom and encourages the path of Dharma, a concept common to Buddhism, Hinduism, and Jainism.
Languages of India and abroad
Marathi-English dictionary
Source
:
DDSA: The Molesworth Marathi and English Dictionary
kārya (कार्य).—n (S) A work or business; an affair or a matter; an act or a deed. 2 An effect. 3 A festal occasion. 4 In grammar. Variation of nouns, inflection. 5 A lawsuit. kārya urakaṇēṃ To perform sexual congress. kāryā- vara dṛṣṭi dēṇēṃ To keep an eye to one's business or object. kāryāsa lāvaṇēṃ To apply to its proper purpose.
--- OR ---
kārya (कार्य).—a S (Purposed, necessary, or occurring) to be done, agendum.
Source
:
DDSA: The Aryabhusan school dictionary, Marathi-English
kārya (कार्य).—n An affair. A work. A festal oc- casion. An effect. A law suit. a To be done.
Marathi is an Indo-European language having over 70 million native speakers people in (predominantly) Maharashtra India. Marathi, like many other Indo-Aryan languages, evolved from early forms of Prakrit, which itself is a subset of Sanskrit, one of the most ancient languages of the world.
Sanskrit-English dictionary
Source
:
DDSA: The practical Sanskrit-English dictionary
Kārya (कार्य).—pot. p. [kṛ-karmaṇi ṇyat] What ought to be done, made, performed, effected &c. कार्या सैकतलीनहंसमिथुना स्रोतोवहा मालिनी (kāryā saikatalīnahaṃsamithunā srotovahā mālinī) Ś.6.17; साक्षिणः कार्याः (sākṣiṇaḥ kāryāḥ) Ms.8.61; so दण्डः, विचारः (daṇḍaḥ, vicāraḥ) &c.
-ryam 1 (a) Work, action, act, affair, business; कार्यं त्वया नः प्रतिपन्नकल्पम् (kāryaṃ tvayā naḥ pratipannakalpam) Ku.3.14; Ms.5.15. (b) A matter, thing.
2) Duty; अभिचैद्यं प्रतिष्ठासुरासी- त्कार्यद्वयाकुलः (abhicaidyaṃ pratiṣṭhāsurāsī- tkāryadvayākulaḥ) Śi.2.1.
3) Occupation, enterprize, emergent business.
4) A religious rite or performance.
5) A motive, object, purpose; कार्यमत्र भविष्यति (kāryamatra bhaviṣyati) Pt.2.7 (v. l.); 116; Śi.2.36; H.4.61.
6) Want, need, occasion, business (with instr.); किं कार्यं भवतो हृतेन दयिता- स्नेहस्वहस्तेन मे (kiṃ kāryaṃ bhavato hṛtena dayitā- snehasvahastena me) V.2.2; तृणेन कार्यं भवतीश्वराणाम् (tṛṇena kāryaṃ bhavatīśvarāṇām) Pt.1.71, 4.27; Amaru.73.
7) Conduct, deportment.
8) A law-suit, legal business, dispute &c.; बहिर्निष्क्रम्य ज्ञायतां कः कः कार्यार्थीति (bahirniṣkramya jñāyatāṃ kaḥ kaḥ kāryārthīti) Mk.9; Ms.8.43.
9) An effect, the necessary result of a cause (opp. kāraṇa).
1) (In Gram.) Operation; विभक्तिकार्यम् (vibhaktikāryam) declension.
11) The denouement of a drama; कार्योपक्षेपमादौ तनुमपि रचयन् (kāryopakṣepamādau tanumapi racayan) Mu.4.3.
12) Healthiness (in medicine).
13) Origin.
14) A body; कार्याश्रयिणश्च कललाद्याः (kāryāśrayiṇaśca kalalādyāḥ) (kāryaṃ śarīram) Sāṅ. K.43. [cf. Germ. kāra; Pers. kār; Prāk. kajja; Mar. kāja]
Source
:
Cologne Digital Sanskrit Dictionaries: Shabda-Sagara Sanskrit-English Dictionary
Kārya (कार्य) or Kāryya.—mfn.
(-ryaḥ-ryā-ryaṃ) 1. To be done. 2. What ought to be done, fit, right. n.
(-ryaṃ) 1. Cause, origin. 2. Motive, object. 3. Effect, result of a cause. 4. Affair, business. 5. Law-suit, dispute. 6. The denouncement of a drama. 7. In grammar, an adjunct, either as an affix, augment or substitude. E. kṛñ to do, and ṇyat aff.
Source
:
Cologne Digital Sanskrit Dictionaries: Benfey Sanskrit-English Dictionary
Kārya (कार्य).—I. ptcple. of the fut. pass. of 1. kṛ, cf. kṛ. 1. What ought to be made, to be done, etc., [Mānavadharmaśāstra] 3, 248; superl. kāryatama, That which must be done first, [Rāmāyaṇa] 5, 77, 16. 2. With an instr. To be used; use, [Pañcatantra] i. [distich] 81 (tṛṇena kāryaṃ bhavatīśvarāṇām, kings use a blade of grass); with na, No use, [Rāmāyaṇa] 1, 30, 5 (we do not care for possessing the earth); 2, 21, 60 (I am indifferent to life and joy). Ii. n. 1. Intention, [Rāmāyaṇa] 1, 18, 15. 2. Duty, [Mānavadharmaśāstra] 3, 80. 3. Service, [Mānavadharmaśāstra] 10, 47. 4. Business, [Mānavadharmaśāstra] 9, 299; affairs, 7, 59. 5. A law-suit, 8, 43. 6. Effect, [Vedāntasāra, (in my Chrestomathy.)] in Chr. 207, 22.
Source
:
Cologne Digital Sanskrit Dictionaries: Monier-Williams Sanskrit-English Dictionary
1) Kārya (कार्य):—mfn. ([future] [past participle] √1. kṛ), to be made or done or practised or performed, practicable, feasible, [Atharva-veda iii, 24, 5; Taittirīya-saṃhitā; Manu-smṛti] etc.
2) to be imposed (as a punishment), [Manu-smṛti viii, 276 & 285]
3) to be offered (as a libation), [Manu-smṛti] etc.
4) proper to be done, fit, right
5) to be caused to do, [Naiṣadha-carita]
6) ([from] √krt-) to be bought (?), [Maitrāyaṇī-saṃhitā]
7) n. work or business to be done, duty, affair, [Manu-smṛti; Mahābhārata] etc.
8) a religious action or performance, [Manu-smṛti] etc.
9) occupation, matter, thing, enterprise, emergency, occurrence, crisis
10) conduct, deportment
11) occasion, need (with inst. e.g. tṛṇena kāryam, there is need of a straw; na bhūmyā kāryam asmākam, we have no business with the earth, [Rāmāyaṇa i, 13, 50])
12) lawsuit, dispute
13) an operation in grammar (e.g. sthāny-āśrayaṃ kāryam, an operation resting on the primitive form as opposed to the ādeśa, or substitute), [Kāśikā-vṛtti on Pāṇini]
14) an effect, result, [Mahābhārata; Sāṃkhyakārikā; Vedāntasāra]
15) motive, object, aim, purpose (e.g. kiṃ kāryam, for what purpose? wherefore?), [Manu-smṛti; Rāmāyaṇa] etc.
16) cause, origin, [cf. Lexicographers, esp. such as amarasiṃha, halāyudha, hemacandra, etc.]
17) the denouement of a drama, [Sāhitya-darpaṇa]
18) Kāryā (कार्या):—[from kārya] f. (= kārī, rikā), Name of a plant, [cf. Lexicographers, esp. such as amarasiṃha, halāyudha, hemacandra, etc.]
Sanskrit, also spelled संस्कृतम् (saṃskṛtam), is an ancient language of India commonly seen as the grandmother of the Indo-European language family. Closely allied with Prakrit and Pali, Sanskrit is more exhaustive in both grammar and terms and has the most extensive collection of literature in the world, greatly surpassing its sister-languages Greek and Latin.
See also (Relevant definitions)
Starts with (+83): Karya-darshin, Karya-varaycci, Karyabhaga, Karyabhaj, Karyabhajana, Karyabhaktva, Karyabhara, Karyachinta, Karyachintaka, Karyachyuta, Karyaci Vastu, Karyacinta, Karyacintaka, Karyacyuta, Karyada, Karyadarshana, Karyadarshin, Karyadhikarin, Karyadhipa, Karyagaurava.
Ends with (+84): Abhiyakarya, Agni-karya, Agnikarya, Ahakarya, Ahamkarya, Akarya, Alpakarya, Antahkarya, Anukarya, Anyonyakarya, Asamskarya, Asannakarya, Asatkarya, Atmakarya, Aupakarya, Avasitakarya, Avikarya, Bahishkarya, Carmmakarya, Charmmakarya.
Full-text (+323): Karyacintaka, Karyavipatti, Karyapradvesha, Karyabhajana, Karyapekshin, Karyakshama, Karyatas, Agni-karya, Karyapadavi, Vikarya, Rajakarya, Karyekshana, Dinakarya, Karyika, Svakarya, Karyadarshana, Karanatas, Vishvakarya, Karyahantri, Udakakarya.
Relevant text
Search found 41 books and stories containing Karya, Kārya, Kāryā; (plurals include: Karyas, Kāryas, Kāryās). You can also click to the full overview containing English textual excerpts. Below are direct links for the most relevant articles:
Verse 1.2.295 < [Part 2 - Devotional Service in Practice (sādhana-bhakti)]
Verse 1.2.200 < [Part 2 - Devotional Service in Practice (sādhana-bhakti)]
Verse 1.3.59 < [Part 3 - Devotional Service in Ecstasy (bhāva-bhakti)]