Kali, aka: Kālī, Kāli; 24 Definition(s)
Introduction
Kali means something in Buddhism, Pali, Hinduism, Sanskrit, the history of ancient India, Marathi. If you want to know the exact meaning, history, etymology or English translation of this term then check out the descriptions on this page. Add your comment or reference to a book if you want to contribute to this summary article.
In Hinduism
Shaktism (Shakta philosophy)
1) Kālī (काली, "blackness, night"):—Name of one of the sixty-four mātṛs to be worshipped during Āvaraṇapūjā ("Worship of the Circuit of Goddesses", or "Durgā's Retinue"), according to the Durgāpūjātattva. They should be worshipped with either the five upācāras or perfume and flowers.
Her mantra is as follows:
ॐ काल्यै नमः
oṃ kālyai namaḥ.
A similar mantra is mentioned by the same text, prefixed with ह्रीं (hrīṃ), to be worshipped at the goddess's right.
2) Kālī (काली, "the power of time"):—The first of the ten Mahāvidyās. She represents the power of time. She is the also the embodiment of all fear, while she herself is beyond fear and protects those from fear who invoke her. In Hindu iconology, she represents the supreme night, which devours all that exists. She is depicted as a fearful goddess with four arms, standing over the corpse of Śiva. The ten Mahāvidyās are the emanations of Mahākālī, the Goddess of time and death.
Source
: Wisdom Library: Śāktism
Kālī ('the embodiment of Time') is represented as the supreme night, which devours all that exists. She therefore stands upon "non-existence," — upon the corpse of the destroyed universe. The corpse is that of Śiva. So long as the power that gives life to the universe remains predominant it is favourable (Śiva), but when it is without strength it becomes as a corpse (śava). The lifeless body is indeed the symbol of whatever is left of the manifested universe when it reverts to the natural state of eternal time. At the time of universal dissolution (pralaya), the Power of Time, the power of destruction, is all that remains.
The four arms of Kālī represent the four directions of space identified with the complete cycle of time. With her four arms, she stands as the symbol of the fulfilment of all and of the absoluteness of her dominion over all that exists.
The conqueror laughs in her triumph. That laughter is the expression of absolute dominion over all that exists. It mocks at those who, in the folly of their vanity, hope to escape dissolution. It ridicules all those who cling to material existence and clutch their paltry possessions craving to continue their feeble existence in a cosmos in the grip of change and transformation.
Source
:
Red Zambala: The 10 Great Wisdom Goddesses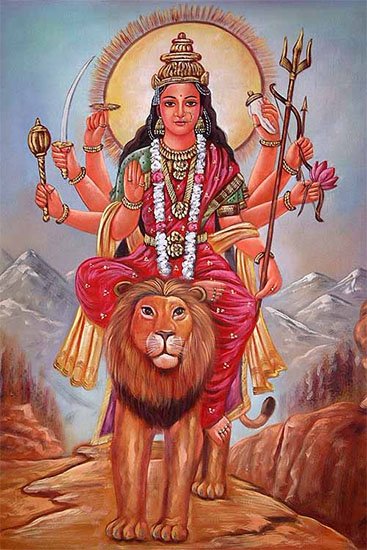 Shakta (शाक्त, śākta) or Shaktism (śāktism) represents a tradition of Hinduism where the Goddess (Devi) is revered and worshipped. Shakta literature includes a range of scriptures, including various Agamas and Tantras, although its roots may be traced back to the Vedas.
Purana and Itihasa (epic history)
Kālī (काली):—One of the wifes of Bhīma (one of the sons of Pāṇḍu). She bore to him a son named Sarvagata. (see Bhāgavata Purāṇa 9.22.30-31)
Source
: Wisdom Library: Bhagavata Purana
Kālī (काली) is the name of a mind-born 'divine mother' (mātṛ), created for the purpose of drinking the blood of the Andhaka demons, according to the Matsya-purāṇa 179.8. The Andhaka demons spawned out of every drop of blood spilled from the original Andhakāsura (Andhaka-demon). According to the Matsya-purāṇa 179.35, "Most terrible they (eg., Kālī) all drank the blood of those Andhakas and become exceedingly satiated."
The Matsyapurāṇa is categorised as a Mahāpurāṇa, and was originally composed of 20,000 metrical verses, dating from the 1st-millennium BCE. The narrator is Matsya, one of the ten major avatars of Viṣṇu.
Source
: Wisdom Library: The Matsya-purāṇa
1) Kali (कलि).—Incarnation of sin, the Sin-god. Birth. Kaśyapaprajāpati, son of Brahmā, begot of his wife Muni sixteen sons and Kali was the fifteenth son. He was a deva-gandharva. The other sons of Kaśyapa were: Bhīmasena, Ugrasena, Suparṇa, Varuṇa Dhṛtarāṣṭra, Gopati, Suvarcas, Satyavāk, Arkaparṇa, Prayuta, Viśruta, Citraratha, Śāliśiras, Parjanya and Nārada. (4 Ślokas from verse 43, Chapter 65, Ādi Parva). (See full article at Story of Kali from the Puranic encyclopaedia by Vettam Mani)
2) Kali (कलि).—A synonym of Sūrya. (Sloka 20, Chapter 3, Vana Parva).
3) Kali (कलि).—A synonym of Śiva. (Śloka 79, Chapter 17, Anuśāsana Parva).
4) Kālī (काली).—A synonym of Satyavatī, mother of Vyāsa. (See under Adrikā and Satyavatī).
5) Kālī (काली).—An aspect or form of Pārvatī. (See under Pārvatī).
Source
:
archive.org: Puranic Encyclopaedia
Kālī (काली) is another name for Śivā: the Goddess-counterpart of Śiva who incarnated first as Satī and then Pārvatī, according to the Śivapurāṇa 2.1.16:—"[...] the great goddess Śivā is of the three natures. Śivā became Satī and Śiva married her. At the sacrifice of her father she cast off her body which she did not take again and went back to her own region. Śivā incarnated as Pārvatī at the request of the Devas. It was after performing a severe penance that she could attain Śiva again. Śivā came to be called by various names [such as Kālī,...]. These various names confer worldly pleasures and salvation according to qualities and action. The name Pārvatī is very common.
Source
:
archive.org: Siva Purana - English Translation
1a) Kali (कलि).—Born of Krodha and Hīṃsā. Married Durukti who gave birth to Bhaya and Mṛtyu.1 Personified as king but śūdra by birth, kicking a cow and bull. Vanquished by Parīkṣit. Kali fell at his feet when Parīkṣit asked him to leave Brahmāvarta. Asked for a place to reside, Parīkṣit appointed him to five unrighteous spheres—wine, dice, gold, women and slaughter. Father of adharma, heroic in the midst of children and cowardly before the valiant.2 His rule in yugāntara described.3
1b) A Mauneya Gandharva; a son of Brahmadhana.*
1c) A son of Varuṇa and Śunādevī (Sāmudri, Vāyu-purāṇa.); father of Jaya and Vijaya; one wife of Kali, Surā, mother of Mada; other wives, Tvāṣṭri, Hiṃsā and Nikṛti; other sons of Kali, all cannibals, Nāka, Vighna, Śadrama and Vidhama.*
1d) A door-keeper of Mahākāla.*
2a) Kāli (कालि).—A manneya.*
2b) R. a sacred river.*
3a) Kālī (काली).—One of the wives of Bhīmasena, and mother of Sarvagata.*
3b) A mother goddess, and a varṇa śakti;1 a goddess enshrined at Kālanjara; took part in the Tārakāmaya and enveloped the whole in darkness.2
3c) A doorkeeper of Mahākāla.*
3d) The Dāśeyī brought forth Vicitravīrya by Śantanu.*
3e) A mind-born mother;1 from the bones of Nṛsimha.2
3f) The wife of Parāśara and mother of Kṛṣṇadvaipāyana.*
Source
:
Cologne Digital Sanskrit Dictionaries: The Purana Index
Kali (कलि) is a name mentioned in the Mahābhārata (cf. I.59.43, I.65) and represents one of the many proper names used for people and places. Note: The Mahābhārata (mentioning Kali) is a Sanskrit epic poem consisting of 100,000 ślokas (metrical verses) and is over 2000 years old.
Kālī is also mentioned in the Mahābhārata (cf. V.72.12) and represents one of the many proper names used for people and places.
Source
:
JatLand: List of Mahabharata people and places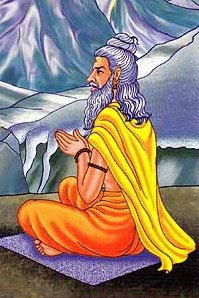 The Purana (पुराण, purāṇas) refers to Sanskrit literature preserving ancient India's vast cultural history, including historical legends, religious ceremonies, various arts and sciences. The eighteen mahapuranas total over 400,000 shlokas (metrical couplets) and date to at least several centuries BCE.
Natyashastra (theatrics and dramaturgy)
Kali (कलि) is the Sanskrit name for a deity to be worshipped during raṅgapūjā, according to the Nāṭyaśāstra 3.1-8. Accordingly, the master of the dramatic art who has been initiated for the purpose shall consecrate the playhouse after he has made obeisance (eg., to Kali).
Source
: Wisdom Library: Nāṭya-śāstra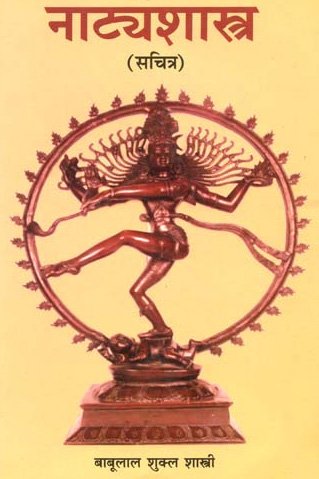 Natyashastra (नाट्यशास्त्र, nāṭyaśāstra) refers to both the ancient Indian tradition (śāstra) of performing arts, (nāṭya, e.g., theatrics, drama, dance, music), as well as the name of a Sanskrit work dealing with these subjects. It also teaches the rules for composing dramatic plays (nataka) and poetic works (kavya).
Katha (narrative stories)
Kālī (काली), the destructive counterpart of Mahākāla Śiva, wears a necklace of human skull and serpents as her ornaments. She holds the staff of a big sūla as her weapon. She cannot he indentified with Umā. Her other epithets are Katyāyanī, Caṇḍī, Cāmuṇḍā, Caṇḍikā, Durgā and Mahākālī. Soḍḍhala. gives the characteristics of Cāmuṇḍā in her praise hy Kumārakesarī. There, the deity is referred, to as wearing the bracelets of snakes and holding a big trident in her hand. Her body is covered with a long garment densely woven by means of human heads. Even Indra is said to be bowing down to her feet.
Source
:
Shodhganga: A critical appreciation of soddhalas udayasundarikatha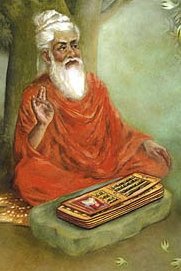 Katha (कथा, kathā) refers to narrative Sanskrit literature often inspired from epic legendry (itihasa) and poetry (mahākāvya). Some Kathas reflect socio-political instructions for the King while others remind the reader of important historical event and exploits of the Gods, Heroes and Sages.
General definition (in Hinduism)
Kali is the destructive form of Parvati, the consort of Shiva. She is depicted as having a terrible visage, dark as the night in color, with bloodshot eyes.
Source
:
Apam Napat: Indian Mythology
Kālī (काली), also known as Kālikā (कालिका), is the Hindu goddess associated with empowerment, shakti. She is the fierce aspect of the goddess Durga (Parvati). The name Kali comes from kāla, which means black, time, death, lord of death: Shiva. Since Shiva is called Kāla— the eternal time — the name of Kālī, his consort, also means "Time" or "Death" (as in "time has come"). Hence, Kāli is the Goddess of Time and Change.
Although sometimes presented as dark and violent, her earliest incarnation as a figure of annihilation of evil forces still has some influence. Various Shakta Hindu cosmologies, as well as Shākta Tantric beliefs, worship her as the ultimate reality or Brahman. Comparatively recent devotional movements largely conceive Kāli as a benevolent mother goddess. Kālī is represented as the consort of Lord Shiva, on whose body she is often seen standing. Shiva lies in the path of Kali, whose foot on Shiva subdues her anger.
Etymology:
1) Kālī is the feminine form of kālam ("black, dark coloured").
2) Kāla primarily means "time" but also means "black" in honor of being the first creation before light itself. Kālī means "the black one" and refers to her being the entity of "time" or "beyond time."
3) Kāli is strongly associated with Shiva, and Shaivas derive the masculine Kāla (an epithet of Shiva) to come from her feminine name. A nineteenth-century Sanskrit dictionary, the Shabdakalpadrum, states: कालः शिवः। तस्य पत्नीति - काली। kālaḥ śivaḥ। tasya patnīti kālī - "Shiva is Kāla, thus, his consort is Kāli" referring to Devi Parvathi being a manifestation of Devi MahaKali.
4) Other names include Kālarātri ("black night"), as described above, and Kālikā ("relating to time"). Coburn notes that the name Kālī can be used as a proper name, or as a description of color.
Source
:
WikiPedia: Hinduism
1) Kali (as in the age) means "one." So kali-yuga just means "Age One." It's called Age One because it only has one fourth power. The word "kali" specifically means "the side of a dice marked with a 1." So, the word also implies "worst" or "lowest."

2) There is a divinity named kali, but it is not the goddess Kālī. It's a male deity who is the son of Krodha (anger) and Himsa (violence). His sister is Durukti (harshness), and he impregnates her to have the children Bhaya (fear) and Mrtyu (death).

3) Goddess Kālī is entirely different. She is the divine energy in a destructive form. As such she is a destructive mood of Shiva's consort, Parvati.
Source
:
Vic DiCara's Astrology: Kali Yuga and Goddess Kali
In Buddhism
Theravada (major branch of Buddhism)
1. Kali - See Kalakanni (3).
2. Kali - Called Kururagharika, described among laywomen as the best of those who believe even from hearsay (anussavappasannanam) (A.i.26).
She was the mother of Sona Kutikanna, and her husband belonged to Kururaghara in Avanti. When with child, she came to her parents in Rajagaha, and there, while enjoying the cool breeze on the balcony above her roof (sihapanjare), she overheard the conversation which took place between Satagira and Hemavata on the excellences of the Buddha and of his teaching; as she listened, faith in the Buddha grew in her and she became a Sotapanna. That same night Sona was born. Later, Kali returned to Kururughara and there waited on Maha Kaccana. When Sona entered the Order under Kaccana and visited the Buddha, she gave him a costly rug to be spread in the Buddhas chamber. When Sona returned home after this visit, Kali asked him to preach to her in the same way as he had earlier preached to the Buddha, earning the applause of the Buddha himself and of the devas of the ten thousand worlds.
Kali was considered most senior among the women who became sotapannas (sabbamatugamanam antare pathamakasotapanna sabbajetthika) (AA.i.133ff; SnA.i.208f). She was the constant companion and staunch friend of Katiyani (AA.i.245). Kalis wish to attain to the eminence which she reached in this life was made in the time of Padumuttara Buddha when she heard a laywoman declared pre eminent among those who had begotten faith by hearsay (AA.i.247).
A conversation between her and Maha Kaccana is related in the Kali Sutta (q.v.).
3. Kali - Maidservant of Videhika of Savatthi. Videhika was reputed to be gentle and meek, but Kali, who was a bright girl and a good worker, thought she would test her mistress. One day she rose late and, on being reproved, spoke very lightly of her fault. Finding that Videhika lost her temper, Kali repeated her offence several times, until one day her mistress struck her with a lynch pin, drawing blood from her head. Kali ran out and roused the neighbourhood with her shrieks. Videhikas reputation for meekness was no more. The story is related in the Kakacupama Sutta. M.i.125f
4. Kali - A Mara woman, sister of Dusi (q.v.) and mother of the Mara of the present age (Vasavatti?). (M.i.333)
5. Kali - A crematrix (chavadahika) of Savatthi. Seeing Mahakala meditating in the cemetery, she cut off from a recently cremated body its thighs and arms, and making of them a sort of milk bowl, placed it near where the Thera sat. Thag.151; ThagA.i.271; more details are given in DhA.i.57ff.
6. Kali - A Yakkhini. A householder, having a barren wife, married another woman, a friend of the former. Every time a child was conceived, the first wife brought about a miscarriage;
-- or --
A tank in Ceylon, built by King Vasabha (Mhv.xxxv.95).Source: Pali Kanon: Pali Proper Names

Theravāda is a major branch of Buddhism having the the Pali canon (tipitaka) as their canonical literature, which includes the vinaya-pitaka (monastic rules), the sutta-pitaka (Buddhist sermons) and the abhidhamma-pitaka (philosophy and psychology).
Mahayana (major branch of Buddhism)
Kali (कलि) or Kalirāja is the name of a king who tested Kṣāntirṣi as mentioned in the 2nd century Mahāprajñāpāramitāśāstra (chapter XXIV).—Accordingly, "The Ṛṣi Tch'an t'i (Kṣāntirṣi) was practicing patience (kṣānti) and loving-kindness (maitrī) in a great forest. One day, king Kia ki (Kali) with his courtesans (gaṇikā) went into the forest to walk about and amuse themselves. His meal being finished, the king stopped to sleep. The courtesans, who were wandering in the flowering forest, noticed the ṛṣi and went to pay their respects (vandana) to him. Then the ṛṣi praised loving-kindness and patience to them; his words were so fine that the women could not get enough of them and stayed with him for a long time".
Source
: Wisdom Library: Maha Prajnaparamita Sastra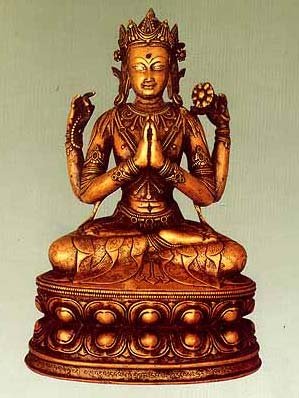 Mahayana (महायान, mahāyāna) is a major branch of Buddhism focusing on the path of a Bodhisattva (spiritual aspirants/ enlightened beings). Extant literature is vast and primarely composed in the Sanskrit language. There are many sūtras of which some of the earliest are the various Prajñāpāramitā sūtras.
General definition (in Buddhism)
Kali (कलि) or Kaliyuga refers to the "dark age" and represents the last of the "four ages" (yuga) as defined in the Dharma-saṃgraha (section 88). The Dharma-samgraha (Dharmasangraha) is an extensive glossary of Buddhist technical terms in Sanskrit (eg., kali). The work is attributed to Nagarjuna who lived around the 2nd century A.D.
Source
: Wisdom Library: Dharma-samgraha
India history and geogprahy
Kali refers to a type of grass mentioned in inscriptions from South Canara (modern Dakshina Kannada).—Kali is a kind of grass, which normally grows by the side of river in uncultivated areas. Sometimes, the place itself is called Kali.
An inscription from Basrur dated 1482 A.D. refers to a similar extension of agriculture to the uncultivated land like Kali. The same inscription mentions how such a land was converted into paddy field. Conversion of Kali into agricultural land is common mainly in the low-lying areas of the coastal region. Inscriptions of the interior region do not speak of such a practice. It was only in low-lying coastal region that Kali land was formed, and people who wanted to extend their agriculture did not have enough waste land except Kali. In the interior regions of South Kanara cultivators brought hilly areas under cultivation.
Source
:
Shodhganga: The society and politics in South Kanara 1500 AD to 1800 AD
The history of India traces the identification of countries, villages, towns and other regions of India, as well as royal dynasties, rulers, tribes, local festivities and traditions and regional languages. Ancient India enjoyed religious freedom and encourages the path of Dharma, a concept common to Buddhism, Hinduism, and Jainism.
Languages of India and abroad
Pali-English dictionary
kali : (m.) 1. defeat; 2. bad luck; 3. sin; 4. distress.
Source
:
BuddhaSasana: Concise Pali-English Dictionary
Kali, (m.) (cp. Sk. kali) 1. the unlucky die (see akkha); "the dice were seeds of a tree called the vibhītaka ... An extra seed was called the kali" (Dial. II. 368 n.) D. II, 349; J. I, 380; Dh. 252 (= DhA. III, 375) at J. VI, 228, 282, 357 it is opposed to kaṭa, q. v.—2. (=kaliggaha) an unlucky throw at dice, bad luck, symbolically as a piece of bad luck in a general worldly sense or bad quality, demerit, sin (in moral sense) kaliṃ vicināti "gathers up demerit" Sn. 658; appamatto kali ... akkhesu dhanaparājayo ... mahantataro kali yo sugatesu manam padosaye S. I, 149=A. II, 3=V. 171, 174=Sn. 659=Nett 132; cp. M. III, 170; A. V, 324; Dh. 202 (=DhA. III, 261 aparādha).—3. the last of the 4 ages of the world (see °yuga).—4. sinful, a sinner Sn. 664 (=pāpaka). ‹-› 5. saliva, spittle, froth (cp. kheḷa) Th. 2, 458, 501; J. V, 134.
Source
:
Sutta: The Pali Text Society's Pali-English Dictionary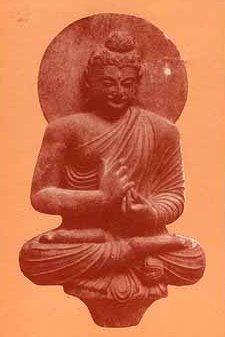 Pali is the language of the Tipiṭaka, which is the sacred canon of Theravāda Buddhism and contains much of the Buddha's speech. Closeley related to Sanskrit, both languages are used interchangeably between religions.
Marathi-English dictionary
kali (कलि).—m (S) S The fourth age of the world, the iron age or that of vice. It commenced, according to some, 300, according to others, 3101, according to others, 1370 years before the Christian era. Its duration is through 432000 years; at the expiration of which period the world is to be destroyed. 2 Strife or dissension. kali sañcaraṇēṃ Used of a person beginning to quarrel: as hyācyānta-manānta-pōṭānta kali sañcaralā.
--- OR ---
kaḷī (कळी).—f (kalī S) A bud. 2 A vessel of ivory, wood &c. of the form of an unblown lotus. 3 A grain of the dish called bundī. 4 A nodule of burnt limestone. 5 A roll of betel-leaf, supari &c. of the form of a bud. 6 The hinder of the two triangular pieces composing, together with the āgā, a side of the skirt of an angrakha. 7 A common term for the bud-form twists in the front of the turban of a Maratha. 8 A quantity of silk (about three māsē weight) wound around a stick. 9 A bit of stick, a rib of a leaf, or any thing similar coated over with earth and afterwards with tinsel, or a little roll of earth tinseled over. Ex. gaṇapatīcyā mastakāvaracī kaḷī paḍalī. 10 (Formed from kaḷa Quarreling, to agree with naḷīṃ in the proverb.) A quarrelsome female. Pr. yēgē kaḷī baisa mājhē naḷīṃ. 11 A side-piece of an oblong chappara. kaḷī umaḷaṇēṃ g. of s. To open out; to drop reserve and enter freely into talk--a cold or taciturn person. 2 To glow with emulation.
--- OR ---
kāḷī (काळी).—f (kālī S) A terrific form of Durga or Parvati.
--- OR ---
kāḷī (काळी).—f (kāḷā Black. Because the arable land of the Desh is mostly black.) The soil or ground considered with reference to agriculture. Ex. kā- ḷīnēṃ pīka sōḍalēṃ. 2 Applied also to the crops or produce of the ground. Ex. kāḷī pikalī mhaṇūna pāṇḍhara vāñcalī. 3 A term for a female buffalo. (Because she is black.) Pr. jyācē gharī kāḷī tyācī sadā divāḷī. 4 The arable region as contrad. from pāṇḍhara the village region.
Source
:
DDSA: The Molesworth Marathi and English Dictionary
kali (कलि).—m Strife. The 4th age of the world.
--- OR ---
kalī (कली).—f A bud, an unblown flower.
--- OR ---
kaḷī (कळी).—f A bud. A nodule of burnt lime- stone. A grain of bundī. kaḷī umalaṇēṃ To be cheerful, to drop, reserve and enter freely into talk. kaḷīcā cunā m Slaked lime.
--- OR ---
kāḷī (काळी).—f The soil considered with refer- ence to agriculture. Applied also to the crops or produce of the ground.
Source
:
DDSA: The Aryabhusan school dictionary, Marathi-English
Marathi is an Indo-European language having over 70 million native speakers people in (predominantly) Maharashtra India. Marathi, like many other Indo-Aryan languages, evolved from early forms of Prakrit, which itself is a subset of Sanskrit, one of the most ancient languages of the world.
Sanskrit-English dictionary
Kali (कलि).—[kal-ini]
1) Strife, quarrel, dissension, contention; शठ कलिरेष महांस्त्वयाद्य दत्तः (śaṭha kalireṣa mahāṃstvayādya dattaḥ) Śi.7.55; कलिकामजित् (kalikāmajit) R.9.33, Amaru.23.
2) War, battle. अविषह्यैस्तमाक्षेपैः क्षिपन्संजनयन् कलिम् (aviṣahyaistamākṣepaiḥ kṣipansaṃjanayan kalim) | Bhāg.1.55.17.
3) The fourth age of the world, the iron age (consisting of 432, years of men and beginning from the 13th of February 312 B. C.); दानमेकं कलौ युगे (dānamekaṃ kalau yuge) Ms.1.86,9.31; कलिवर्ज्यानि इमानि (kalivarjyāni imāni) &c.
4) Kali age personified (this Kali persecuted Nala).
5) The worst of any class.
6) The Bibhītaka tree.
7) The side of a die which is marked with one point. घृतेन कलिं शिक्षामि (ghṛtena kaliṃ śikṣāmi) Av.7.19.1.
8) A hero.
9) An arrow. -f. A bud.
Derivable forms: kaliḥ (कलिः).
--- OR ---
Kali (कलि).—f.
1) An unblown flower; a bud; चूतानां चिरनिर्गताऽपि कलिका बध्नाति न स्वं रजः (cūtānāṃ ciranirgatā'pi kalikā badhnāti na svaṃ rajaḥ) Ś.6.4. किमा- म्रकलिकाभङ्गमारभसे (kimā- mrakalikābhaṅgamārabhase) Ś.6; Ṛs.6.17; R.9.33.
2) A digit. streak.
3) The bottom or peg of the Indian lute.
4) A king of poetic composition (akin to biruda).
Derivable forms: kaliḥ (कलिः).
See also (synonyms): kalikā.
Source
:
DDSA: The practical Sanskrit-English dictionary
Kali (कलि).—m. (in this sense = Pali id., but not in Sanskrit), sin, depravity: Mvy 621, 622, see s.vv. Kāyakali-, Vākkali- (Tibetan skyon, normally = doṣa); Divy 623.21 (verse, tho printed as prose) pāpakaṃ karma kilviṣaṃ kalir eva ca; Jm 103.24 kali-paddhatiṃ (surām; kali-bala, the power of evil (text °vala), Dbh.g. 52(78).8 °parihāropāya-vidyarddhi- mantaḥ, and 16 vijita-kalivalaughās; kali-mala-pari- pūrṇa- Kv 90.16; sattva-kali-kaluṣair Śikṣ 279.7; rāga- doṣa-moha-kali-kaluṣa-vinodanī LV 286.12; kali-pāsu (read °sa? for °śu or °śa, so v.l.) LV 371.17 (verse); kali- puruṣa, man of depravity, said of Devadatta, Mv i.128.14 (mss. kāli°); kali-nṛpa, evil king, LV 165.22; kali-rāja(n), id., Divy 574.10; RP 21.18; MSV i.29.2; (see also s.v. Kaliṅga-rājan;) in Ud viii.4 word-play on the other meaning of kali, bad luck at dice (Chakravarti ignores this), alpamātro hy ayaṃ kalir ya ihākṣeṇa dhanaṃ parājayet, ayam atra mahattaraḥ kalir yaḥ sugateṣu manaḥ pradūṣayet (same verse Pali Sn 659); see also Ud viii.3; often regarded as characteristic of Māra the Evil One, and so cpd. with Māra-: SP 481.8 nirjeṣyaty ayaṃ…Māra-kali-cakraṃ (Māra's wheel of depravity) pravartayiṣyaty ayaṃ dharma- cakraṃ; LV 180.9 Māra-kali-pāśāṃś (compare LV 371.17, above) ca saṃchinatti sma; Māra-kali-vikiraṇa-vinarditam ava- tarāmi Gv 206.25; Māra-kali-kleśa-sūdana(ḥ) Gv 483.9 (verse), so read with the citation Śikṣ 104.1 (Gv text corruptly sudama).
--- OR ---
Kalī (कली).—(?) = Sanskrit kalā, part: LV 341.5 (verse). Doubtful; see saṭhaḥ.
--- OR ---
Kāli (कालि).—f. (ka plus āli), ka-series, name for a series of syllables beginning with ka (consonants plus a or ā), used as a magic formula in Sādh and defined there 478.13 ff. Cf. āli (2).
Source
:
Cologne Digital Sanskrit Dictionaries: Edgerton Buddhist Hybrid Sanskrit Dictionary
Kali (कलि).—m.
(-liḥ) 1. The fourth age of the world, according to the Hindus, the iron age, or that of vice: the commencement of the Kali-yug or age, is placed 3,101 years anterior to the Cristian æra, so that in A. D. 1896, the Kali year is 4,997, the number of its years is 432,000, at the expiration of which, the world is to be destroyed. 2. The age personified. 3. War, battle. 4. Strife, dissension. 5. An arrow. 6. Beleric myrobalan. f. (-liḥ or -lī) An unblown flower: see kalikā. E. kal to count or reckon, in Unadi aff.
Source
:
Cologne Digital Sanskrit Dictionaries: Shabda-Sagara Sanskrit-English Dictionary
Sanskrit, also spelled संस्कृतम् (saṃskṛtam), is an ancient language of India commonly seen as the grandmother of the Indo-European language family. Closely allied with Prakrit and Pali, Sanskrit is more exhaustive in both grammar and terms and has the most extensive collection of literature in the world, greatly surpassing its sister-languages Greek and Latin.
Relevant definitions
Search found 409 related definition(s) that might help you understand this better. Below you will find the 15 most relevant articles:
| | | |
| --- | --- | --- |
| | | |
| Kaliyuga | | Kaliyuga (कलियुग) is a specific period of time, as mentioned in the Śivapurāṇa 1.1.—Accordingly... |
| Bhadrakali | | Bhadrakālī (भद्रकाली) refers to one the twenty-four Horā (astronomical) Goddess to be invoked d... |
| Mahakali | | Mahākālī (महाकाली) refers to one the twenty-four Horā (astronomical) Goddess to be invoked duri... |
| Kalipriya | | Kalipriya (कलिप्रिय) refers to the sage Nārada and is mentioned in the Naiṣadha-carita 6.65. |
| Gandhakali | | Gandhakālī (गन्धकाली).—f. (-lī) The mother of the poet Vyasa. E. gandha perfume, kal to make, a... |
| Kalidruma | | Kalidruma (कलिद्रुम) refers to the "Bibhītaka tree from which dice were made" and is mentioned ... |
| Kalikhajuri | | kāḷī-khajurī (काळी-खजुरी).—f, kāḷī khajūra m, kāḷī khārīka f A drug. It is a fruit resembling t... |
| Kalikara | | Kalikāra (कलिकार).—m. (-raḥ) 1. A plant bearing a nut, which is used as a febrifuge. (Grey bond... |
| Manakali | | Mānakali (मानकलि).—f. (-liḥ) Coolness, haughtiness, disdain. E. māna pride, and kali quarrellin... |
| Kalikaraka | | Kalikāraka (कलिकारक).—m. (-kaḥ) 1. Grey bonduc; also kalimāraka. 2. The name of Narada a divine... |
| Kaliggaha | | Kaliggaha: the unlucky throw at dice, the losing throw; symbolically bad luck, evil consequence... |
| Kaḻi-ganattar | | Kāḻi-gaṇattār.—(SITI), Tamil; a committee for the temple of Kāḻi (Kālī). Note: kāḻi-gaṇattār is... |
| Kalidevata | | Kalidevatā refers to: (m. pl.) the devotees of kali, the followers of the goddess kali Miln. 19... |
| Kalijallika | | Kāḷi-jallika (kāḷi° for kāḷa°) having black drops or specks (of dirt) A. I, 253; |
| Kali Ratra | | kāḷī rātra (काळी रात्र) [or काळी शिळी रात्र, kāḷī śiḷī rātra].—f (kāḷa & rātra) A term for nigh... |
Relevant text
Search found 92 books and stories containing Kali, Kālī, Kāli, Kaḷī, Kalī, Kāḷī; (plurals include: Kalis, Kālīs, Kālis, Kaḷīs, Kalīs, Kāḷīs). You can also click to the full overview containing English textual excerpts. Below are direct links for the most relevant articles: