Dish, aka: Diś; 3 Definition(s)
Introduction
Dish means something in Buddhism, Pali, Hinduism, Sanskrit, the history of ancient India. If you want to know the exact meaning, history, etymology or English translation of this term then check out the descriptions on this page. Add your comment or reference to a book if you want to contribute to this summary article.
The Sanskrit term Diś can be transliterated into English as Dis or Dish, using the IAST transliteration scheme (?).
In Buddhism
Mahayana (major branch of Buddhism)
Diś (दिश्) refers to the "ten directions" according to an appendix included in the 2nd century Mahāprajñāpāramitāśāstra (chapter XIV). It is known in Pali as disā, in Tibetan as phyogs and in Chinese as fang.
The ten directions (diś) are subdivided in the following way:
a) The four directions proper:
pūrvā (east),
dakṣiṇā (south),
paścimā (west),
uttarā (north).
b) The four intermediate directions (Sanskrit: vidiś, Pali: vidisā or anudisā, Tibetan: phyogs-ḥtsham, Chinese: wei or yu:
uttara-pūrvā (north-east),
pūrva-dakṣiṇā (south-west),
dakṣiṇa-paścimā (south-east),
paścima-uttarā (north-west).
c) The two directions above and below (Pāli: paṭidisā):
adhas or adhastāt (nadir),
ūrdhva or or upariṣṭha or upariṣṭāt (zenith).
Source
: Wisdom Library: Maha Prajnaparamita Sastra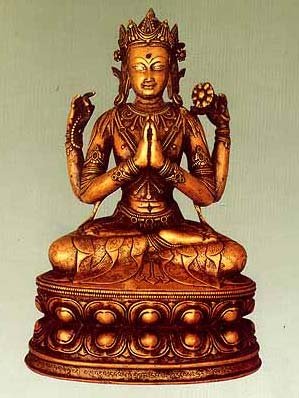 Mahayana (महायान, mahāyāna) is a major branch of Buddhism focusing on the path of a Bodhisattva (spiritual aspirants/ enlightened beings). Extant literature is vast and primarely composed in the Sanskrit language. There are many sūtras of which some of the earliest are the various Prajñāpāramitā sūtras.
Languages of India and abroad
Sanskrit-English dictionary
Diś (दिश्).—6 U. (diśati-te, diṣṭa; desid. didikṣati-te)
1) To point out, show, exhibit, produce (as a witness); साक्षिणः सन्ति मेत्युक्त्वा दिशेत्युक्तो दिशेन्न यः (sākṣiṇaḥ santi metyuktvā diśetyukto diśenna yaḥ) Ms.8.57,52,53.
2) To assign, allot; इष्टां गतिं तस्य सुरा दिशन्ति (iṣṭāṃ gatiṃ tasya surā diśanti) Mb.
3) To give, grant, bestow upon, deliver or make over to; बाणमत्रभवते निजं दिशन् (bāṇamatrabhavate nijaṃ diśan) Ki.13.68; R.5.3;11.2;16.72.
4) To pay (as tribute).
5) To consent to; भृत्यभावि दुहितुः परिग्रहाद्दिश्यतां कुलमिदं निमेरिति (bhṛtyabhāvi duhituḥ parigrahāddiśyatāṃ kulamidaṃ nimeriti) R.11.49.
6) To direct, order, command.
7) To allow, permit; स्मर्तुं दिशन्ति न दिवः सुरसुन्दरीभ्यः (smartuṃ diśanti na divaḥ surasundarībhyaḥ) Ki.5.28. -Caus. (deśayati-te)
1) To show, point out, allot, assign.
2) To teach, communicate, tell, inform.
3) To direct, order.
4) To confer, bestow.
--- OR ---
Diś (दिश्).—f. [diśati dadātyavakāśaṃ diś-kvip] (Nom. sing. dikg)
1) A direction, cardinal point, point of the compass, quarter of the sky; दिशः प्रसेदुर्मरुतो वबुः सुखाः (diśaḥ prasedurmaruto vabuḥ sukhāḥ) R.3.14; दिशि दिशि किरति सजलकणजालम् (diśi diśi kirati sajalakaṇajālam) Gīt.4.
2) (a) The mere direction of a thing, hint, indication (of the general lines); इति दिक् (iti dik) (often used by commentators &c.); इत्थं लौकिक- शब्दानां दिङ्मात्रमिह दर्शितम् (itthaṃ laukika- śabdānāṃ diṅmātramiha darśitam) Sk. (b) (Hence) Mode, manner, method; मुनेः पाठोक्तदिशा (muneḥ pāṭhoktadiśā) S. D.; दिगियं सूत्रकृता प्रदर्शिता (digiyaṃ sūtrakṛtā pradarśitā); दासीसभं नृपसभं रक्षःसभमिमा दिशः (dāsīsabhaṃ nṛpasabhaṃ rakṣaḥsabhamimā diśaḥ) Ak.
3) Region, space, place in general.
4) A foreign or distant region.
5) A point of view, manner of considering a subject.
6) A precept, order.
7) The number 'ten'.
8) A side or party.
9) The mark of a bite. 'दिग्दष्टे वर्तुलाकारे करिका नखरेखिका (digdaṣṭe vartulākāre karikā nakharekhikā)' इति वैजयन्ती (iti vaijayantī); परिणतदिक्करिकास्तटीर्बिभर्ति (pariṇatadikkarikāstaṭīrbibharti) Śi.4.29. [N. B. In comp. दिश् (diś) becomes दिग् (dig) before words beginning with vowels and soft consonants, and दिक् (dik) before words beginning with hard consonants; e. g. दिगम्बर, दिग्गज, दिक्पथ, दिक्करिन् (digambara, diggaja, dikpatha, dikkarin), &c.]
Source
:
DDSA: The practical Sanskrit-English dictionary
Sanskrit, also spelled संस्कृतम् (saṃskṛtam), is an ancient language of India commonly seen as the grandmother of the Indo-European language family. Closely allied with Prakrit and Pali, Sanskrit is more exhaustive in both grammar and terms and has the most extensive collection of literature in the world, greatly surpassing its sister-languages Greek and Latin.
Relevant definitions
Search found 974 related definition(s) that might help you understand this better. Below you will find the 15 most relevant articles:
| | | |
| --- | --- | --- |
| | | |
| Vadi | | Vaḍi (वडि).—n. of a yakṣa: Māy 236.28.--- OR --- Vadi (वदि) or Vade.—(?) , assumed by Senart to... |
| Dikpala | | Dikpāla (दिक्पाल) is another name for Aṣṭadikpālaka: the "eight guardians of the directions", a... |
| Digambara | | Digambara.—(IA 7), a Jain sect. Note: digambara is defined in the "Indian epigraphical glossary... |
| Di | | Di.—(IE 8-1; CII 3), abbreviation of dina, dine, divasa or divase; used in connection with śu o... |
| Digvijaya | | Digvijaya (दिग्विजय).—m. (-yaḥ) Subjugation of an extensive country, either in arms or controve... |
| Badi | | Baḍi (बडि).——the asura Bali: Mahāsamaj., Waldschmidt, Kl. Sanskrit Texte 4, 181.1. |
| Sudi | | Śu-di.—(IE 8-1), abbreviation of śukla (or śuddha) -pakṣa-dina (or divasa), often written as su... |
| Diggaja | | Diggaja.—(IE 7-1-2), 'eight'. Eight poets patronised by Kṛṣṇadevarāya were called the aṣṭa-digg... |
| Digantara | | Digantara (दिगन्तर).—n. (-raṃ) Space, the atmosphere. E. dik, and antara interval. |
| Diganta | | Diganta (दिगन्त).—m. (-ntaḥ) The horizon. E. dik, and anta end. |
| Dinnaga | | Diṅnāga (दिङ्नाग).—n. of a teacher: Mvy 3481 (v.l. Dignāga; so Mironov with no v.l.). |
| Digdaha | | Digdāha (दिग्दाह).—m. (-haḥ) Preternatural redness of the horizon, as if on fire. E. diś, and d... |
| Dikpati | | Dikpati (दिक्पति).—m. (-tiḥ) A regent of a quarter of the universe, as the sun of the east; Sat... |
| Dikkumara | | Dikkumāra (दिक्कुमार) refers to "guardians of the ten directions /compass points" and represent... |
| Ashtadish | | Aṣṭadiś (अष्टदिश्).—f. (-dik) The eight cardinal points of the compass collectively. E. aṣṭa ei... |
Relevant text
Search found 92 books and stories containing Dish or Diś. You can also click to the full overview containing English textual excerpts. Below are direct links for the most relevant articles: