Bhinna: 8 definitions
Introduction
Bhinna means something in Hinduism, Sanskrit, Buddhism, Pali, Marathi. If you want to know the exact meaning, history, etymology or English translation of this term then check out the descriptions on this page. Add your comment or reference to a book if you want to contribute to this summary article.
Languages of India and abroad
Pali-English dictionary
Source
:
BuddhaSasana: Concise Pali-English Dictionary
bhinna : (pp. of bhindati) broken; split; severed. (pp. of bhijjati), broken; destroyed.
Source
:
Sutta: The Pali Text Society's Pali-English Dictionary
Bhinna, (pp. of bhindati) 1. broken, broken up (lit. & fig.) Sn. 770 (nāvā); J. I, 98 (abhinna magga an unbroken path); III, 167 (uda-kumbha); PvA. 72 (°sarīra-cchavi).—2. (fig.) split, fallen into dissension, not agreeing D. III, 117=210, 171.—Usually in cpds. , & often to be translated by prep. "without," e.g. bhinnahirottappa without shame.—Cp. sam°.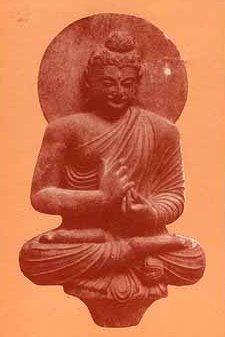 Pali is the language of the Tipiṭaka, which is the sacred canon of Theravāda Buddhism and contains much of the Buddha's speech. Closeley related to Sanskrit, both languages are used interchangeably between religions.
Marathi-English dictionary
Source
:
DDSA: The Molesworth Marathi and English Dictionary
bhinna (भिन्न).—n S In arithmetic. A fraction. bhinna-saṅkalana-vyavakalana-guṇana-bhājana Addition-subtraction-multiplication-division -of fractions. Applied also to Addition &c. of integers with fractions. bhinna-varga-ghana Square or cube of a fraction; bhinna- vargamūla, bhinnaghanamūla Square-root or cube-root of a fraction, and, with-parikarma added, as bhinnavargaparikarma &c., Extraction of the square-root of &c. bhinnapari- karmāṣṭaka The eight elementary rules of arithmetic of fractions.
--- OR ---
bhinna (भिन्न).—p (S) Divided, parted, sundered. 2 Separate, distinct, different. 3 Broken.
Source
:
DDSA: The Aryabhusan school dictionary, Marathi-English
bhinna (भिन्न).—p Divided; separate; broken, n A fraction.
Marathi is an Indo-European language having over 70 million native speakers people in (predominantly) Maharashtra India. Marathi, like many other Indo-Aryan languages, evolved from early forms of Prakrit, which itself is a subset of Sanskrit, one of the most ancient languages of the world.
Sanskrit-English dictionary
Source
:
DDSA: The practical Sanskrit-English dictionary
Bhinna (भिन्न).—p. p. [bhid-kta]
1) Broken, torn, split, rent; संछिन्नभिन्नसर्वाङ्गाः सर्त्विक्सभ्या भयाकुलाः । स्वयंभुवे नमस्कृत्य (saṃchinnabhinnasarvāṅgāḥ sartviksabhyā bhayākulāḥ | svayaṃbhuve namaskṛtya) Bhāg. 4.6.2.
2) Divided, separated.
3) Detached, disunited, disjoined; scattered; भिन्नं च वानरानीकम् (bhinnaṃ ca vānarānīkam) Rām.6.67.8.
4) Expanded, blown, opened; भिन्नैलासुरभिमुवाह गन्धवाहः (bhinnailāsurabhimuvāha gandhavāhaḥ) Ki.7.38.
5) Different from, other than (with abl.); तस्मादयं भिन्नः (tasmādayaṃ bhinnaḥ).
6) Different, varied; भिन्नरुचिर्हि लोकः (bhinnarucirhi lokaḥ) R.6. 3.
7) Loosened.
8) Mingled, mixed, blended; एकत्र स्फटिकतटांशुभिन्ननीरा नीलाश्मद्युतिभिदुराम्भसोऽपरत्र (ekatra sphaṭikataṭāṃśubhinnanīrā nīlāśmadyutibhidurāmbhaso'paratra) Śi.4.26.
9) Deviating from.
1) Changed.
11) Furious; दुरुक्तैर्भिन्न- मात्मानं यः समाधातुमीश्वरः (duruktairbhinna- mātmānaṃ yaḥ samādhātumīśvaraḥ) Bhāg.11.23.2.
12) Without, deprived of.
13) Undutiful, vicious; भिन्नवृत्तिता (bhinnavṛttitā) Ms.12. 33; नैतत् खलायोपदिशेत् (naitat khalāyopadiśet) ...... न भिन्नाय (na bhinnāya) Bhāg.3.32.39.
14) Stood up (as hair); खरोष्ट्राश्वतरा राजन् भिन्नरोमाः स्रवन्ति च (kharoṣṭrāśvatarā rājan bhinnaromāḥ sravanti ca) Rām.6.1.18.
15) Seduced, bribed; H. (See bhid).
-nnaḥ 1 A defect or flaw in a gem.
-nnam 1 A bit, fragment, part.
2) A blossom.
3) A wound, stab; शक्तिकुन्तेषुखड्गाग्रविषाणैराशयो हतः । यत् किंचित् प्रसवेत् तद्धि भिन्न- मित्यभिधीयते (śaktikunteṣukhaḍgāgraviṣāṇairāśayo hataḥ | yat kiṃcit prasavet taddhi bhinna- mityabhidhīyate) Bhāva. P.
4) A fraction.
Source
:
Cologne Digital Sanskrit Dictionaries: Shabda-Sagara Sanskrit-English Dictionary
Bhinna (भिन्न).—mfn.
(-nnaḥ-nnā-nnaṃ) 1. Split, broken, torn, rent. 2. Divided, distinguished, other, different. 3. Separated, detached. 4. Blown, budded, opened. 5. Neglected, deviated from. 6. Loosened. 7. Pounded 8. Deprived of. 9. Furious, in rut, (as an elephant.) m.
(-nnaḥ) A flaw in a jewel. n.
(-nnaṃ) 1. A bit, a portion. 2. (In arithmetic,) A fraction. E. bhid to break, to divide, aff. kta .
Source
:
Cologne Digital Sanskrit Dictionaries: Monier-Williams Sanskrit-English Dictionary
1) Bhinna (भिन्न):—[from bhid] mfn. split, broken, shattered, pierced, destroyed, [Ṛg-veda] etc. etc.
2) [v.s. ...] leaky (as a ship), [Mahābhārata]
3) [v.s. ...] broken through, transgressed, violated, [Manu-smṛti; Mahābhārata] etc.
4) [v.s. ...] divided into parts, anything less than a whole, [Yājñavalkya; Kāvya literature] etc.
5) [v.s. ...] opened, expanded, blown, [Mahābhārata; Kāvya literature] etc.
6) [v.s. ...] detached, disjoined, loosened, [ib.]
7) [v.s. ...] interrupted, disturbed, [Bhartṛhari]
8) [v.s. ...] disclosed, betrayed, [Rāmāyaṇa]
9) [v.s. ...] disunited, set at variance, [Mahābhārata]
10) [v.s. ...] seduced, bribed, [Kāmandakīya-nītisāra; Hitopadeśa]
11) [v.s. ...] changed, altered, [Yājñavalkya; Suśruta]
12) [v.s. ...] distinct, different from or other than ([ablative] or [compound]), [Gṛhya-sūtra and śrauta-sūtra; Kāvya literature] etc.
13) [v.s. ...] deviating, abnormal, irregular, [Kāvya literature]
14) [v.s. ...] mixed or mingled with ([instrumental case] or [compound]), [ib.]
15) [v.s. ...] cleaving to ([locative case] or [compound]), [ib.]
16) [v.s. ...] = bhinna-karaṭa, [Mahābhārata i, 7006]
17) [v.s. ...] m. (in [arithmetic]) a fraction, [Līlāvatī of bhāskara]
18) Bhinnā (भिन्ना):—[from bhinna > bhid] f. Sanseviera Roxburghiana, [cf. Lexicographers, esp. such as amarasiṃha, halāyudha, hemacandra, etc.]
19) Bhinna (भिन्न):—[from bhid] n. a fragment, bit, portion, [Horace H. Wilson]
20) [v.s. ...] a wound from a pointed weapon, a stab, [Suśruta]
21) [v.s. ...] a [particular] mode of fighting, [Harivaṃśa]
Sanskrit, also spelled संस्कृतम् (saṃskṛtam), is an ancient language of India commonly seen as the grandmother of the Indo-European language family. Closely allied with Prakrit and Pali, Sanskrit is more exhaustive in both grammar and terms and has the most extensive collection of literature in the world, greatly surpassing its sister-languages Greek and Latin.
See also (Relevant definitions)
Starts with (+76): Bhinnaandhakara, Bhinnabhagahara, Bhinnabhajana, Bhinnabhanda, Bhinnabhava, Bhinnabhinna, Bhinnabhinnatman, Bhinnadala, Bhinnadarshana, Bhinnadarshi, Bhinnadarshin, Bhinnadeha, Bhinnadesha, Bhinnadeshatva, Bhinnadikka, Bhinnadrish, Bhinnadupara, Bhinnagarbha, Bhinnagati, Bhinnagatrika.
Ends with (+40): Abhinna, Abhisambhinna, Antarbhinna, Aparibhinna, Asambhinna, Ashavibhinna, Avabhinna, Avibhinna, Bhinnabhinna, Chabhinna, Chal Abhinna, Chalabhinna, Chayabhinna, Chhinnabhinna, Chinnabhinna, Danabhinna, Durabhinna, Duravibhinna, Dvandvabhinna, Hatthippabhinna.
Full-text (+137): Bhinnadeha, Bhinnagatrika, Durabhinna, Bhinnagunana, Bhinnabhagahara, Bhinnasamhati, Bhinnavarna, Bhinnaprakara, Bhinnamarman, Chinnabhinna, Danabhinna, Nakhabhinna, Bhinnakumbha, Bhinnavyavakalita, Bhinnakuta, Bhinnasvara, Sucibhinna, Abhinna, Bhinnakleshatva, Bhinnasvaramukhavarna.
Relevant text
Search found 25 books and stories containing Bhinna, Bhinnā; (plurals include: Bhinnas, Bhinnās). You can also click to the full overview containing English textual excerpts. Below are direct links for the most relevant articles:
Verse 7.4 < [Chapter 7 - Vijñāna-Yoga (Yoga through Realization of Transcendental Knowledge)]
Verse 13.20 < [Chapter 13 - Prakṛti-puruṣa-vibhāga-yoga]
Verse 2.3.29 < [Part 3 - Involuntary Ecstatic Expressions (sattvika-bhāva)]
Verse 3.3.135 < [Part 3 - Fraternal Devotion (sakhya-rasa)]
Verse 2.4.236 < [Part 4 - Transient Ecstatic Disturbances (vyābhicāri-bhāva)]
Verse 2494 < [Chapter 24b - Arguments against the reliability of the Veda (the Revealed Word)]
Verse 2680-2681 < [Chapter 24b - Arguments against the reliability of the Veda (the Revealed Word)]
Verse 136 < [Chapter 5 - The Doctrine of Sound ('Word-Sound') being the Origin of the World]