Antarita: 8 definitions
Introduction
Antarita means something in Hinduism, Sanskrit, Marathi. If you want to know the exact meaning, history, etymology or English translation of this term then check out the descriptions on this page. Add your comment or reference to a book if you want to contribute to this summary article.
In Hinduism
Shilpashastra (iconography)
Source
: Wisdom Library: Śilpa-śāstra
Antarita (अन्तरित) refers to a "narrow recessed surface or groove". It is classified as a type of upāṅga (sub-moulds) as opposed to regular mouldings (aṃśa) commonly used in the construction of an adhiṣṭhāna (pedestal or base of a structure) or an upapīṭha (sub-structure, beneath the adhiṣṭhāna).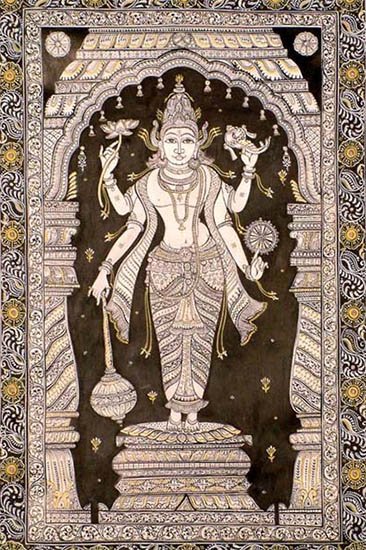 Shilpashastra (शिल्पशास्त्र, śilpaśāstra) represents the ancient Indian science (shastra) of creative arts (shilpa) such as sculpture, iconography and painting. Closely related to Vastushastra (architecture), they often share the same literature.
Shaivism (Shaiva philosophy)
Source
:
Shodhganga: Temple management in the Āgamas
Antarita (अन्तरित) refers to a type of "temple consecration" as described in the Śaivāgamas.—The Saṃprokṣaṇavidhi of Kāmikāgama describes several types of consecration—Antarita is performed when the utsava-bimbas and other images and deities' weapons in the temple are broken, worn out, faded, if their leather covering is worn out, if the base is broken, or if the aṣṭabandhana has come loose.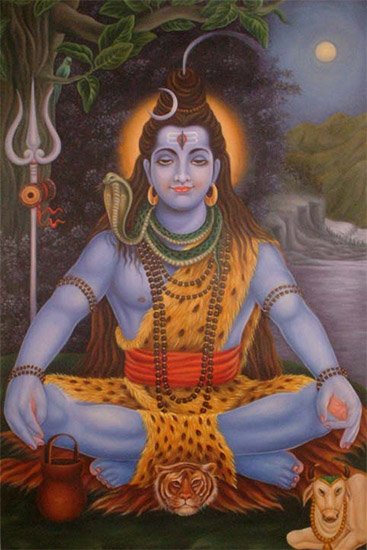 Shaiva (शैव, śaiva) or Shaivism (śaivism) represents a tradition of Hinduism worshiping Shiva as the supreme being. Closely related to Shaktism, Shaiva literature includes a range of scriptures, including Tantras, while the root of this tradition may be traced back to the ancient Vedas.
Languages of India and abroad
Marathi-English dictionary
Source
:
DDSA: The Molesworth Marathi and English Dictionary
antarita (अंतरित).—p (S) Passed by or over; pretermitted or omitted; left undone. 2 Separated, detached, parted, cast at a distance.
Source
:
DDSA: The Aryabhusan school dictionary, Marathi-English
antarita (अंतरित).—p Omitted; separated.
Marathi is an Indo-European language having over 70 million native speakers people in (predominantly) Maharashtra India. Marathi, like many other Indo-Aryan languages, evolved from early forms of Prakrit, which itself is a subset of Sanskrit, one of the most ancient languages of the world.
Sanskrit-English dictionary
Source
:
DDSA: The practical Sanskrit-English dictionary
Antarita (अन्तरित).—p. p.
1) Gone between, intervening.
2) Gone within, hidden, concealed, covered, screened, shielded, protected (from view) by something; पादपान्तरित एव विश्वस्तामेनां पश्यामि (pādapāntarita eva viśvastāmenāṃ paśyāmi) Ś.1 hid behind a creeper; सारसेन स्वदेहान्तरितो राजा (sārasena svadehāntarito rājā) H.3 screened; विटपान्तरितस्तिष्ठ (viṭapāntaritastiṣṭha) Ś.3; नलिनीपत्रान्तरितं प्रियसहचरमपश्यन्ती (nalinīpatrāntaritaṃ priyasahacaramapaśyantī) Ś.4; शार्दूलचर्मान्तरितोरुपृष्ठम् (śārdūlacarmāntaritorupṛṣṭham) Ku.7.37 covered; Dk.21,146; K.28,152,2; पर्व- तान्तरितो रविः (parva- tāntarito raviḥ) set. Ak.; त्वगन्तरिततृतीयलोचनम् (tvagantaritatṛtīyalocanam) K.18, R.1. 8; उन्मादमोहान्तरितोऽपि (unmādamohāntarito'pi) Māl.9; तल्पमन्तरितभूमिभिः कुथैः (talpamantaritabhūmibhiḥ kuthaiḥ) R. 19.2.
3) Gone in, reflected; स्फटिकभित्त्यन्तरितान् मृगशावकान् (sphaṭikabhittyantaritān mṛgaśāvakān) reflected in the crystal wall.
4) (a) Concealed, made dormant, impeded, hindered, prevented; त्वदभिप्रायापरि- ज्ञानान्तरित एवायमनुनयः (tvadabhiprāyāpari- jñānāntarita evāyamanunayaḥ) Mu.2 prevented from being made; त्वद्वाञ्छान्तरितानि साध्यानि (tvadvāñchāntaritāni sādhyāni) Mu.4.15 prevened from being actually effected &c.; द्विषत्प्रतापान्तरितोरुतेजाः (dviṣatpratāpāntaritorutejāḥ) Ki.3.45 obscured; नोपालभ्यः पुमांस्तत्र दैवान्तरितपौरुषः (nopālabhyaḥ pumāṃstatra daivāntaritapauruṣaḥ) Pt.2.133. (b) Separated, lost to view, made invisible by interposition; मुहूर्तान्तरितमाधवा दुर्मनायमाना (muhūrtāntaritamādhavā durmanāyamānā) Māl.8; भर्तुरेतान्यक्ष- राणि बिम्बान्तरितानि (bharturetānyakṣa- rāṇi bimbāntaritāni) M.3; धनमित्राख्ययान्तरितः (dhanamitrākhyayāntaritaḥ) Dk.36; चन्द्रा- पीडनामान्तरितस्य चन्द्रमसः (candrā- pīḍanāmāntaritasya candramasaḥ) K.338; प्रतिनिवर्तमानयात्राजनसंकुलेन अन्तरिते तस्मिन् (pratinivartamānayātrājanasaṃkulena antarite tasmin) Māl.2; क्रियतां कथमन्त्यमण्डनं परलोकान्तरितस्य ते मया (kriyatāṃ kathamantyamaṇḍanaṃ paralokāntaritasya te mayā) Ku.4.22 separated (from me) by the next world, i. e. dead, deceased; मेघैरन्तरितः प्रिये तव मुखच्छा- यानुकारी शशी (meghairantaritaḥ priye tava mukhacchā- yānukārī śaśī) S. D. (c) Drowned, obscured removed, eclipsed; परलोकभयभैहिकदुःखेनान्तरितम् (paralokabhayabhaihikaduḥkhenāntaritam) Dk.82. drowned, eclipsed, obscured; वीरलोकसाधुवादेनान्तरितः समरतूर्यरवः (vīralokasādhuvādenāntaritaḥ samaratūryaravaḥ) Ve. 4 drowned; विस्मयान्तरितशोकवृत्तान्ता (vismayāntaritaśokavṛttāntā) K.322; कार्यान्तरितोत्कण्ठम् (kāryāntaritotkaṇṭham) V.3.4 forgotten, removed; इन्दुप्रकाशान्तरितोडुतुल्याः (induprakāśāntaritoḍutulyāḥ) R.16. 65 obscured by moon-light.
5) Disappeared, vanished, departed, retired, withdrawn; (mahāmṛgaḥ) आश्रमान्तरितः शीघ्रं प्लवमानो महाजवः (āśramāntaritaḥ śīghraṃ plavamāno mahājavaḥ) Mb.3.311.9. अन्तरिते तस्मिञ्- शयरसेनापतौ (antarite tasmiñ- śayarasenāpatau) K.33; नाथदेहस्पर्शेन अन्तरित एव सन्तापः (nāthadehasparśena antarita eva santāpaḥ) U.6 has disappeared, has been removed.
6) Passed over, omitted; अये मध्यमाम्बावृत्तान्तोऽन्तरित एवार्येण (aye madhyamāmbāvṛttānto'ntarita evāryeṇa) U. i; कथान्तरेणान्तरितमिदम् (kathāntareṇāntaritamidam) M.5 put off, delayed.
7) Slighted, despised.
8) (In Math.) That which remains, the remainder.
9) A technical term in architecture.
Source
:
Cologne Digital Sanskrit Dictionaries: Shabda-Sagara Sanskrit-English Dictionary
Antarita (अन्तरित).—mfn.
(-taḥ-tā-taṃ) 1. Dead, departed, concealed, lost. 2. Separated, detached. n.
(-taṃ) Remainder, (in arithmetic.) E. antar, and itac aff.
Source
:
Cologne Digital Sanskrit Dictionaries: Cappeller Sanskrit-English Dictionary
Antarita (अन्तरित).—[adjective] gone or standing between, being in (—°); interior, hidden, concealed; excluded, disappeared.
Source
:
Cologne Digital Sanskrit Dictionaries: Monier-Williams Sanskrit-English Dictionary
1) Antarita (अन्तरित):—[=antar-ita] [from antar-i] mfn. gone within, interior, hidden, concealed, screened, shielded
2) [v.s. ...] departed, retired, withdrawn, disappeared, perished
3) [v.s. ...] separated, excluded
4) [v.s. ...] impeded
5) [v.s. ...] n. (?) remainder (in arithmetic)
6) [v.s. ...] a technical term in architecture.
Sanskrit, also spelled संस्कृतम् (saṃskṛtam), is an ancient language of India commonly seen as the grandmother of the Indo-European language family. Closely allied with Prakrit and Pali, Sanskrit is more exhaustive in both grammar and terms and has the most extensive collection of literature in the world, greatly surpassing its sister-languages Greek and Latin.
See also (Relevant definitions)
Starts with: Antaritajvara, Antaritavahya.
Ends with: Abhyantarita, Carantarita, Charantarita, Deshantarita, Durantarita, Janmantarita, Kalahantarita, Lokantarita, Nidrantarita, Shantarita.
Full-text: Carantarita, Lokantarita, Durantarita, Kalahantarita, Paritta, Antari, Upanga.
Relevant text
Search found 2 books and stories containing Antarita, Antar-ita; (plurals include: Antaritas, itas). You can also click to the full overview containing English textual excerpts. Below are direct links for the most relevant articles: