Adinava, Ādīnava, Ādinava, Ādinavā: 7 definitions
Introduction
Introduction:
Adinava means something in Buddhism, Pali, Hinduism, Sanskrit. If you want to know the exact meaning, history, etymology or English translation of this term then check out the descriptions on this page. Add your comment or reference to a book if you want to contribute to this summary article.
In Buddhism
Theravada (major branch of Buddhism)
Source
:
Dhamma Dana: Pali English Glossary
M The fact to become aware of the perishable character of all things.
Theravāda is a major branch of Buddhism having the the Pali canon (tipitaka) as their canonical literature, which includes the vinaya-pitaka (monastic rules), the sutta-pitaka (Buddhist sermons) and the abhidhamma-pitaka (philosophy and psychology).
Languages of India and abroad
Pali-English dictionary
Source
:
BuddhaSasana: Concise Pali-English Dictionary
ādīnava : (m.) disadvantage.
Source
:
Sutta: The Pali Text Society's Pali-English Dictionary
Ādīnava, (ā + dīna + va (nt.), a substantivised adj., orig. meaning "full of wretchedness", cp. BSk. ādīnava M Vastu III, 297 (misery); Divy 329) disadvantage, danger (in or through = Loc.) D.I, 38 (vedanānaṃ assādañ ca ādīnavañ ca etc.), 213 (iddhi-pāṭihāriye M.I, 318; S.I, 9 (ettha bhīyo); II, 170 sq. (dhātūnaṃ); III, 27, 62, 102 (rūpassa etc.); IV, 7, 168; A.I, 57 (akaraṇīye kayiramāne) 258 (ko loke assādo); III, 250 sq.; 267 sq. (duccarite), 270 (puggala-ppasāde); IV, 439 sq.; V, 81; J.I, 146; IV, 2; It.9 = A.II, 10 = Nd2 172a; Sn.36, 50 (cp. Nd2 127), 69, 424, 732; Th.2, 17 (kāye ā. = dosa ThA.23), 485 (kāmesu ā. = dosa ThA.287); Pv III, 107 (= dosa PvA.214); IV, 67 (= dosa PvA.263); Ps.I, 192 sq.; II, 9, 10; PvA.12, 208. — There are several sets of sources of evil or danger, viz. five dussīlassa sīla-vipattiyā ā. at D.II, 85 = III, 235 = A.III, 252; five akkhantiyā ā. at Vbh.378; six of six each at D.III, 182 sq. — In phrase kāmānaṃ ā. okāro saṅkileso D.I, 110, 148; M.I, 115; Nett 42; DhA 16.

—ânupassin realising the danger or evil of S.II, 85 (upā dāniyesu dhammesu) abstr. °ânupassanā Vism.647 sq., 695. —dassāvin same as °ânupassin D.I, 245 (an°); A.V, 178 (id.); D.III, 46; S.II, 194, 269; A.III, 146; V, 181 sq.; Nd2 141. —pariyesanā search for danger in (-°) S.II, 171; III, 29; IV, 8 sq. —saññā consciousness of danger D.I, 7); III, 253, 283; A.III, 79. (Page 99)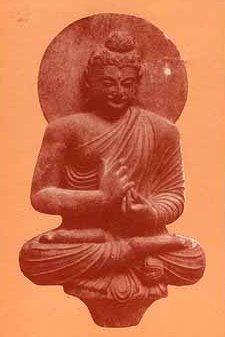 Pali is the language of the Tipiṭaka, which is the sacred canon of Theravāda Buddhism and contains much of the Buddha's speech. Closeley related to Sanskrit, both languages are used interchangeably between religions.
Sanskrit dictionary
Source
:
DDSA: The practical Sanskrit-English dictionary
Ādinava (आदिनव).—
1) Misfortune, distress.
2) Hinderance; want of luck (in dice); आदिनवं प्रतिदीन्वे (ādinavaṃ pratidīnve) Av.7.19.4.
3) Fault, transgression; Śi.2.22. see अनादीनव (anādīnava).
4) An inflictor of distress; आदीनवः पुमान् दोषे परिक्लेशदुरन्तयोः (ādīnavaḥ pumān doṣe parikleśadurantayoḥ) Medinī.
Derivable forms: ādinavaḥ (आदिनवः), ādinavam (आदिनवम्).
See also (synonyms): ādidīva.
Source
:
Cologne Digital Sanskrit Dictionaries: Edgerton Buddhist Hybrid Sanskrit Dictionary
Ādīnava (आदीनव).—m. or (rarely) nt., once perhaps adj., (= Pali id.; clearly Buddhist word, despite rare occurrences in late Sanskrit, and despite ādĭnava-darśa in Vedic, see Schmidt Nachtr., s.v. ādīnava, and Renou, JA 1939 p. 391), misery, evil, danger, mishap, wretchedness: nt. noted only Mahāvastu iii.297.12 tāye atra mahādīnavaṃ utpāditaṃ; m. (unambiguously) Mahāvyutpatti 7309 °vaḥ; Divyāvadāna 9.21 and 335.12 °vo (mishap) 'tra bhaviṣyati; Divyāvadāna 190.25—26 ime cānye ādīnavā madyapāne; 224.24—25 kṛtā kāmeṣv ādīnava- kathā, gṛhāśramapadasyādīnavo bhāṣitas; 329.21 yaḥ kaścid ādīnavo, any disaster whatever (may occur); same, Mūla-Sarvāstivāda-Vinaya i.44.19; Karmavibhaṅga (and Karmavibhaṅgopadeśa) 33.14 tathā daśādīnavā Nandika- sūtra uktāḥ prāṇātipātasya; 42.6 pañcatriṃśad ādīnavāḥ surāmaireyamadyapramādasthāne; often with loc. of that in, or in connection with, which the evil is manifested, as, kāmeṣu ādīnavaṃ dṛṣṭvā Mahāvastu i.283.19; iii.193.1; 418.20; 450.8; mitreṣu ādīnavaṃ (read °va, m.c.) saṃmṛśanto Mahāvastu i.359.2 (verse); taṃ tiryagyoniṣu mahantaṃ ādīnavaṃ dṛṣṭvā Mahāvastu i.27.11, similarly 29.13; 30.11; dṛṣṭvā ādīnavaṃ loke Mahāvastu ii.166.6; other locs. above and below; but occasion- ally gen. instead, kāyasyādīnavaṃ saṃpaśyan Lalitavistara 208.9; prāṇātipātasya Karmavibhaṅga (and Karmavibhaṅgopadeśa) 33.14 (above); or prior member in composition, saṃsāra-doṣādīnava-niḥśaraṇa-(= niḥsa°)-kuśalaḥ Lalitavistara 180.15; lokādīnavaṃ lokaniḥsaraṇam api deśayāmi Gaṇḍavyūha 191.25; in contrast with āsvāda, āsvādādīnaveṣu Mahāvastu i.134.1 in enjoyments and miseries; kāmāna āsvādaṃ… ādīnavaṃ ca kāmānāṃ bhāṣate puruṣottamaḥ Mahāvastu i.184.13— 14 (verse); others, miscellaneous, ahaṃ ca ādīnava (acc.) tatra darsayīṃ (WT °yī) Saddharmapuṇḍarīka 90.3 (verse); taṃ kampille [Page094-b+ 71] mahāntam ādīnavaṃ dṛṣṭvā Mahāvastu i.284.8; etam ādīnavaṃ ācikṣiṣyāmi Mahāvastu iii.74.8; ādīnavadarśāvī (= Pali °dassāvi-n) perceiving the misery or danger, n. sg. of °vin, kāmeṣu Mahāvastu i.283.18—19; ii.144.16 (here text °darśī, v.l. °darśāvī); without dependent noun, °śāvī, followed by niḥsaraṇa- (or niḥśa°; delete final -ḥ in the first passage) -prajñaḥ (or -prājño) Mahāvastu iii.52.5; 201.5; °va-darśin = °va-darśāvin, tatrādīnavadarśinaḥ Bodhisattvabhūmi 29.20 (tatra = strīṣu); in [bahuvrīhi] cpds., (kāmāḥ) sabhayāḥ saraṇāḥ sādīnavāḥ sadoṣā iti Lalitavistara 213.1; anantādīnavā mārṣa kāmāḥ Jātakamālā 114.15; bahvā- dīnavaś ca gṛhāvāso Rāṣṭrapālaparipṛcchā 48.2—3; once apparently ādīnava alone, uncompounded, used as adj., wretched, evil, miserable, Mahāvastu i.33.11 (verse) sarvaṃ ādīnavaṃ lokaṃ (parallel with ādīpitaṃ, prajvalitaṃ, prakampitaṃ, in same verse applied to lokaṃ).
Source
:
Cologne Digital Sanskrit Dictionaries: Shabda-Sagara Sanskrit-English Dictionary
Ādīnava (आदीनव).—m.
(-vaḥ) 1. Distress, pain, uneasiness. 2. Fault, transgression. 3. An inflictor of distress. E. āṅ before dīṅ to decay, deriv. irr.
Source
:
Cologne Digital Sanskrit Dictionaries: Monier-Williams Sanskrit-English Dictionary
1) Ādinava (आदिनव):—n. (probably) misfortune, want of luck in dice, [Atharva-veda vii, 109, 4] (cf. ādīnava.)
2) Ādīnava (आदीनव):—m. distress, pain, uneasiness
3) fault, [cf. Lexicographers, esp. such as amarasiṃha, halāyudha, hemacandra, etc.]
Sanskrit, also spelled संस्कृतम् (saṃskṛtam), is an ancient language of India commonly seen as the grandmother of the Indo-European language family (even English!). Closely allied with Prakrit and Pali, Sanskrit is more exhaustive in both grammar and terms and has the most extensive collection of literature in the world, greatly surpassing its sister-languages Greek and Latin.
See also (Relevant definitions)
Partial matches: A.
Starts with: Adinavadarsha, Adinavanupassana-nana.
Ends with: Anadinava, Niradinava, Sadinava.
Full-text: Anadinava, Adinavadarsha, Niradinava, Kamahetu, Adidiva, Uccandrabhakta, Giri Sutta, Kokalika, Pariyesana, Dassin, Darshavin, Darsha, Utkula, Dassavin, Sanna.
Relevant text
Search found 10 books and stories containing Adinava, Ādīnava, Ādinava, Ādinavā, A-dinava, Ā-dīnava; (plurals include: Adinavas, Ādīnavas, Ādinavas, Ādinavās, dinavas, dīnavas). You can also click to the full overview containing English textual excerpts. Below are direct links for the most relevant articles: