their history, iconography and progressive evolution through the northern Buddhist countries
by Alice Getty | 1914 | 98,662 words
Indispensable reference for art historians, scholars of Eastern philosophy and religion. Wealth of detailed scholarly information on names, attributes, symbolism, pictorial representations of virtually every major and minor divinity in Mahayana pantheon, as worshipped in Nepal, Tibet, China, Korea, Mongolia, and Japan. 185 black-and-white illustrat...
Ts'ogs-sing (tsok-shin)
Nepalese Painting Offered To A Temple 1809
A. Left medallion: two Bodhisattva and 42 lamas or saints.
B. Central medallion: two Divinities and 22 lamas or saints.
C. Right medallion: two Bodhisattva (Manjusri and?) with 42 lamas or saints.
D. The summit of the Pyramid.
Sakya-muni.
Sariputra.
Maudgalyayana.
Atisa.
Ts'on-k'a-pa.
Nagarjuna.
(7-17). Saints and lamas.
E-F. Space on the right and left of the Pyramid: flying deities, praying monks, &c.
G. The Pyramid.
Vajravarahi (T. Rdo-rje-p'ag-mo),incarnation of an abbess of Central Tibet (see 30. No. 7) (red).
Hevajra.
Yamantaka (P. 61).
Sangdui (T. Gsan-ba hdus-pa) (P 62).
Samvara.
Combination of Mahamaya (P. 67) and Buddha Kapala (P. 69) (blue).
Vajravarahi? (see No. 1) (red).
Kurukulla (T. Rig-byed-mo) (red).
Simhavaktra (T. Sen-gdon-ma Dakini) (G. p. 174).
Mahasakra Vajrapani (G. p. 161) (black).
The red Yamari (T.Gsed-dmar)(G.p.l23).
Kalacakra (T. Dus-hk'or) (P. 65) (blue).
The black Yamari (dark blue).
HayagrTva with three heads (T. Rta-mgrin).
First Tathagata or Buddha (?) with a jewel (yellow).
Second Tathagata or Buddha (?), the hands turned in the same direction.
Usmsasita (P. 162).
A Bodhisattva (?).
Vajrapani.
Manjinghosa (?) (G. p. 99).
Vajrapani.
A Bodhisattva (?).
Sarasvati (P. 157).
Third Tathagata (black).
Fourth Tathagata (T. Rgyal-ba Gyul-las) (P. 127) (black).
Parnasavari, Sakti de Manjughosa (P. 165) (red).
Acala (black).
A Bodhisattva with four arms (undeterminable, being erased).
The white Manjughosa (erased).
Kun-rig (P. 76).
Acala (black).
The white Tara.
Fifth Tathagata (colour of cinnamon).
Sixth Tathagata (T. Rgyal-ba Dpan-pohi(?)) (black).
Seventh Tathagata (red).
The green Tara.
Vajrapani (simple form) (black).
Bodhisattva or White Tara?
A Bodhisattva (colour of cinnamon).
Mila-ras-pa?
Jambhala nag-po (P. 267?) (black).
Eighth Tathagata (T. Rgyal-ba mts'on-dpal) (P. 124).
Ninth Tathagata (T. Rgyal-ba Sin-tu-rnam-par) (P. 126).
Tenth Tathagata (yellow).
Usnisavijaya (T. Rnam-par) (P. 164) (white).
Akshobhya (without Sakti) (dark green).
Ratnasambhava (colour of cinnamon).
Avalokitesvara.
Samantabhadra [after the explicative list of the lama] (P. 152) (dark blue).
Sman-bla (P. 142) (dark).
Visvapani (Dhyani-Bodhisattva of Amoghasidi?).
(53-61) Eleventh to nineteenth Tathagata.
Twentieth Tathagata (T. Klu-dban-gi) (P. 100) (white).
(63-68) Twenty-first to twenty-sixth Tathagata.
First Bodhisattva: Sarvanivaranaviskambhi? (green).
Second Bodhisattva: Ksitigarbha (yellow).
Third Bodhisattva: Manjusri? (yellow).
Fourth Bodhisattva: Vajrapani? (yellow).
Fifth Bodhisattva: Akasagarbha (yellow-brown).
Sixth Bodhisattva: Avalokitesvara (white).
Seventh Bodhisattva: Samantabhadra? (yellow).
Eighth Bodhisattva: Maitreya (yellow).
(77-82) Twenty-seventh to thirty-second Tathagata.
(83-90) The eight acolytes of Sman-bla (P. 136-441, 142, 143).
(91-95) Thirty-third to thirty-seventh Tathagata.
First Sthavira: Rdo-rje mo-hi (P. 197).
Second Sthavira: Nags-na (P. 195).
Third Sthavira: Dus-ldan (P. 196).
Fourth Sthavira: Ma-p'am-pa (P. 194).
Fifth Sthavira: Yan-lag-hbyun (P. 193).
Sakya Muni or Sman-bla?
Sixth Sthavira: Bakula (P. 201).
Seventh Sthavira: Sgra-gcan-hdsin (P. 202).
Eighth Sthavira: Bhara-dvadsa (P. 204).
Ninth Sthavira: Lam-p'ran-bstan (P. 203).
Tenth Sthavira: Sbed-byed (P. 207).
(?)
(?)
Eleventh Sthavira: Hva-sang (Chin. Hwa-chang) (P. 210).
Twelfth Sthavira: Bha-ra-dva-dsa gser-cen (P. 200).
Thirteenth Sthavira: Gser-behu (P. 199).
Fourteenth Sthavira: Bsan-po? (without his book) (P. 198).
Vajradakini (P. 224?).
Padmadakini (P. 227).
Dakini?
Buddhadakini? (P. 223).
Ratnadakini (P. 225).
Karmadakini (P. 226).
Visvadakini (P. 228).
Fifteenth Sthavira: Lam-bstan (P. 205).
Sixteenth Sthavira: Klu-hi-sde (P. 206).
Seventeenth Sthavira: Mi-pyed (P. 208).
Eighteenth Sthavira: Dharma-tala (P. 209).
First Dharmapala: Vajrapani with Garuda wings (P. 184-186) (blue).
Second Dharmapala: Acala (T. Migyo-ba) (typical form dark blue).
Third Dharmapala: Mgyon-po p'yag-bji (P. 243) or Ye-ces (G. p. 177) (black).
Fourth Dharmapala: Kubera (P. 263) (brownish-yellow).
Fifth Dharmapala: Yama gsah (P. 240) (red).
Sixth Dharmapala: Yama snan (blue).
Seventh Dharmapala: Yama Pyi (without his sister) (P. 239) (blue).
Eighth Dharmapala: Blue Mahakala (T. Mgon-po) (P. 230).
Ninth Dharmapala: White Mahakala (T. Mgon-dkar) (P. 229).
Tenth Dharmapala: Gur-gyi mgonpo? (protector of the tent) (P. 242).
Eleventh Dharmapala: Brag-ca (P. 260).
Twelfth Dharmapala: Lha-mo sol-ma (P. 245).
Thirteenth Dharmapala: Beg-tse (P. 254).
Fourteenth Dharmapala: Lha-mo tsan-dika (P. 244).
Fifteenth Dharmapala: Lha-mo skyons-ma (P. 246) or Ma-cig-pal (P. 256)
H. Zone of the Guardians of the temple (Lokapala), &c.
The guardian of the North (P. 280).
The guardian of the East (P. 284).
Brahma offering a cakra (P. 278?).
Dbah-po-si offering a jewel (P. 156).
The guardian of the West (P. 282).
The guardian of the South (P. 281).
J. The lowest space.
The 'seven jewels':
a. the wheel,
b. the jewel,
c. the horse,
d. the elephant,
e. a military chief,
f. a civil dignitary,
g. a wife.
The five senses:
a. sight (mirror),
b. hearing (conch),
c. smell (vase for perfume),
d. touch (silk),
e. taste (fruits).
A Stupa.
A rock or tree-stock; at its base a flaming pearl on two balls, and under which there are playing musicians; on every side of the rock, a Naga.
The 'eight emblems':
a. conch,
b. bumba,
c. umbrella,
d. standard,
e.fishes,
f. wheel,
g. diagram,
h. flowers.
A monk offering a sort of pyramidal cake; before him, the musicians.
K. Inscription (Langsha characters).
PLATE LXV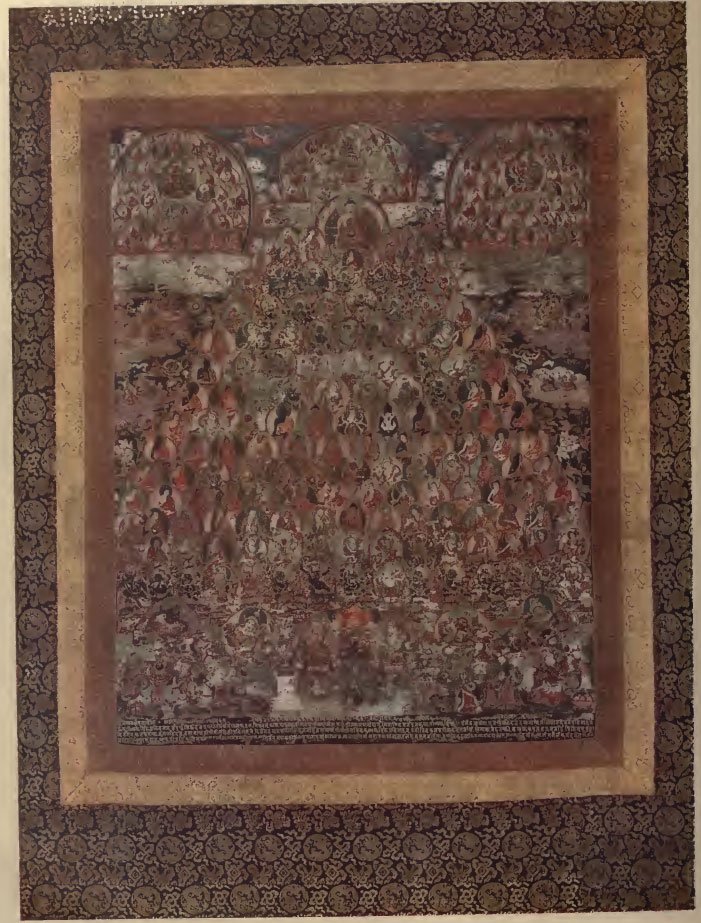 Ts'ogs-sin or Assembly of Divinities
PLATE LXVI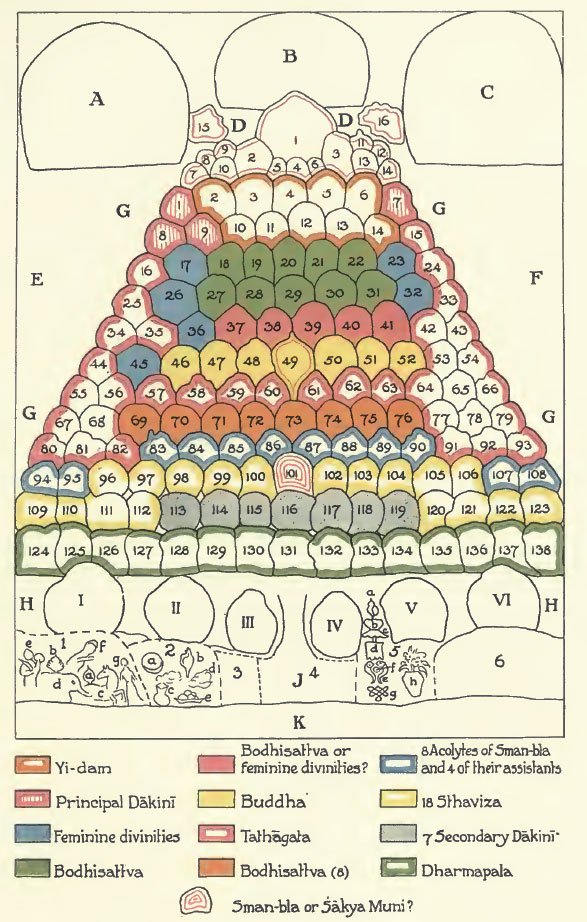 Footnotes and references:
[1]:
The indications in parentheses signify the corresponding figures in Pander's Pantheon, e.g. (P. 61), or the pages of Grunwedel's Buddhism in Tibet, where the figures are to be found, e.g. (G. p. 166). The images of this book are indicated by the roman numbers of plates, e. g. XII.